Waffle batter is spruced up with cinnamon, bananas, and yogurt and topped with rich, caramelized bananas.
By Kim Nguyen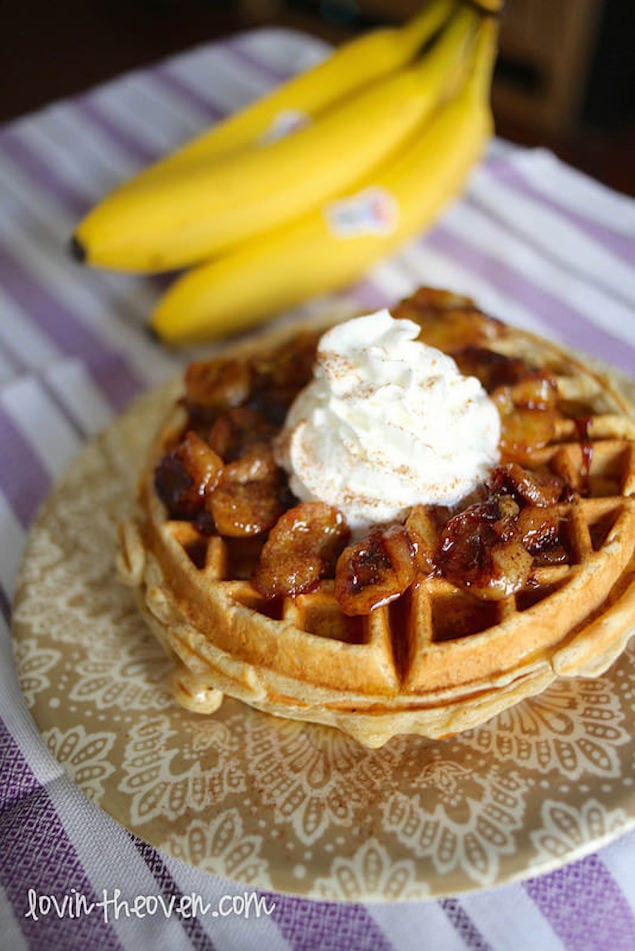 Bananas are a no brainer for breakfast items. There are banana muffins, banana pancakes, sliced bananas on oatmeal, banana bread, bananas on yogurt, and banana french toast. Well, I took it a step further and made bananas waffles with caramelized bananas so you can add another goodie to that breakfast list.
This dish is definitely restaurant worthy. If I ever open my own breakfast spot, these waffles would be on the menu.
The caramelized bananas were sweet enough on their own, so you don't need to add any maple syrup. A little sprinkling of powdered sugar would be sufficient if you really needed that something extra. I chose to use cinnamon.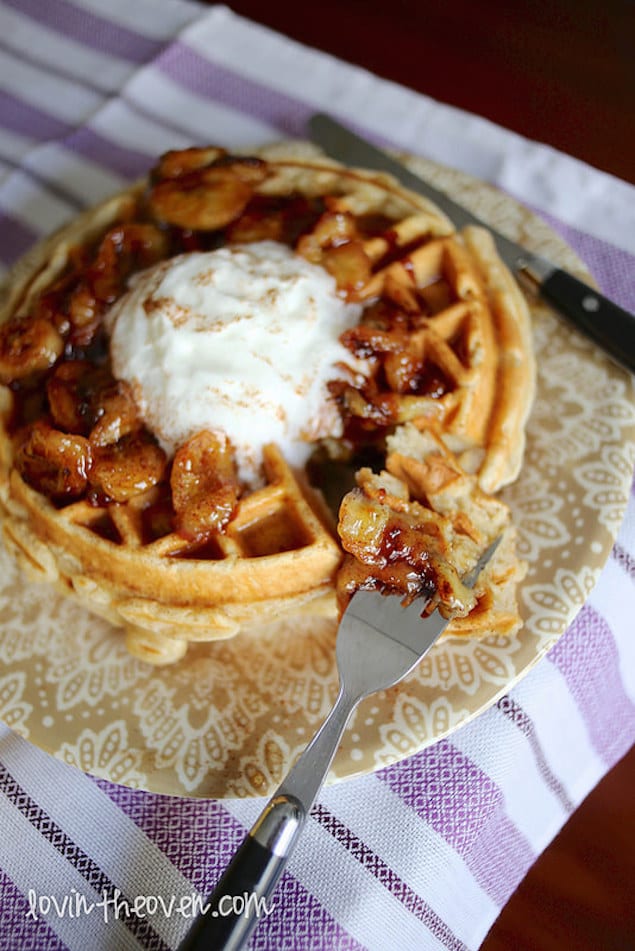 See Also
Another tip when it comes to making waffles is that when you remove the waffle from the waffle maker, don't put it on a plate immediately after. Place it on a cooling rack so that the bottom can cool a little and crisp up. If you place the waffle on a plate straight from the grill, the bottom will get soggy from the heat having no where to escape.
You can also place them in the oven to keep them warm while you're making another batch.

Banana-Cinnamon Waffles with Caramelized Banana Topping
Waffle batter is spruced up with cinnamon, bananas, and yogurt and topped with rich, caramelized bananas.
Ingredients
1¼ cups all-purpose flour
3 teaspoons baking powder
1 teaspoon ground cinnamon
pinch of salt
½ cup milk
½ cup vanilla greek yogurt
1 egg
1 teaspoon vanilla extract
1 bananas, mashed
For the topping:
1 banana, sliced
1 tablespoon butter
1 tablespoon honey
1 tablespoon sugar
1 teaspoon cinnamon
sprinkle of sea salt
Instructions
Mix together the flour, baking powder, cinnamon, salt, milk, yogurt, egg, vanilla, and banana until smooth. Make sure not to over mix.
Pour ½ cup of the batter into your waffle maker and cook as instructed.
Meanwhile, to make the topping, place the butter, honey, sugar, cinnamon, and salt in a small saucepan over medium heat while continually whisking.
Once the mixture bubbles, turn the heat down to low-medium and add the sliced bananas. Cook on each side for 3-4 minutes, until lightly browned. Immediately pour over waffles and serve.
Kim Nguyen
Kim is your typical 27 year old… except for the fact that she acts like an 80 year old woman. Working full time as a flight attendant in Los Angeles, Kim likes to whip up desserts whenever she has the chance.