There are plenty of good excuses to eat pancakes for breakfast. Amrita Rawat gives you one more.
By Amrita Rawat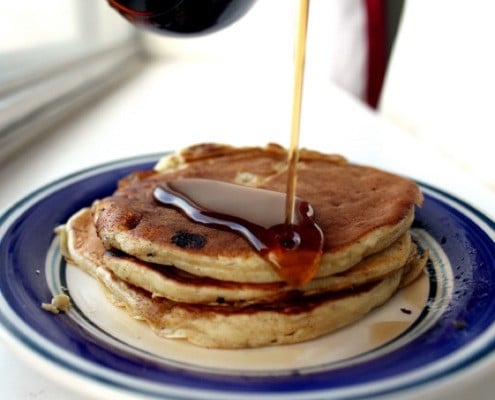 Banana cinnamon pancakes are perfect for brunch or breakfast on a lazy morning. They're simple and delicious, and you can even add chocolate chips for an extra kick. I try to make myself believe I'm eating healthy since this includes a fruit and some cinnamon, but really, it's a great "dessert for breakfast" option!
I like to save overripe bananas by peeling them, covering them in plastic wrap and storing them in the freezer for later use. The only issue with that is that banana become very liquid-y when they are thawed, so it's best to thaw them in the mixing bowl that you will make the batter in.
I also made my own homemade pancake syrup, and added maple extract to it, although the original simply calls for vanilla extract. I often find store-bought syrups not sweet enough for my taste and this recipe is just too easy and tasty not to try at home. You can also make it sweeter or less sweet according to your or your family's tastes!
Recipe:
Adapted from Our Best Bites
Yields 14-16 4-6in pancakes
1 1/2 (150g) cup flour
3 tbs (35g) sugar
2 tsp (7.5g)baking powder
1 1/2 tsp (6g) baking soda
1/4 tsp (1g) salt
1 1/2 cup (365g) buttermilk*
1 tsp (6g) vanilla
1 tbs (13g) canola oil
1 large egg
1 medium ripe banana (or 2 if you really like bananas)
1/2 tsp (1.2g) cinnamon
cooking spray for the pan (or butter)
1. Mix all the ingredients together until incorporated. Mash the banana well and fold it in the batter.
*If you don't have buttermilk on hand, you can mix half milk and half plain yogurt together as a great substitute!
2. Heat a nonstick skillet to medium heat and coat pan with spray or butter and pour about a quarter cup of batter into the pan. Wait until the edges set and then flip till cooked.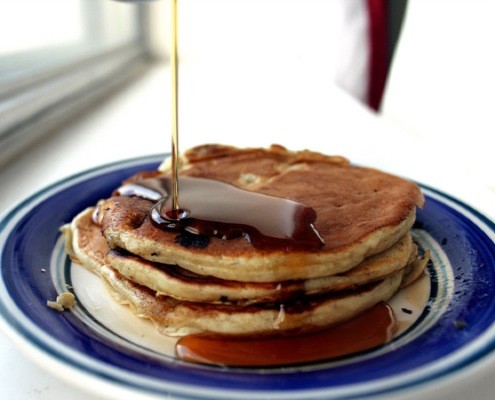 Maple Syrup
Adapted from Food.com
Yields 2 cups
1 cup (192g) white sugar
1 cup (200g) brown sugar
1 cup (350g) corn syrup
1 cup (236g) water
1 tsp (7g) vanilla extract
1 tsp (7g) maple extract (optional)
1. Boil together and cook gently for 3 minutes. Bottle and let cool. Store in fridge. You can reduce the amount of water by a 1/4 if you want it thicker.
Enjoy!