Balsamic and Pomegranate Chicken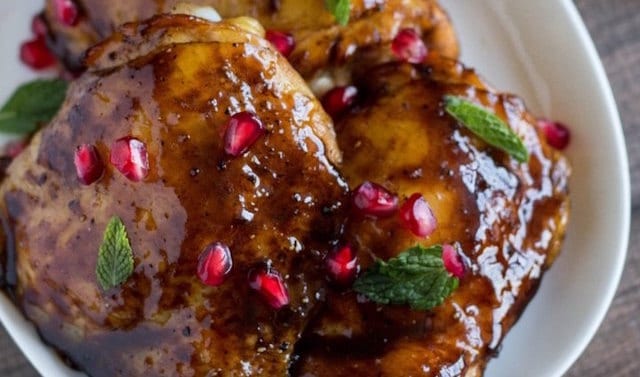 Balsamic, pomegranate molasses, and honey make for the perfect chicken glaze. Simply bake and serve with pomegranate seeds and mint.
By Sabrina Russo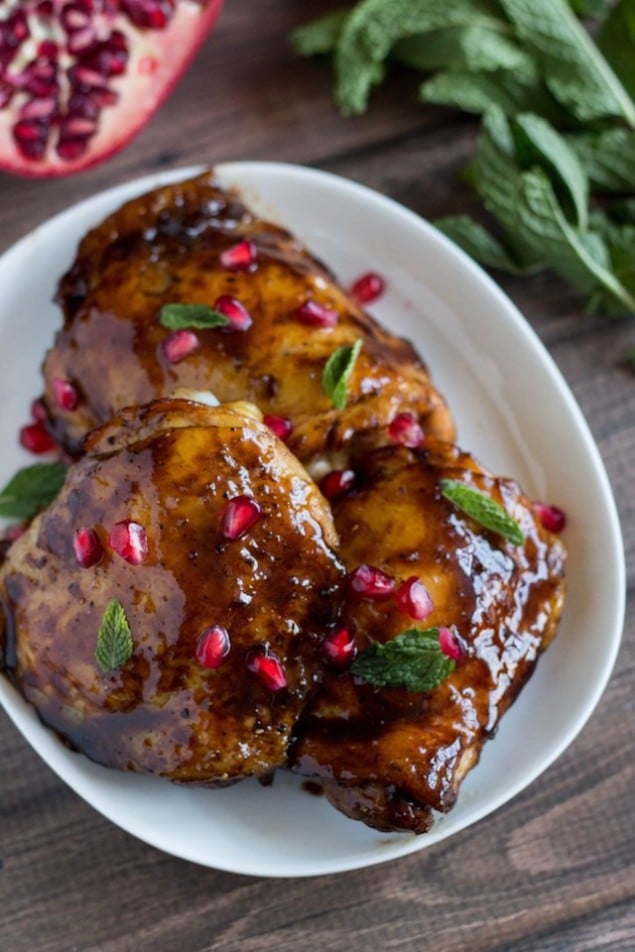 These chicken thighs are sweet, tangy, sticky and delicious.
The chicken is marinaded in a combination of pomegranate molasses, balsamic vinegar, honey and brown sugar. Then the marinade is cooked down into an amazing glaze to coat the chicken as it bakes.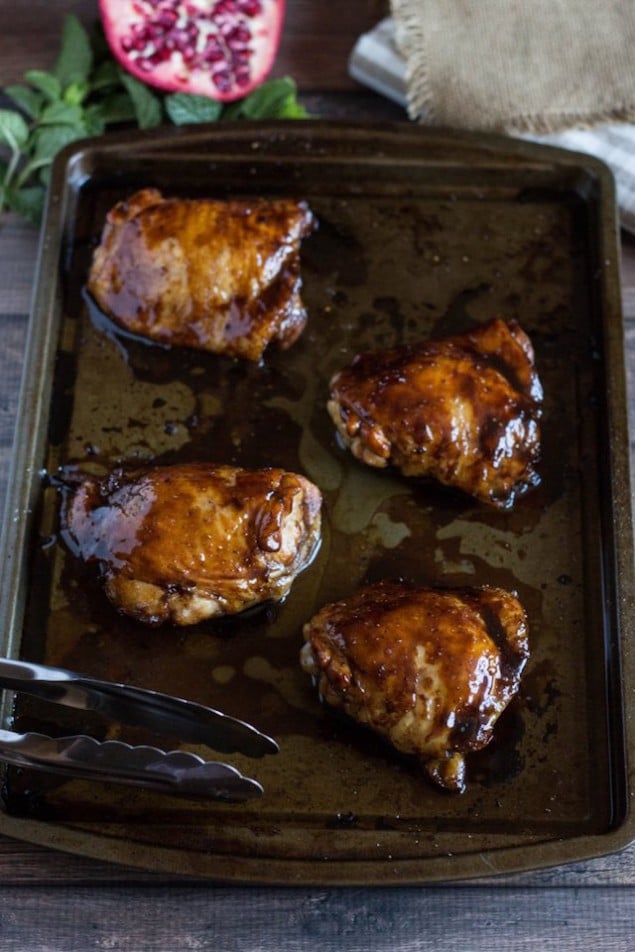 This recipe really couldn't be easier, and it takes advantage of the beautiful pomegranates in season! A garnish of pomegranate seeds and fresh mint finishes this off perfectly.

Balsamic and Pomegranate Chicken
Balsamic, pomegranate molasses, and honey make for the perfect chicken glaze. Simply bake and serve with pomegranate seeds and mint.
Ingredients
4 bone-in, skin-on chicken thighs (about 1 ½ lbs)
¼ C pomegranate molasses
¼ C balsamic vinegar
2T honey
1T light brown sugar
1T extra virgin olive oil, plus more for coating chicken
Kosher salt and fresh cracked pepper
Pomegranate seeds, for garnish
Small mint leaves, for garnish
Instructions
In a small bowl, whisk together molasses, vinegar, honey and sugar; season with salt and pepper. Coat chicken in marinade; marinate at least 30 minutes at room temperature, or up to overnight in the fridge.
Remove chicken from marinade; reserve for later use. Pat chicken dry and season generously with salt and pepper. Allow chicken to come to room temperature for 30-60 minutes. In the meantime, transfer reserved marinade to a small sauce pan. Bring to a boil, reduce to a rapid simmer and cook until thickened and syrupy, about 10-12 minutes. Taste for seasoning and keep warm.
While marinade reduces, preheat oven to 425°F. Place chicken on a sheet tray and lightly coat in oil. Bake in the center rack of the oven for 10 minutes; brush with glaze. Continue to cook another 5 minutes; brush with another layer of glaze. Cook 5-10 more minutes or until chicken registers 165°F. Brush with any remaining glaze, if desired. Rest 5-8 minutes before serving. Garnish with pomegranate seeds and mint leaves. Enjoy.
Sabrina Russo
My Three Seasons represents the 3 key factors that are most important to me in cooking. #1 Seasonal ingredients #2 Proper Seasoning (don't skimp on that salt!) #3 Cooking like a Seasoned chef (technique is everything). My name's Sabrina. I live in NYC. I'm a registered dietitian with professional cooking and food styling experience. Come cook with me.