Crispy baked tofu combines with cold noodles in a spicy sesame–peanut sauce for a fantastic dinner or picnic recipe.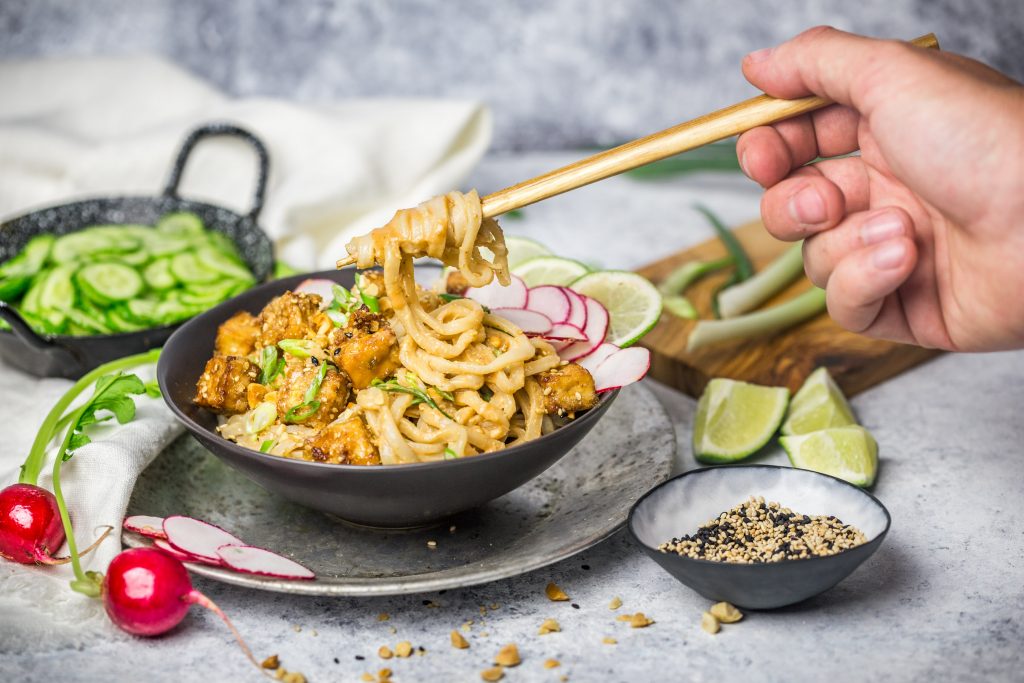 Revenge doesn't have to be the only dish best served cold. We combine crispy baked tofu cubes with cold noodles in a spicy sesame – peanut sauce for a fantastic dinner or picnic recipe.
It's the perfect season to take a room-temperature noodle dish out on the deck or to our local park.
Of course, both rice and wheat noodles work well served cold in many kind of recipes – we've also got a favorite go-to summer Orzo Salad packed with Mediterranean flavors – but rice noodles make gluten-free recipes perfect for any time of the year.
Cold sesame noodles are a popular component of Americanized Chinese cuisine, especially restaurant take-out (if you want to read the history of the dish, the New York Times has a great article from a few years back). We wanted a variation on the recipe that could be made with ingredients that we have in the pantry most of the time anyway – and that certainly includes a big jar of smooth peanut butter which we dig into for many dishes, both savory and sweet. You'll find Asian sesame paste used in a lot of variations, but we keep things simple by adding toasted sesame seeds to the blender, since we always have those on hand in the fridge.
You certainly could make the sesame noodles without the crispy baked tofu (and the tofu by itself would be great in salads, grain bowls or just with rice) but we love the combination.
In fact, we've made a grilled chicken and peanut noodle version – but this time we wanted a vegetarian / vegan dish, which also happens to be gluten-free friendly! (Sorry, paleo pals, we'll get you later, fam.) If you're gluten free, use rice noodles instead of wheat, tamari instead of soy sauce and leave out the panko breadcrumbs in the crispy tofu. As always, check all your labels to make sure there's no hidden gluten. For the vegan version, instead of fish sauce add 1 extra tablespoon soy sauce.
Make sure you buy the extra-firm tofu, since we want to maintain the shape of the pieces – (save the softer stuff for smoothies). It's important to gently press out as much water as you can. We prefer to cut the tofu into cubes first, lay them on a paper-towel lined tray, then lay more towel over them and rest a heavy pan on top. You don't want to completely squash the tofu, just keep it under enough pressure to expel the liquid. You can leave it for as little as 20 minutes or for up to a few hours.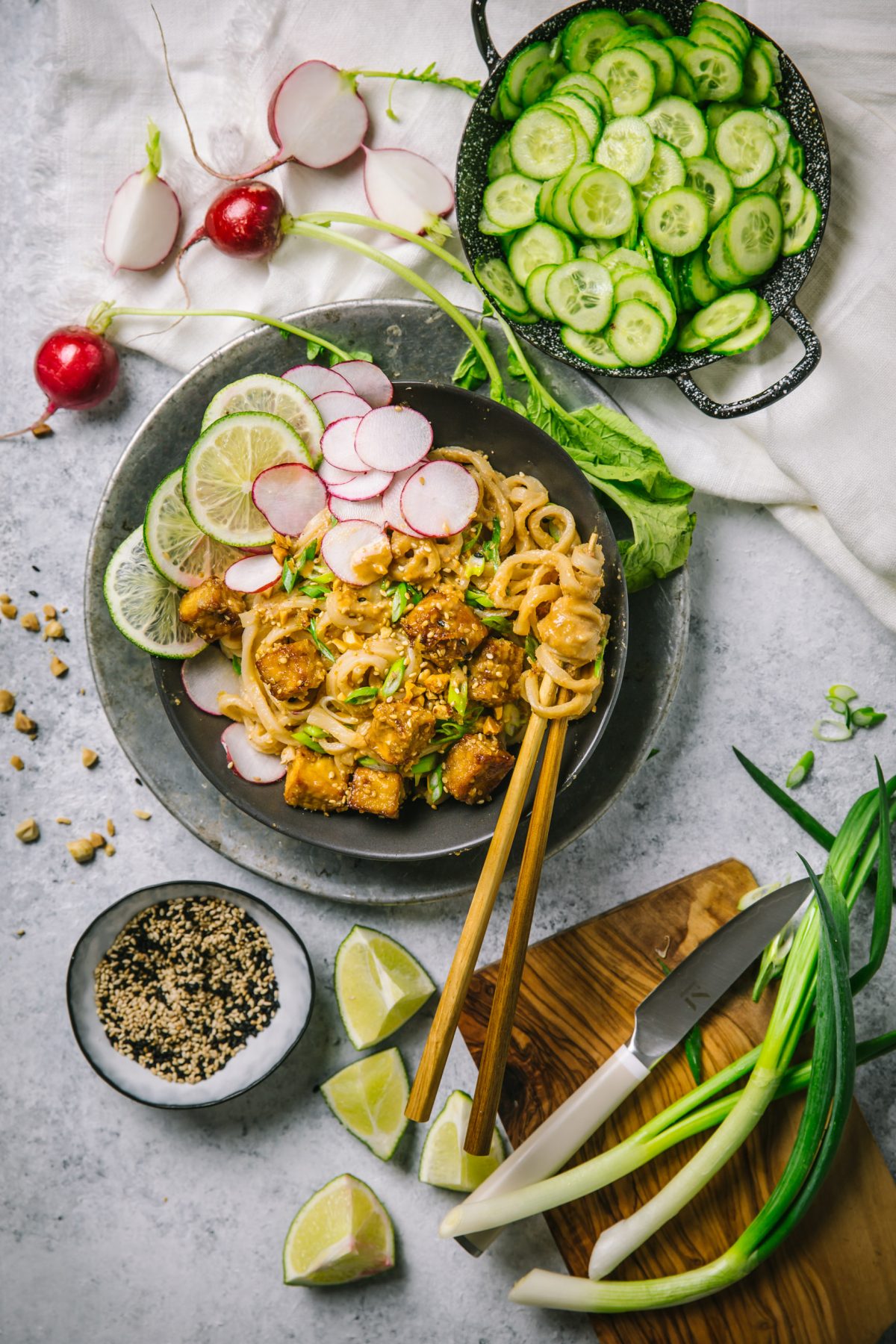 If you've prepared this to-go for a picnic, keep the tofu and sauced noodles in separate containers until you serve up, to prevent the tofu softening up too much. We like to serve sesame noodles with a side salad of simple sliced mini cucumbers, radishes, and lime squeezes, and sprinkled with sesame seeds and sliced scallions.
Incidentally, the preparation for this shoot was helped by our friends at Material Kitchen who kindly sent us a couple of hand-finished Japanese-steel knives to try out from their new Fundamentals collection. Both the chef's knife and the smaller paring-style knife (pictured above) were well-balanced, sharp as anything we've used and really beautiful, to boot! Please go and check out their stuff!
Click here for the crispy baked tofu recipe.
Print

Baked Tofu and Sesame Peanut Noodles
---
Author:

Main

Total Time:

30 minutes

Yield:

6

servings

1

x
3 tablespoons

toasted sesame seeds (plus more for garnish)

½ cup

smooth or chunky peanut butter (like Jif or Skippy)

2

medium cloves garlic (roughly chopped)

1 tablespoon

minced or grated fresh ginger

1/4 cup

dark soy sauce (like Kikkoman, or tamari)

1 tablespoon

fish sauce (optional, use soy if vegetarian)

2½ tablespoons

unseasoned rice vinegar

2

–

4

teaspoons Sambal Olek or other chili sauce (to taste)

3 tablespoons

light brown sugar
Hot water

1

pound fresh Lo Mein noodles or

12 ounces

dried spaghetti

2 tablespoons

toasted sesame oil

4

scallions (sliced thin)

¼ cup

roasted peanuts (chopped, (optional, for garnish))

1

lime (quartered, for garnish)

5

radishes (thinly sliced, for garnish (optional, for garnish))

2 cups

crispy baked tofu (click the link above)
---
Instructions
In a blender or food processor, puree 3 tablespoons toasted sesame seeds, peanut butter, garlic, ginger, soy sauce, vinegar, chili sauce, and sugar until smooth, about 30 seconds. With machine running, drizzle in hot water until sauce has consistency of heavy cream, might be up to about 5 tablespoons; set aside.
Bring a large pot of salted water to boil over high heat. Add noodles and boil until tender, according to package directions (about 4 minutes for fresh and 10 minutes for dried). Drain into a colander, then rinse with cold tap water until cool; shake to drain excess water. Add rinsed noodles to a large bowl and toss with sesame oil until evenly coated. Add ¾ of sauce and toss to combine.
Divide into serving bowls and add some crispy tofu to each serving. Drizzle a little more peanut sauce over tofu. Top with chopped peanuts, scallions, and sesame seeds. Serve with cucumber salad, a lime wedge for squeezing and a few sliced radishes.
Prep Time:

20 minutes

Cook Time:

10 minutes

Category:

Emily Clifton
Emily Clifton
I love to cook and learn about food. I was born and raised in New York City and I was exposed to a lot of different food cultures as a kid though I was weirdly picky. I hated mashed potatoes but I loved kim chee. Hated fish, loved escargot. I said I was weird, don't judge me. My mom is a great cook but I definitely don't have any "passed down from grandma" types of recipes. Both my grandmothers were horrible cooks. I mean really, truly bad. I give my mom a lot of credit for knowing that string beans are not actually supposed to be gray. In real life I'm a film/TV editor which just might be the most fun job in the world. Occasionally it can be the most annoying job in the world which is why I really appreciate it when I get to take a break and do my other favorite things which is cook, take photographs and write.