Baked stuffed mushrooms – a carb free treat, perfect finger-food for those fuzzy dinner guests.
By Shuchi Mittal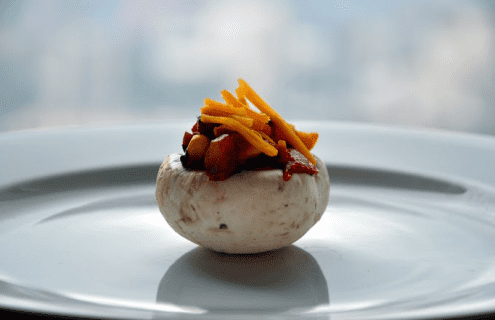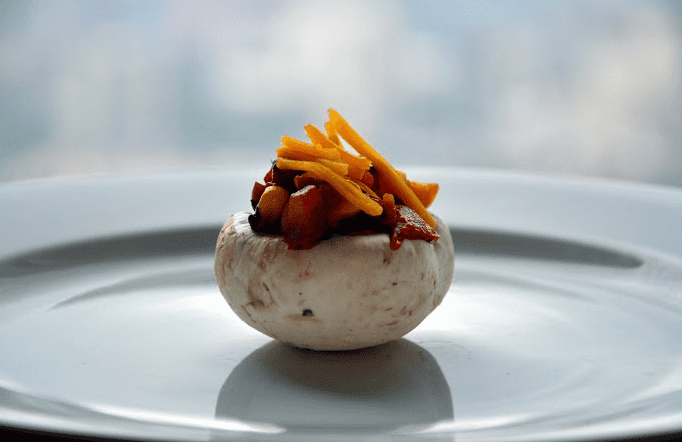 Moving to New York has introduced me to one thing. Allergies.
The number of people who suffer from allergies in this city is appalling. I am not sure if it's because of the variety of processed/ready-to-eat/fast food available for consumption in childhood, or  just because people like being fussy. I am sometimes convinced that people have allergies because they 'believe' they do, or that they may have deprived themselves of a particular food for so long (for whatever bizarre reason) that the body soon develops an intolerance to it. In any case, without going into the hypothesis of it all (yes, I could go on and on and …), I had a guest coming over for drinks-and you guessed it – she was wheat, nut, and dairy intolerant. I was stumped. With less than 4 hours to go, I had to think of a quick snack to serve her, and it had to be more than carrots with a vegan-out-of-the-supermarket dip.
Mushrooms cook quickly. And it's not a nut. So anxiously and with all my fingers crossed, I tried my hands at stuffed mushrooms baked to brown goodness. I left out the cheese for the ones I served her, but oh-they taste so much better with it! This was rather easy and quick, and I will definitely try other stuffings soon. Next on the list is sundried tomato pesto & potatoes! Carbs & nuts, here I come.
Baked stuffed mushrooms- a carb free treat.
Ingredients
10-12 button mushrooms
1 medium tomato, chopped
1 small onion, chopped
¼ cup corn kernels
¼ cup green peas
1 teaspoon garlic ginger paste
½ teaspoon dried basil
½ teaspoon dried oregano
1 tablespoons olive oil
½ cup grated cheddar or gouda
Salt & pepper to taste
Instructions
Wash and clean the mushrooms. Remove the stems and create hollows. Chop and keep the stems aside for later.
Heat oil in a pan.
Add the ginger garlic paste and onions and cook till onions start to brown.
Add the tomatoes and the dry spices, cover on medium flame and cook till tomatoes are tender.
Add the corn, peas and mushroom stems, cover and cook for another 2-3 minutes.
Saute on high heat for a few seconds before removing from heat. Keep aside and cool.
Grease a baking dish.
Spoon one teaspoon of the mixture in the mushrooms and line in the baking tray.
Sprinkle with grated cheese, pepper and a few drops of olive oil.
Pre heat the oven to 180 degree C (350 F), and bake for 15-20 minutes, or till the mushrooms are thoroughly cooked and reduced in size.
Serve immediately. A healthy carb-free snack!