Baked Spaghetti Squash Bowls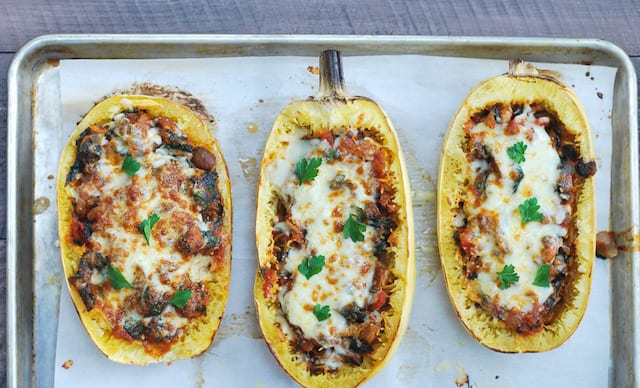 Filled with mushroom, kale, herbs, and topped with cheese, these baked spaghetti squash bowls are the perfect excuse to switch up your weeknight routine.
By Laney Schwartz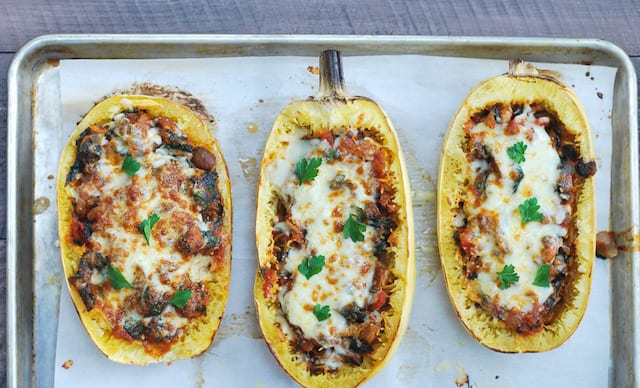 I love these squash bowls. They're so cool! Just cut (easier said than done), bake, scrape, fill, and eat! Easy clean up and a hearty, healthy meal is what I call a win for weeknight.
The good news is, you can fill the inside of the squash with whatever YOU like!
I've done a turkey meat sauce, or even a pesto, but this time I chose to keep it vegetarian and went with a mushroom and kale marinara sauce, topped with melted, bubbly cheese of course.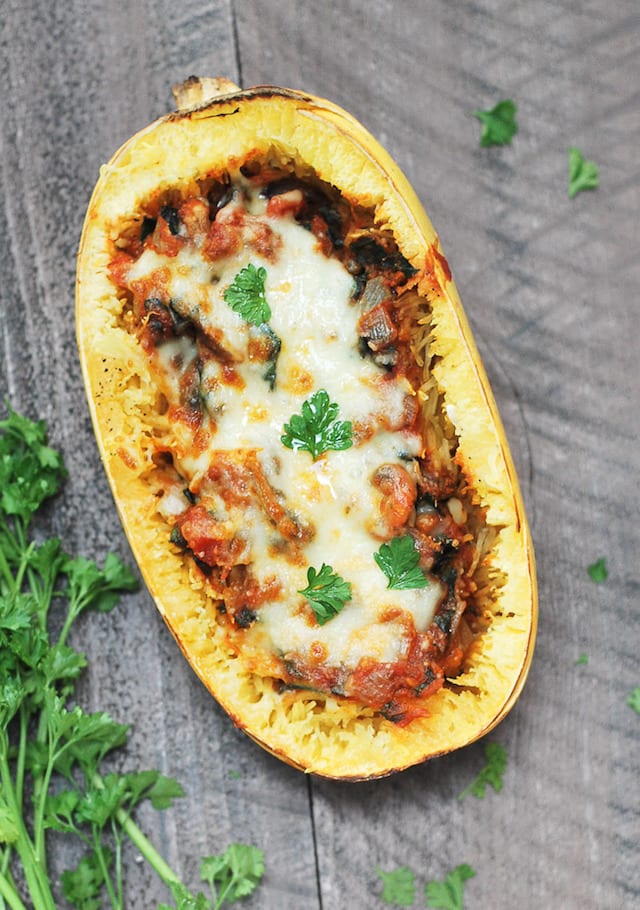 Baked Spaghetti Squash Bowls
Filled with mushroom, kale, herbs, and topped with cheese, these baked spaghetti squash bowls are the perfect excuse to switch up your weeknight routine.
Ingredients
2 small or medium spaghetti squash
2 teaspoons olive oil, plus 2 tablespoons - divided
Salt
Pepper
1 yellow onion, diced
4 garlic cloves, minced
8 ounces crimini mushrooms, diced
½ teaspoon garlic powder
½ teaspoon dried oregano
½ teaspoon dried basil
½ teaspoon salt
¼ teaspoon pepper
2 cups chopped and stemmed kale
1 (26 ounce) jar of your favorite tomato sauce (I use Trader Joe's Tomato Basil Marinara)
1 cup shredded mozzarella cheese
2 tablespoons grated parmesan cheese
Chopped parsley for garnish
Instructions
Preheat oven to 400 degrees. Line a baking sheet with parchment paper (or two if they don't fit). Cut the squash in half lengthwise, and use a spoon to scrape out the seeds and soft yellow strands. Brush the inside of the squash with 2 teaspoons of olive oil and sprinkle lightly with salt and pepper. Place the squash facedown on the baking sheet and bake for 45-50 minutes or until the flesh easily pierces with a fork.
While the squash bakes, make the sauce. Heat 2 tablespoons of olive oil in a large sauce pan over medium/high heat. Add the onion and cook for 3-4 minutes. Add the garlic, mushrooms, garlic powder, oregano, basil, salt, and pepper, and cook for another 3-4 minutes, until veggies begin to soften.
Add the chopped kale and cook for 5 minutes until it wilts. Add the sauce and simmer uncovered for about 10 minutes.
Once the squash is cool enough to handle, use a fork to scrape the inside so the strands appear. Spoon enough of the marinara mixture inside each squash bowl until almost full. Top evenly with the mozzarella and parmesan cheese and transfer them to the oven and broil until the cheese is golden and bubbly, for about 3-5 minutes. Remove from the oven, sprinkle with parsley and serve immediately!
Laney Schwartz
Laney spends her time being a home cook, mom, wife, workout junkie, and ultra crazy food lover.