Without standing over the stove, make creamy risotto that will melt in your mouth with sweet and salty butternut squash and pancetta flavors.
Risotto is one of my favorite dishes, and ever since I discovered the easy bake method (not to be confused with that oven of the 90's for kids) years ago, I tend to prepare it pretty often come the fall season. I blogged about my discovery of baked risotto here, but in case you missed it, I was extremely reserved at first. Coming from a culinary background, I didn't think it was possible to create a creamy risotto without constantly stirring and slowly, steadily incorporating a warm stock. I was pleasantly surprised to find out it is not just possible, it is just as delicious as it's needy, stove top counterpart. Needless to say, I haven't stood over a stove to make risotto in years. And you shouldn't either.
This butternut squash risotto is one of my favorites, and the flavors completely scream, "autumn". This risotto is a perfect marriage of sweet and savory. It is earthy, a tad salty, a touch cheesy, impeccably rich, and completely creamy-dreamy.
While the garnish of crispy sage leaves is completely optional, as there is sage in the actual risotto, I highly recommend you take the extra 1 minute to make them. (Read: not really an option, more of a kind demand). Like I said, it takes ONE minute to crisp them up, yet they add SO much flavor and the appropriate amount of herbaceous crunch!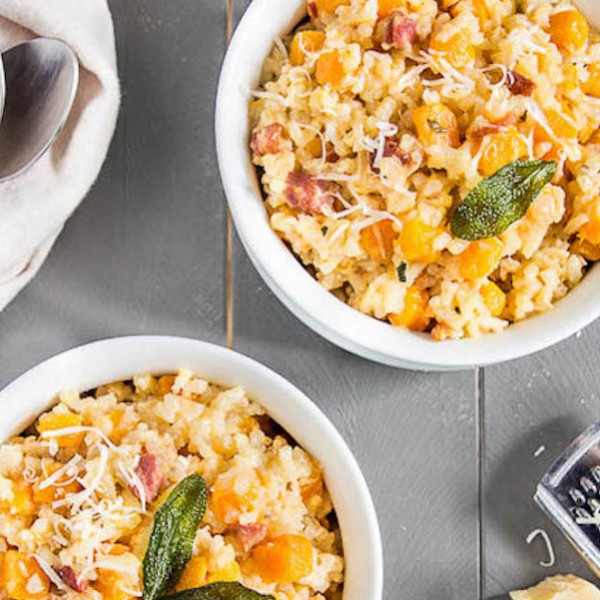 Baked Risotto with Squash and Pancetta
Cheyanne Holzworth
Without standing over the stove, make creamy risotto that will melt in your mouth with sweet and salty butternut squash and pancetta flavors.
Ingredients
4

ounces

Thinly Sliced Pancetta – diced

1

1 ½ - 2 pound Butternut Squash – peeled, halved, seeded and medium dice

6

Large Sage Leaves – roughly diced

5

TBS

Unsalted Butter - divided

2

Large Shallots – minced

about ½ Cup

3

Large Cloves of Garlic – minced

1 ½

Cups

Arborio Rice

1

Cup

Dry White Wine

4

Cups

Reduced Sodium Chicken Stock* – warmed on stove or in microwave

½ -¾

Cup

Parmesan Cheese – freshly grated

depending on taste

¾

tsp

Salt

or more to taste - divided

Fresh Ground Pepper
Instructions
Preheat oven to 400 degrees F.

Place a large skillet over medium heat and add pancetta, cook until crisp, about 3-4 minutes. Use a slotted spoon to transfer the pancetta to a medium bowl. Add squash to the pancetta drippings in the skillet. Season with ¼ teaspoon of salt and ? teaspoon of pepper. Increase heat to medium-high, and cook, stirring occasionally, until tender, about 8 minutes*. Add the sage leaves and cook until fragrant, about 1 minute. Remove from heat and transfer the squash and sage to the bowl with the pancetta.

Meanwhile: Melt 4 tablespoons of the butter in a large saucepan or Dutch oven, with a tight fitting lid, over medium – medium/low heat. Add the shallots and season with salt and pepper. Cook, stirring occasionally, until soft, about 2-3 minutes. Add the garlic and cook until fragrant, about 30 seconds – 1 minute.

Add the rice and increase the heat to medium. Cook, stirring occasionally, until lightly toasted and every grain is coated in butter, about 2-3 minutes. Add 1 cup of wine and cook for 2 minutes, stirring occasionally, until the Arborio starts to look creamy in texture. Stir in the stock, increase heat to medium-high and bring contents to a rapid simmer (this will take about 2-4 minutes).

Cover pot, transfer to the oven and bake, stirring once halfway through, until the rice is tender and the liquid is almost absorbed, about 25 minutes.

Transfer risotto to the stove top and place over low heat. Gently stir in the butternut squash mixture, remaining 1 tablespoon of butter and ½ cup of the parmesan cheese*. Taste and adjust for seasoning. Transfer risotto to serving bowls, and garnish with additional parmesan cheese if desired. Serve and Enjoy!

Optional Garnish, Crispy Sage Leaves: Heat ¼ cup of extra virgin olive oil in a small sauté pan over medium high heat. Add sage leaves and fry, 3-5 seconds, until crispy. Remove with a fork or slotted spoon to a paper towel lined plate. Sprinkle generously with coarse sea salt. Use as garnish for risotto.
Notes
*Read this recipe all the way through first, there are two components
*You can substitute vegetable stock for chicken stock
*If the pan seems dry when cooking the squash, add a tablespoon of extra virgin olive oil
*Optional: Stir in a tablespoon of wine to the risotto at the end, with the butternut squash and cheese.
*You can prepare the pancetta and squash mixture a day in advance. Cover the bowl and refrigerate overnight. Allow the mixture to sit at room temperature for 30-45 minutes before using.
Cheyanne Holzworth
Hi there! My name is Cheyanne. I am an avid foodie, culinary school graduate, recipe developer and newbie blogger. I find peace and joy being in the kitchen and am obsessed with feeding anyone who has an appetite. I am also a lover of food porn. I picked up a camera one day and fell in love with food photography. Then I got a wack-a-me-me idea to start a food blog and the rest is history. No Spoon Necessary is a place where I share my passion for food and photography with all who care to join me. I also rant, ramble on and share my life a little. In a world filled with so many talented food bloggers, I am simply trying to carve my space in www dot com land, take you all with me on the crazy ride and cook 'n eat some delicious food along the way! So, strap on that apron and work some culinary magic with me. Cheers!