A delicious platter of Indian flavored crispy potatoes to be dipped in your favorite sauces.
By Anamika Sharma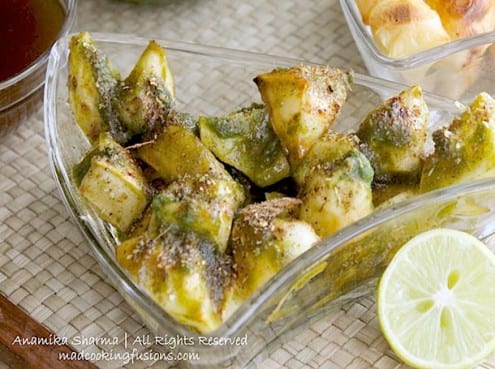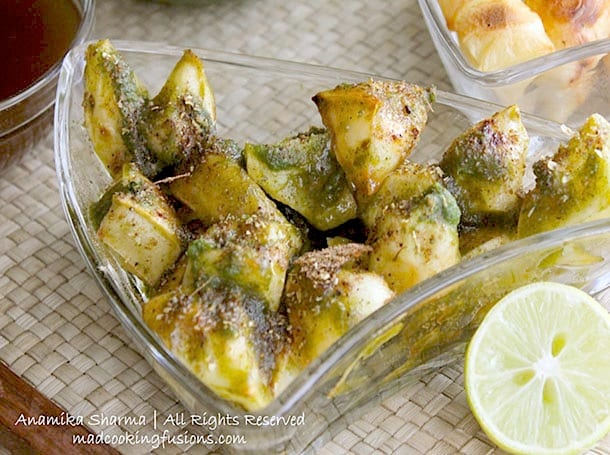 Delhi is famous for all kinds of food, specially chaat, papdi, tikki and gol gappas. Among this list is one of my favorite dish -Delhi Aloo Chaat, during navaratri aloo chaat and fruit chaat are both in high demand at my place. I miss Delhi Chaat very much here, which I use to eat quite often in A Block Connaught Place my favorite among all aloo chaat's I have tried, there are times when you really crave for the food you love and have grown up eating. I love having chaat and Delhi is the place for it.
I tried making my aloo chaat similar to the chaat I use to have in Delhi but the only difference is that this time I baked the aloo (potatoes) instead of deep-frying them.
What I got was crisp aloo's straight from the oven, they looked yum, and I will say for this dish – Easy, Simple and with less ingredients you will be able to satisfy your stomach – chatpati aloo chaat.
I added tamarind chutney and mint chutney without onions,(if you are not fasting then you can add this coriander mint chutney) to my baked potatoes, sprinkled some chaat masala and lemon juice and I got a platter full of crispy potatoes dipped in tangy sauces – mouth-watering isn't it?
So here I am sharing with you all an all time easy and simple recipe of Delhi Aloo Chaat.
Baked Potatoes - Aloo Chaat
Deliciously crispy Indian flavored potatoes to dip in tangy sauces.
Ingredients
Salt, Chilli Powder, cumin powder, chaat masala or else dry mango powder – As per taste ( depending on how hot you want your chaat to be )
Lemon Juice – 1 lime
Tamarind Chutney
Green Mint Chutney (if fasting then without onions, else regular mint chutney)
Coriander leaves chopped to garnish
Instructions
Dice the potatoes into small cubes and put oil on our palms and rub the potato cubes gently.
Now place them in the pre heated oven at 200 degrees C for approx. 30 minutes, occasionally turning carefully with the help of a long spatula.
You can keep them for 10 minutes more if you want real crisp.
When done, remove them from the oven tray in a mixing bowl.
Add in potatoes, all dry spices as per your taste, both mint & tamarind chutneys, lemon juice and mix well again.
Serve hot and spicy!
You can alternatively also deep fry these potatoes until golden brown in colour and add the spices the similar way we added for baked aloo's. (In delhi it is mainly deep fried aloo chaat)