Alisha Randell makes a simple and tasty pear and lentil salad that will leave you feeling just right.
By Alisha Randell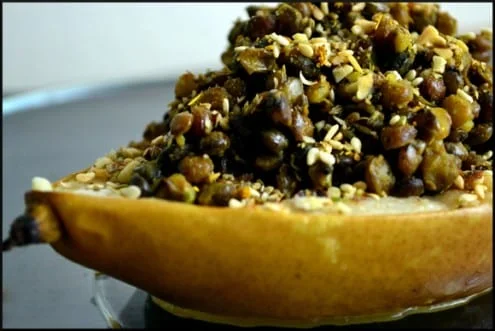 This may not be the prettiest dish I ever created, but it sure is at the top of the tasty list. With the melt in your mouth sweetness of the baked pear, and just a slight tartness from the addition of meyer lemon juice… My palate was already doing a happy dance.
Baked Pear and Chi Spiced Lentil Salad
A simple and sweet pear and lentil salad recipe.
Ingredients
For the tea:
1 flowering tea bulb
½ cinnamon stick
1 small vanilla been, split
4-6 cardamon pods, bruised
3 cloves, bruised
1 teaspoon whole pepper corns, cracked
1 bay leaf
2 cups or so boiling water
For the lentils:
1 cup dry brown lentils
1¾ cups tea
2 tablespoons coconut oil
1 teaspoon sea salt
freshly ground pepper to taste
For the baked pears:
2 large pears of your choice
1 meyer lemon, juiced
For the curry nut topping:
2 tablespoons crushed almonds
1 tablespoon crushed sunflower seeds
1 teaspoon Vietnamese lemongrass curry powder
⅛th teaspoon dry thyme, crushed
1⅛ teaspoon dry parsley, crushed
Freshly ground pepper if desired
Instructions
For the tea:
Bring 2 plus cups of water to a boil and place flowering tea bulb
into a tea pot with a lid of bowl that can be covered. Add spices and
steep for about 10 minutes or so, or until fragrant.
For the lentils:
Clean dry lentils and rinse under cold running water.Add lentils and tea
to a sauce pan over medium heat to just below a boil. Reduce heat
and simmer 20-25 minutes adding more tea or water if needed.
Once lentils are done place coconut into a sauté pan over
medium heat until hot. Add prepared lentils and seasonings
sauté for a few minutes stirring occasionally. Reduce heat to
low and keep warm.
For the baked pears:
Slice pears in half lengthwise removing stem and core area
with a spoon creating a bit of a bowl area.
Slice a small bit off of each half on the backside so that they sit
flatly in a baking dish. Squeeze fresh meyer lemon juice over each.
Bake in a pre-heated oven at 375 degrees F for 20-25 minutes
or until just fork tender.
For the curry nut topping:
Place all ingredients into a mortar and pestle and lightly
crush together, tossing to insure even incorporation.
Scoop lentils into the pears and top with curry nut mixture.
Serve warm.
Alisha Randell
Alisha Randell is a former Executive Chef turned Private Chef and Culinary Instructor. She is the Co-Creator/Author of The Ardent Epicure blog "An Ode to the Pleasures of Food". Growing up with a dad as a culinary guide, whom was as well an executive chef, food and seeing food as an art form has been a lifelong passion and exploration.