This lovely summer dessert from Tamara Novacoviç is almost too simple to be called a recipe.
By Tamara Novacoviç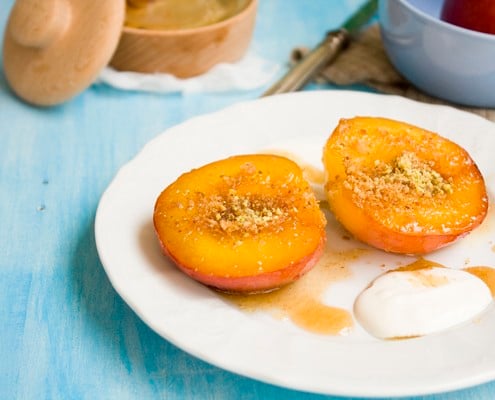 For me, this is the perfect summer dessert. I have recently made baked peaches for the first time and started wondering why I haven't tried it before. This is almost too simple to be called a recipe, yet so genious. Somehow everything comes together in this one, perfect taste, sweetness properly balanced against the slight tartness of sour cream and fried breadcrumbs and-the best of all-contains no sugar.
See Also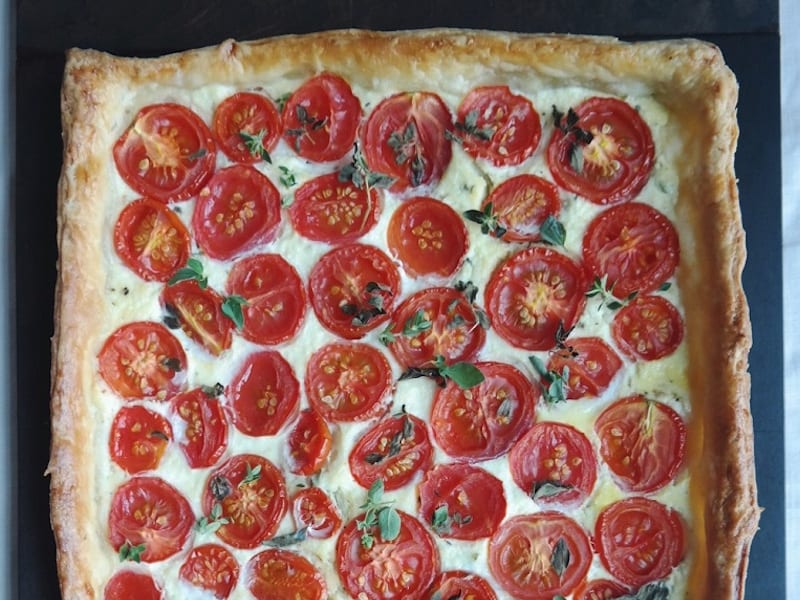 I really wasn't aware of how good a simple dessert of baked fruit can taste. When you make a dessert like this, in which you devote the entire story to one and only ingredient, around which it all revolves, it' s called "respecting the ingredient". You can use some other fruit, for example plums, but somehow I find peaches to have the nicest aroma. You can both grill them or bake in the pan, like I did. I served them with a dollop of sour cream, which nicely complements the sweetness of fruit and honey, but you can use vanilla ice cream or whipped cream as well. Play with beautiful summer fruit!

Baked peaches with cinnamon, honey and fried breadcrumbs
The prefect summer dessert!
Ingredients
2 fresh peaches
2-3 tbsp honey
cinnamon (you can also use cardamom)
breadcrumbs
sour cream
1 tbsp olive oil
1 tbsp rum or amaretto
Instructions
Wash peaches, cut in half, remove the stone.
In a pan, heat honey, add cinnamon. Add peach halves and bake for about 10 minutes. Occasionally turn to coat both sides. The honey will reduce slightly and become syrup-like and the peaches will soften. Remove from heat.
Fry breadcrumbs slightly on 1 tbsp olive oil, add some cinnamon. Remove from heat.
Serve: put peach halves on plate, pour honey syrup over, sprinkle with breadcrumbs and serve with a dollop of sour cream. Enjoy!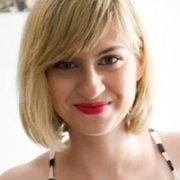 Tamara Novakoviç
Tamara Novakovic is a passionate self-taught cook, food blogger, freelance food writer and photographer behind bite-my-cake.blogspot.com. Her life journey has led her through Faculty of Humanities in Zagreb, Croatia to discovering passion for making cakes. She is currently a weekly food columnist for Croatian newspaper V magazine and food magazine Repete.