Slightly sweet and slightly spicy, this dijon mustard chicken is ideal for a weeknight. Even if maple and mustard are not your style, give this easy, flavorful recipe a try as the flavors develop into something new as it bakes.
By Emily Clifton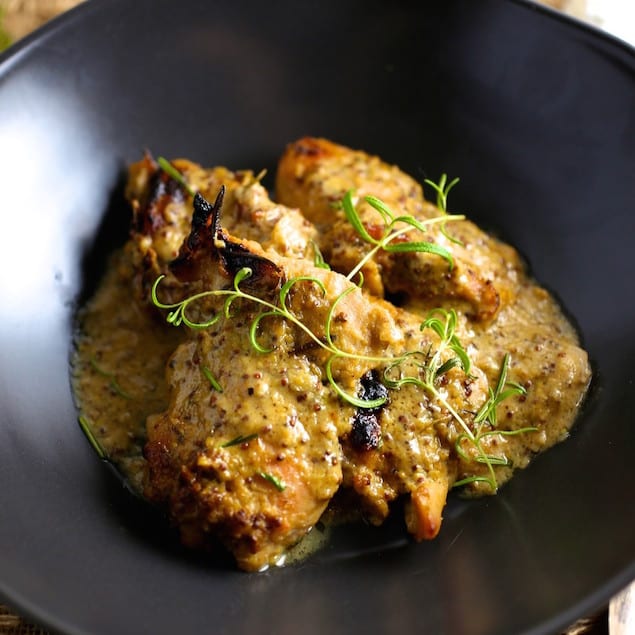 How can the easiest dish to cook also be the most delicious thing ever? This sounds like hyperbole, which granted, I am guilty of a million times per day but I'm not yanking your chain here. This seriously might be the best weeknight dinner we've ever made.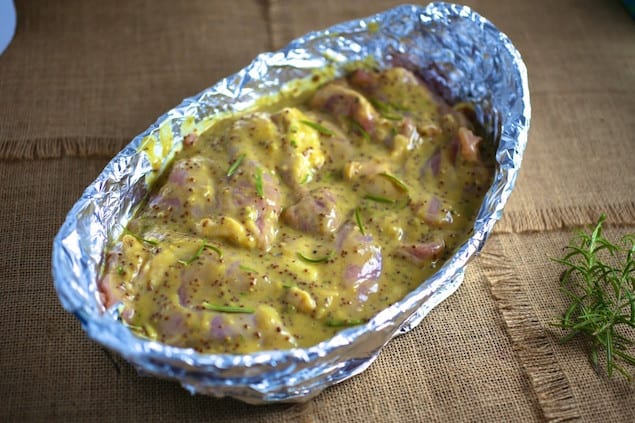 There's something about the combination of spicy dijon mustard and sweet maple syrup that is just insanely good. I've had people who claim that they don't like either mustard or maple syrup say this is the best chicken they've ever had. It's weird. I can't explain it and I'm not going to try but I encourage you, even if you think you don't like mustard, to give this one a go. I've even made it without the garlic and rosemary, and it was still fantastic.
I especially like making dishes like this on weeknights when my brain is simply too tired to fuss around. I just want to mix some stuff together, bung it in the oven and not have to think about it until it's ready. That's the beauty of a recipe like this. It's very hard to mess up. In fact, this would be a perfect recipe for someone who is learning to cook and is maybe not that comfortable in the kitchen because it's not a lot of work but the results are spectacular.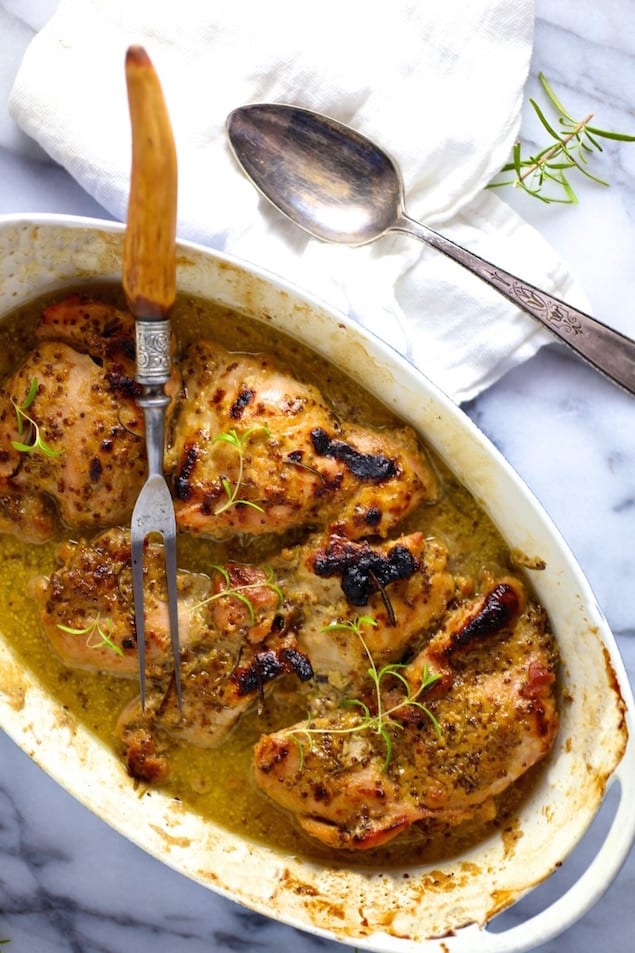 Tips
Don't wash raw chicken! If it's wet, just dry it well with paper towels.
You can mix the sauce together with the chicken and let it marinate up to a day ahead. When you're ready to cook, place the chicken and all the sauce into a baking dish. This is helpful if you have a bit of time in the morning and want to just throw it in the oven at night.
Don't like (or have) rosemary? Thyme, sage or tarragon would also be yummy.
Dried herbs are much stronger than fresh so use less than half the amount listed if substituting.
If you're using breasts instead of thighs, be careful not to overcook them or they can get dry. They also tend to cook faster so check them after 25 minutes.
Two useful items for this recipe: An 8 x 8 inch baking dish and an instant read thermometer.
Print
Baked Chicken with Maple-Mustard Marinade
---
Author:

Emily Clifton

Yield:

3

-

4

servings

1

x
Description
Sweet and spicy, dijon chicken is ideal for a weeknight. If maple or mustard are not your style, still give it a try as the flavors bake into something new.
---
6

boneless skinless thighs (or breasts)

½ cup

dijon mustard (you can substitute up to

2 tablespoons

of grainy mustard for smooth if you like that texture)

¼ cup

real maple syrup (not pancake syrup)

2

garlic cloves, minced or grated (about

2 teaspoons

)

1 tablespoon

rice or white wine vinegar

2 teaspoons

fresh rosemary, chopped

½ teaspoon

Kosher salt

¼ teaspoon

freshly ground black pepper
---
Instructions
Preheat oven to 450º F.
(Note: you can marinate the chicken up to a day ahead, or cook immediately. If marinating, place the sauce and chicken in a sealable bag and mix to make sure it's entirely coated. Then follow the cooking direction below)
In a medium bowl, mix together everything except the chicken. Line the sides of an 8×8 inch baking dish with foil (this helps with cleanup since the sugar in the sauce tend to burn.) Place the chicken in the dish making sure there is enough room for each piece to fit easily. Pour the sauce over and mix it around to ensure each piece is coated on both sides.
Bake for 35-40 minutes, basting the top of the chicken once or twice, until meat is fully cooked (165ºF on an instant-read thermometer). If it's not dark enough, you can broil it for a minute or two but be careful not to burn it.
Let the chicken rest for at least 5 minutes, then serve with extra sauce spooned on top.
Emily Clifton
I love to cook and learn about food. I was born and raised in New York City and I was exposed to a lot of different food cultures as a kid though I was weirdly picky. I hated mashed potatoes but I loved kim chee. Hated fish, loved escargot. I said I was weird, don't judge me. My mom is a great cook but I definitely don't have any "passed down from grandma" types of recipes. Both my grandmothers were horrible cooks. I mean really, truly bad. I give my mom a lot of credit for knowing that string beans are not actually supposed to be gray. In real life I'm a film/TV editor which just might be the most fun job in the world. Occasionally it can be the most annoying job in the world which is why I really appreciate it when I get to take a break and do my other favorite things which is cook, take photographs and write.