Bahama Breeze Island Grille – Legendary Cocktails and Caribbean Tapas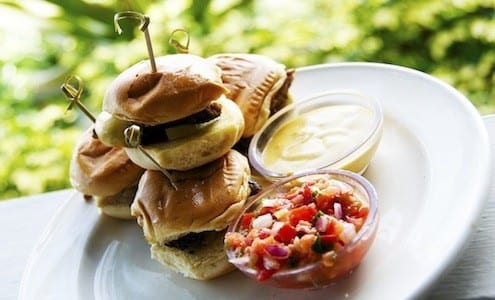 Bahama Breeze Island Grille introduces eight new cocktails, and with new drinks, come new small plates and appetizers Brenda Benoit just had to try.
By Brenda Benoit
We started with the drinks first, to open the appetite. Goombay Smash is a drink with a recipe inspired from the Bahamas – Captain Morgan Original Spiced Rum and Myers's Original Dark Rum mixed with fresh orange and pineapple juice.
Then we had the obligatory rum punch. The Barbados Rum Punch consisted of Mount Gay Eclipse Rum, passion fruit juice, fresh lime juice with Grenadine and Angostura bitters. Finished table-side with freshly ground nutmeg.
The best drink was left for last: The Painkiller. This delicious concoction was made of ?Pusser's Dark Rum, cream of coconut, pineapple and orange juice, finished with freshly ground nutmeg. Originated at the Soggy Dollar Bar in the British Virgin Islands where patrons swim to the bar to pay for this tasty beverage with wet dollar bills.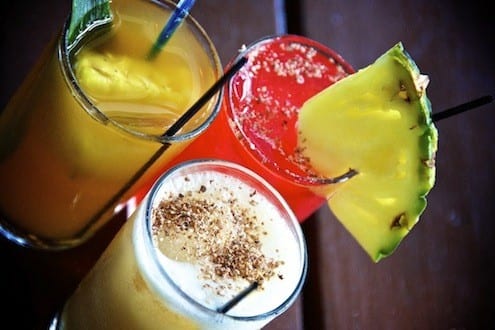 We could not try all eight of the cocktails but judging from the laughter coming from the other tables, these rum drinks were a hit.
It was prime time for a snack so we indulged in a variety of small tapas-like plates, tapas with a Caribbean twist. Caribbean food naturally combines flavors from Africa, India, Latin America and different cultures from all around the world. The resulting food delivers a hit of flavor that awakens the taste buds.
We tried seven plates in total – had to soak up the rum from the drinks. Started out with the Mojo Marinated Pulled Pork. Mojo is a citrus-spice marinade very popular in Cuba. The marinated pork was then slow-roasted and served over sweet plantains and drizzled with a smoky barbecue sauce. This hit the spot in a jiffy and made us feel warm and happy.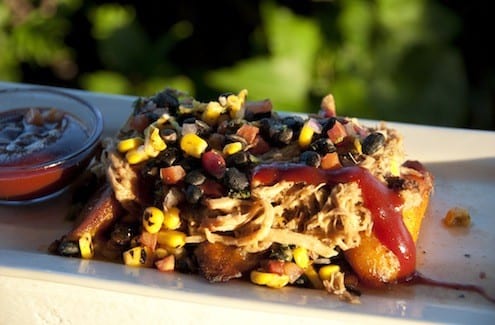 The pork was followed by Conch Fritters, Chips served in a Vine-Ripened Tomato Salsa, Chicken Empanadas, Sweet Peruvian Corn Cakes, Classic Cheeseburger Sliders and Chicken Quesadillas. The quesadillas deserve a special mention as these packets of sliced chicken and fresh vegetables, served with tomato salsa and sour cream, were just sinfully good.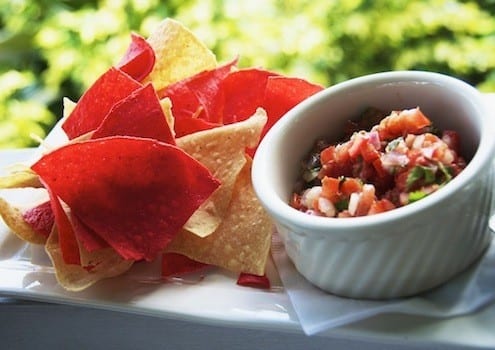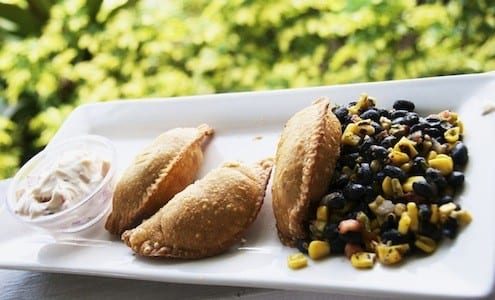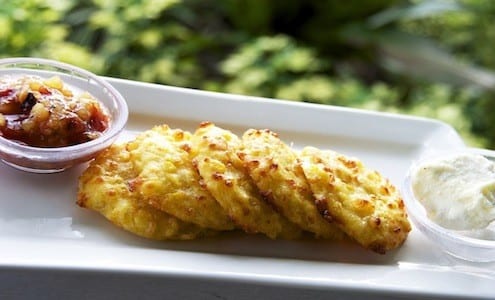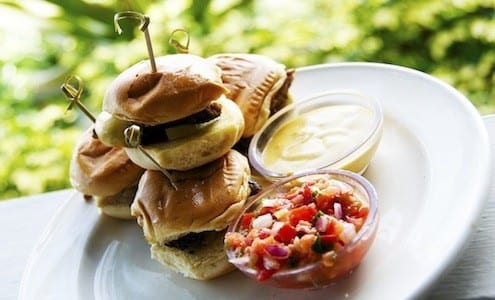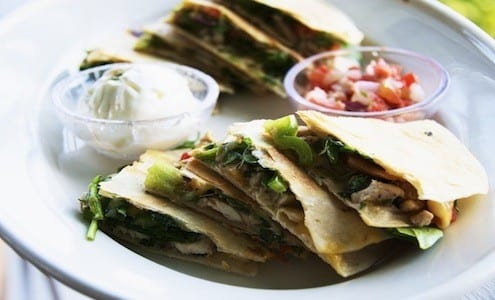 Just when we thought that there was no more space in the stomach, we were temped to get dessert. The Chocolate Island was a chocolate mousse on a fudge brownie island in milk chocolate and vanilla crème anglaise sauce. The Key Lime Pie was homemade with a graham cracker crust and golden meringue.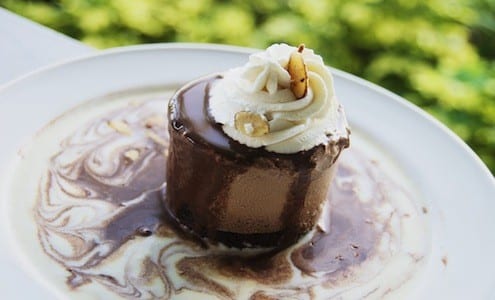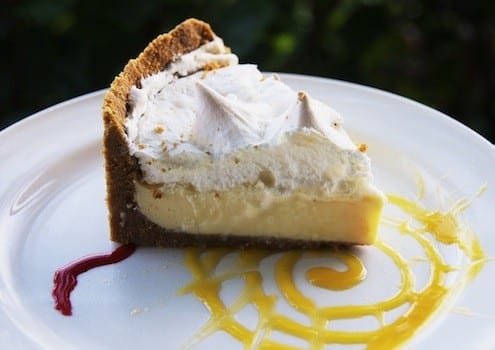 The food and drinks at Bahama Breeze Island Grille, inspired by the flavorful and colorful ingredients of the islands are not fancy or filled with rich and elaborate ingredients. This is just a good place to be: just close your eyes, listen to the live music, take a sip of a rum cocktail, a bite of a conch fritter and envision yourself enveloped by a gentle Caribbean breeze. With locations all over the United States, the spirit of the islands is never too far away.
BAHAMA BREEZE ISLAND GRILL
Several locations nationwide
Happy Hour
Monday – Friday: 4:00 p.m. – 6:00 p.m.
Brenda Benoit
Brenda Benoit was born in the city of St. George's in Grenada and grew up in Caracas, Venezuela. She has been living in Miami for over 20 years, loves to cook, eat and to try new restaurants & cuisines - always with her camera as a companion. She's a dedicated cookbook collector and is in the process of writing one of her own.