This warm pumpkin salad is topped off with salty bacon and crunch pumpkin seeds. Try this as a delicious holiday side or as a simple main dish during the week.
By Naa Ako-Adj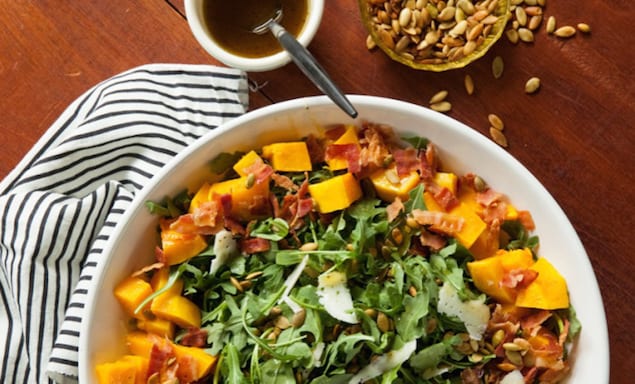 This article has been posted with permission and originally appeared as Warm Pumpkin Salad with Bacon and Pumpkin Seeds on Relish
Add shrimp, beef or chicken to make this a satisfying main dish.

Bacon and Pumpkin Salad with Maple Vinaigrette
This warm pumpkin salad is topped off with salty bacon and crunch pumpkin seeds. Try this as a delicious holiday side or as a simple main dish during the week.
Ingredients
Pumpkin:
½teaspoon salt
1½tablespoons olive oil
Vinaigrette:
¼cup maple syrup
3tablespoons apple cider vinegar
⅓cup extra-virgin olive oil
½teaspoon salt
¼teaspoon freshly ground pepper
Salad:
6ounces baby arugula
4slices (1/4 pound) bacon, cooked and crumbled
½cup pepitas (shelled pumpkin seeds), toasted
2ounces Pecorino Romano cheese, shaved with a vegetable peeler
Instructions
Preheat oven to 375F.
To prepare pumpkin, toss pumpkin with olive oil and salt. Place on a foil-lined baking sheet and roast 15 to 25 minutes, until tender. Set aside.
To prepare vinaigrette, combine maple syrup and vinegar in a small saucepan and bring to boil over medium heat. Remove from heat and whisk in olive oil. Stir in salt and pepper. (Makes about 1 cup. Leftovers can be refrigerated in a covered container up to a week).
To prepare salad, combine arugula with about ¼ cup vinaigrette. Toss well. Top with roasted pumpkin, bacon, pepitas and cheese. Serves 4.
Relish
Offering more than 14,000 recipes plus features and DIYs on cooking, dining and entertaining, Relish celebrates America's love of food. Relish is about honoring cooking traditions while exploring new trends and ideas, which is why millions of people turn to both Relish.com and Relish Magazine for special occasion recipes, quick and easy weeknight suppers and culinary adventures.