Bacon and Brussels Frittata with Frisee Salad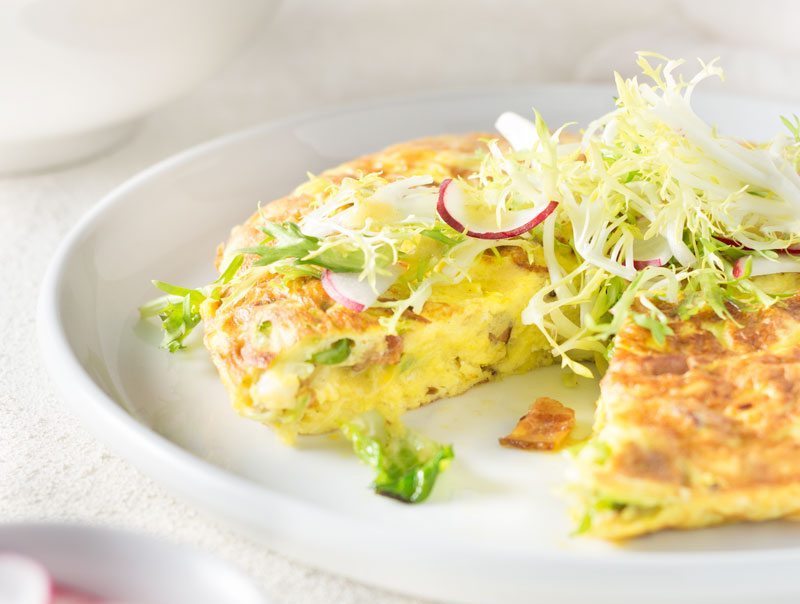 I think one of the most important things about making a frittata is the technique. I refined my grandmother's technique at work to create the perfect stove-top frittata.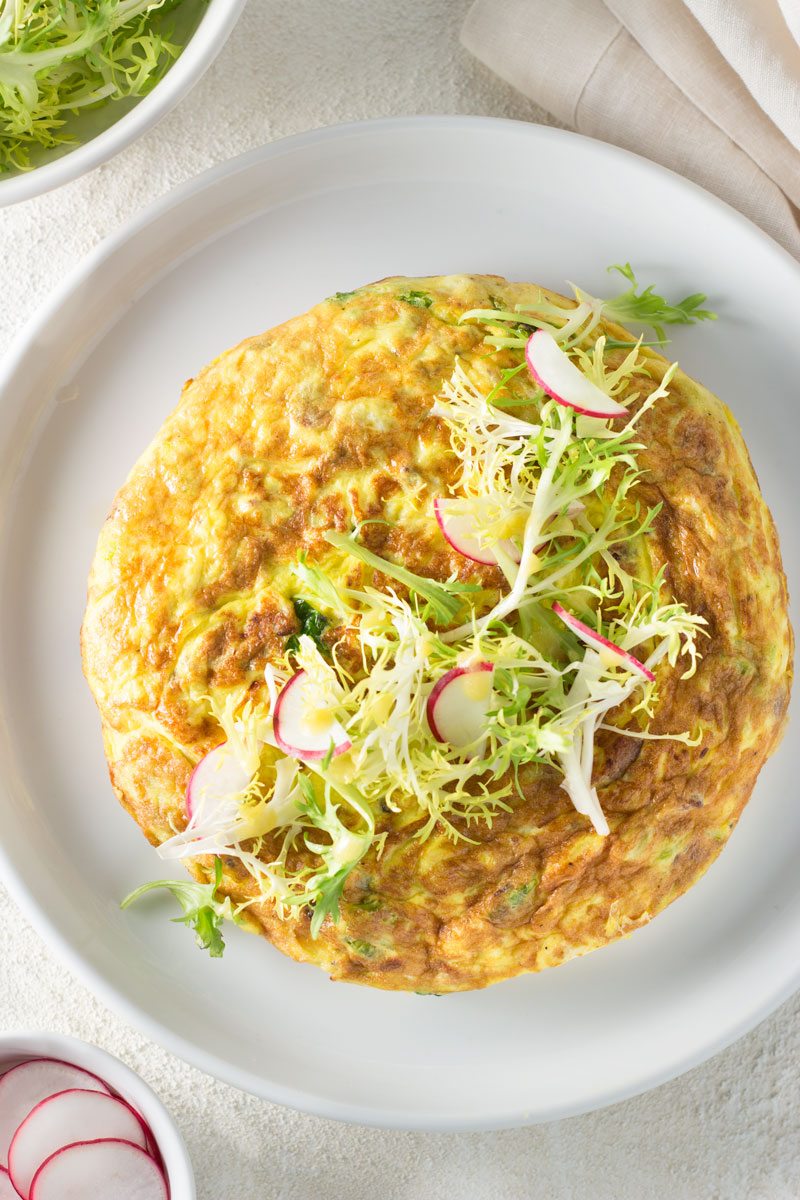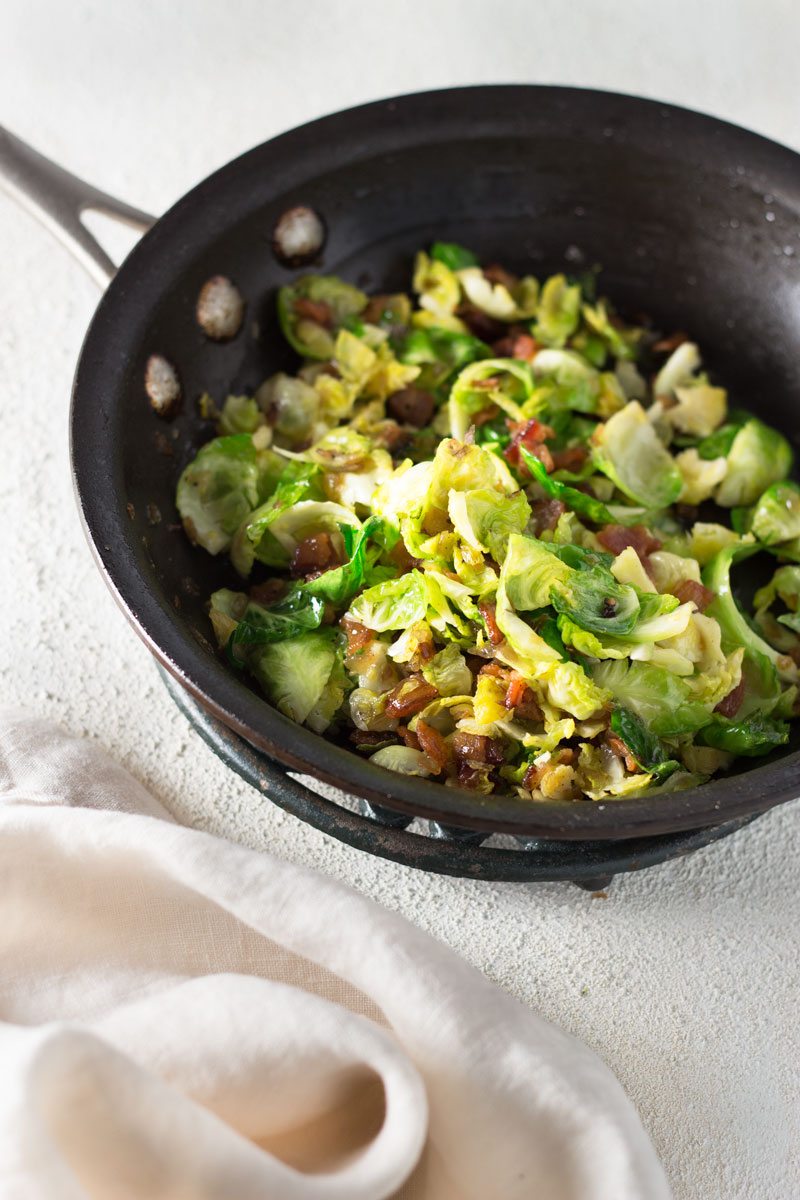 Before I get into the cooking method, let me tell you about what's inside. I used a combination of shallots, bacon and brussels sprouts. These ingredients go so so well together and make a perfect side dish all on their own. I like to chop the bacon and shallots and separate the leaves of the sprouts, so all the ingredients cook fairly quickly and are the perfect size within the frittata. Oh and of course there's also lots of parmesan cheese going into these eggs.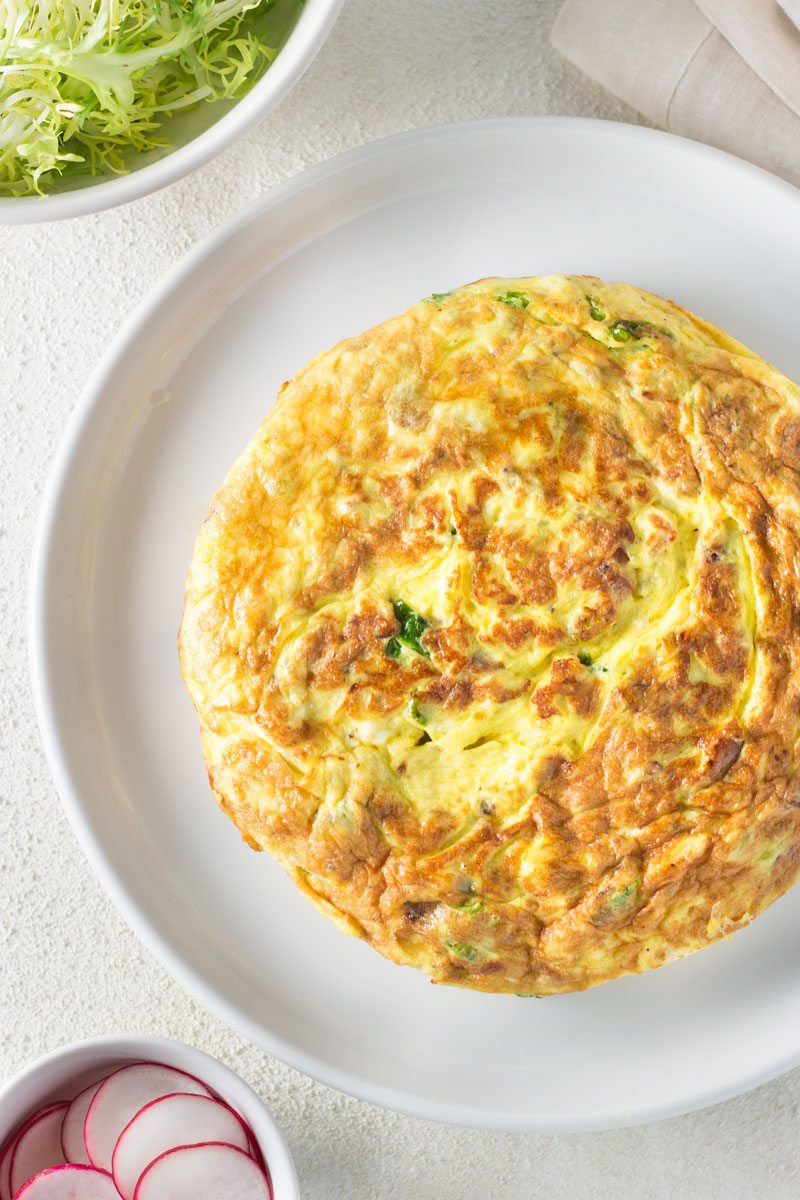 As far as the technique is concerned, I prefer to cook my frittata entirely on the stove top. There's no better way in my opinion to maintain the proper temperature control. The outside gets perfectly browned while the inside is just set.
I like to cook the filling first and allow it to cool a bit. Then, I stir the vegetable mixture in with the eggs with milk and cheese. I pour that into a hot, well-oiled pan. I use a rubber spatula to continuously stir in the beginning until the eggs are mostly set up. Then you leave it alone, and let the eggs get nice and brown on the bottom. Next, it's time for the flip. After loosening the frittata from the sides, I turn it right out onto a flat lid and then slide it back into the pan on the uncooked side. This part can be a bit intimidating. So hey, if you rather stick the frittata under the broiler to finish it off, no one will be the wiser.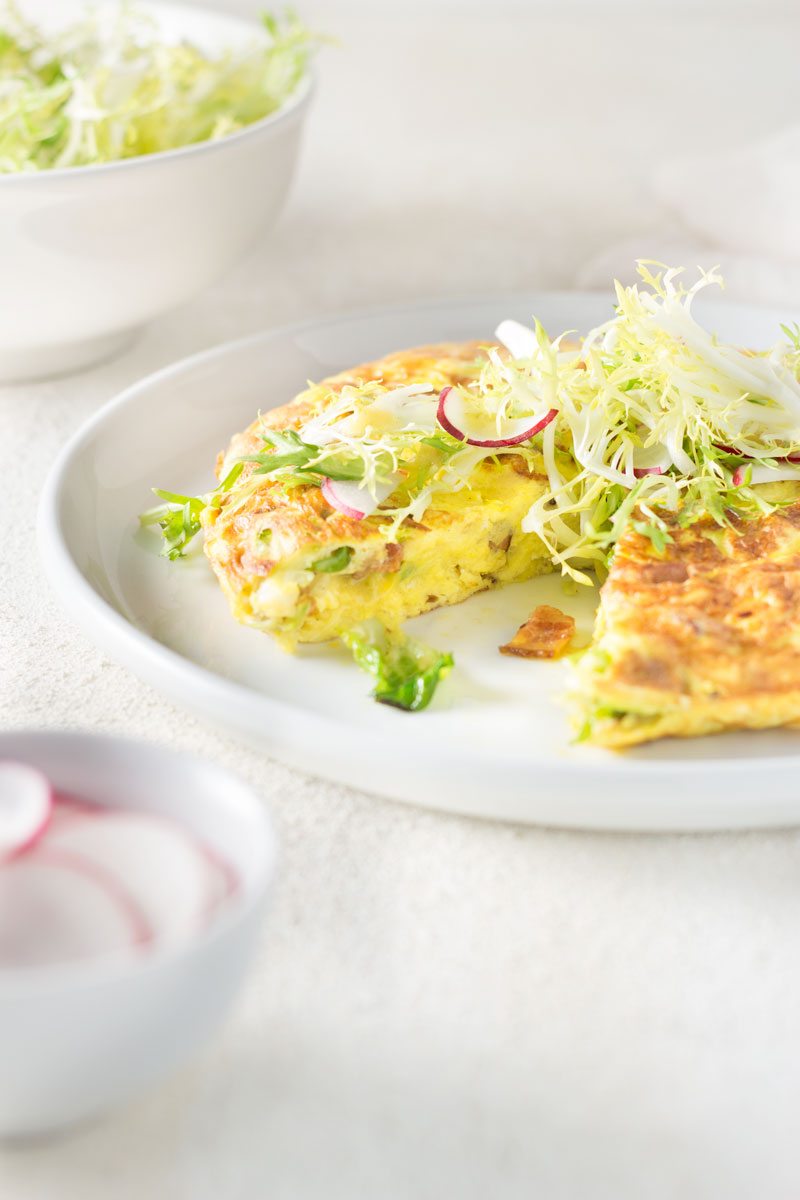 See Also

To make this a complete meal, I serve the frittata with a salad. My salad includes frisee letttuce and crisp radishes with a dijon-champagne vinegar dressing. The dijon mustard pairs wonderfully with the brussels and bacon, and the salad provides a nice light, acidic contrast to the luscious eggs.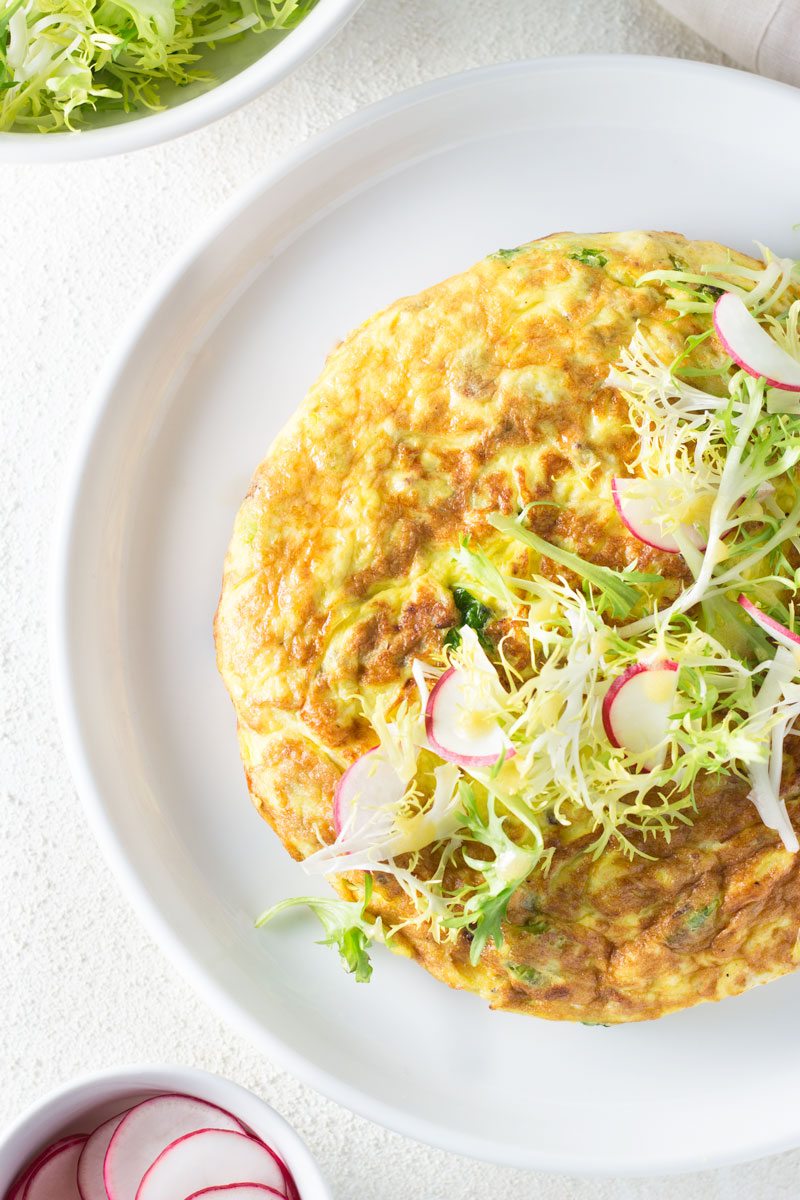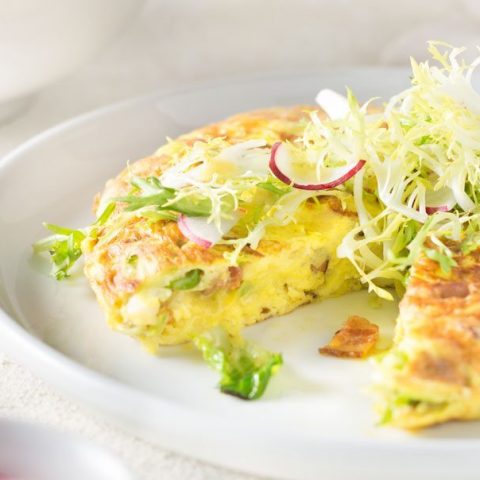 Bacon & Brussels Frittata with Frisee & Radish Salad
Ingredients
8

large eggs

4

oz

sliced bacon

cut into ½ inch squares

1

shallot

diced

4

oz

brussels sprouts

halved, cored, separated into leaves or sliced 1/8 inch thick

2

tbsp

milk or cream

1

oz

~1/3 cup parmigiano reggiano cheese, freshly grated

1

tbsp

butter

2

tbsp

extra virgin olive oil

4

oz

frisee lettuce

roughly chopped

4

radishes

thinly sliced

1

tbsp

champagne vinegar or other white wine vinegar

1 ½

tsp

Dijon mustard

3

tbsp

extra virgin olive oil

Kosher salt & fresh cracked pepper
Instructions
Add chopped bacon into a cold 8-inch, nonstick pan. Turn heat to medium. Cook approximately 10 minutes, stirring occasionally and adjusting heat as needed, or until bacon is browned and crisp. Drain bacon fat, reserving one tablespoon in the pan.

Add shallots to the pan. Season with salt. Sauté about 6-8 minutes or until translucent and sweet.

Add brussels leaves to pan, followed by the butter. Season with salt and pepper. Sauté about 4 minutes or until tender with a slight bite. Remove bacon and vegetables from pan and allow to cool at least 10 minutes before adding to eggs.

Wipe out the 8-inch pan. Warm over medium heat.

In a large bowl, beat eggs with milk and cheese. Season with salt. Stir in bacon and brussels mixture.

When pan is heated, add oil. It should shimmer. Swirl to coat pan.

Pour in egg mixture in the center of the pan. Using a rubber spatula, stir eggs, running the spatula along the edges and across the bottom of the pan as the eggs set up.

Once the eggs are about 50-60% set, after about 2 minutes, stop stirring. Allow the bottom of the frittata to brown, about 2 minutes.

Loosen frittata from the sides of the pan. Using a flat lid of a pan or large plate, place the lid against the top of the pan and invert the frittata onto the lid. Slide frittata back into the pan and cook it on the opposite side.

Cook about another 2 minutes or until browned and just set. Remove from pan.

For the salad dressing, whisk together the mustard and vinegar in a bowl. Slowly drizzle in oil, whisking constantly, until emulsified.

Add frisee and radishes to a bowl. Season lightly with salt. Toss with dressing.

Serve frittata with salad. Enjoy.
Sabrina Russo
My Three Seasons represents the 3 key factors that are most important to me in cooking. #1 Seasonal ingredients #2 Proper Seasoning (don't skimp on that salt!) #3 Cooking like a Seasoned chef (technique is everything). My name's Sabrina. I live in NYC. I'm a registered dietitian with professional cooking and food styling experience. Come cook with me.