Backyard Dessert: Blueberry Cheesecake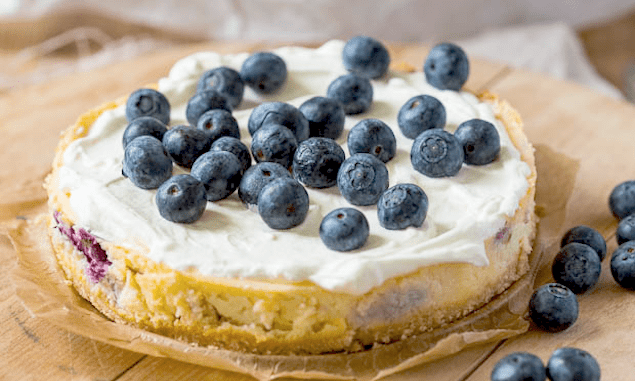 A rich, moist cheesecake studded with bursting blueberries sits atop a cookie crust. Bring to the backyard barbecue topped with sweetened mascarpone and fresh berries. So, when's the next gathering?
By Simone Van Den Berg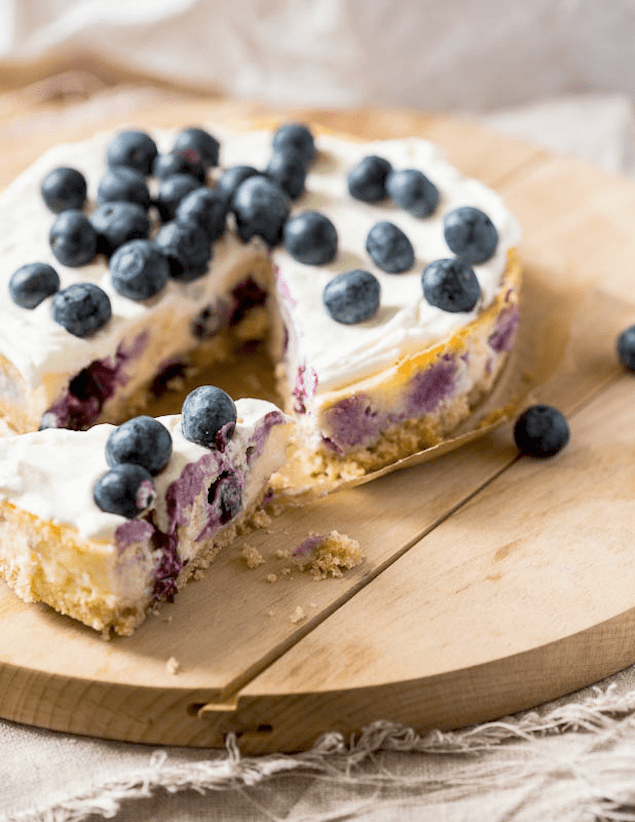 For this cheesecake I used a springform of 18 cm. That made the cheesecake relatively high (on the photos we divided them across two different tins, so this one is much lower) and the baking time had to be increased by about 10 minutes. If you use a 20 cm tin 30 minutes should be enough.

Backyard Dessert: Blueberry Cheesecake
A rich cheesecake studded with blueberries atop a cookie crust. Bring to a barbecue with sweetened mascarpone and berries. So, when's the next gathering?
Author:
Simone Van Den Berg
Ingredients
For the bottom
220 gr (8 ounces) biscuits of your choice
100 gr (3.5 ounces) butter
For the filling
600 gr (21 ounces) monchou (philadelphia or another creamcheese is also possible ofcourse)
180 gr (6 ounces) sugar
zest of 1 lemon
2 eggs
200 gr (7 ounces) blueberries
For the topping
100 gr (3.5 ounces) mascarpone
1 dl (3.5 ounces) double cream
20 gr (.75 ounces) icing sugar
Some extra blue berries for on top
Instructions
Preheat the oven to 150 C
Line the bottom of your caketin with baking paper. Ground the cookies in a machine or - using a rolling pin - smash them into small pieces (good if you need to get rid of some agression)
Put the crumbs in a bowl and melt the butter on a low heat. Add the butter to the crumbs and mix it well. Put into the caketin and with the back of a spoon press it into the tin so it gets compact. (if you use a 18 cm tin don't use all of the crumbs as it is slightly too much) While you're working on the rest place the tin in the refrigerator.
Put the monchou in a large bowl with the sugar and whisk it until smooth. Add the eggs one by one and mix in between until smooth and well combined.
Stir the blueberries in with a wooden spoon and pour everything into your baking tin. Put into the preheated oven and leave to bake for about 30 minutes or until the top is firm but still a bit wobbly. Remove from the oven and leave to cool completely to roomtemperature. Put in the fridge for setting for at least 2-3 hours afterwards.
For the topping mix the mascarpone and the icing sugar together until smooth. Whisk the cream in another bowl to soft peaks and fold this through the mascarpone
Divide the mixture over the top of your cheesecake and leave to set for a few hours in the fridge.
For serving you can add some blue berries on top
Simone Van Den Berg
Simone van den Berg is a Netherlands based freelance food photographer and food blogger. She has a passion for cooking, food and travel, which she shares on her blog Simone's Kitchen and of course right here on Honest Cooking.