A comforting dish of bacalhau smothered in mashed potatoes that is typical of a Brazilian holiday meal.
By Suzie Castello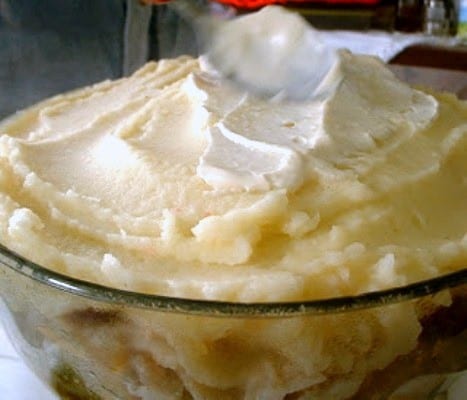 Fourteen years ago I didn't know anything about bacalhau. Before moving to Brazil, cod to me was fish sticks. During our first Christmas together I was baffled by my soon-to-be-husband getting misty when he mentioned his mother was making bacalhau.  Suppressing my secret jones for a baked ham, I remained open-minded, and looked forward to learning a new tradition.  Since that first Christmas, I have come to appreciate the many forms bacalhau takes in Brazil, especially during the holidays.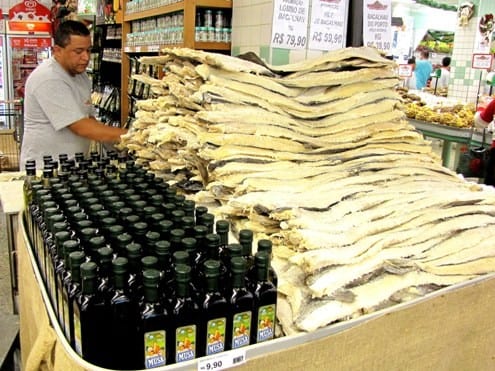 Bacalhau, staple to the Vikings, is oddly a big part of Brazilian culture.  Supermarkets offer stacks of salted bacalhau all year long.  During the holidays the stacks just get taller.  In his hugely popular variety show during the 70s and 80s, way before David Letterman gave out prime cuts of beef, Chacrinha, a maverick of Brazilian TV,  used to throw bacalhau to his audiences.  Here's a clip.  Why, with an enormous coastline and delicious fresh fish available in so many parts of Brazil, is dried, salted cod so popular? In a word, tradition.
Here is a quick history of bacalhau: Humans have been drying cod for later consumption at least for over a thousand years. Icelandic Vikings did it without salt, leaving the fish to dry out in the sun, to be consumed later on long sea voyages. The Basques started salting cod about a thousand years ago, turning into an even more durable product, perfect for trading, becoming an import part of the Mediterranean table. In Spanish it is called bacalao and in Italian baccalà.  However it was the Portuguese that brought bacalhau to Brazil.  Colonization also brought the Catholic Church's many days of of meatless menus, so bacalhau became a favorite throughout the year.  When the Portuguese Court moved to Brazil in the beginning of the 19th century bacalhau went from practical to fashionable. All the great tables served a form of bacalhau feeding the imaginations of chefs and homemakers ever since.  After WWII, bacalhau prices soared, quickly making it a luxury item. I think that is when it became codified as official holiday food. Today's threats of over-fishing and Brazil's emerging middle class' growing taste for finer things keep prices at a premium.  It is more expensive than a turkey (which is relatively expensive here), and much more expensive than prime rib or filet mignon (which are absurdly cheap here).  A strong Portuguese influence keeps the tradition of bacalhau alive in Brazil. But I think it is more than that.
Visitors to Brazil may have encountered at the better botequinhos, or as a starter in Brazilian restaurants, bolinhos de bacalhau, bite-sized crab cake-like along side their beer or caiprinha.  More sophisticated restaurants offer dishes like Bacalhau à Gomes de Sá (a sort of beautiful lasagna of everything great in Portugual: bacalhau, eggs, olives, olive oil and tomatoes – between layers of thinly sliced potato) or the lovely Bacalhau Espiritual (Spiritual Bacalhau: a heavenly melange of shredded cod, potatoes, carrots, bread crumbs and other things, depending on the chef, that is satisfyingly fluffy on the inside and crispy on the outside.)
My favorite bacalhau dish, however, is the one that leaves my husband misty: his mom's.  We call it Bacalhau à Elizabeth.  It is sort of a Portuguese shepherd's pie; chunks of bacalhau, garlic and hand-cut black olives drenched in olive oil, smothered in a layer of fluffy mashed potatoes in which nuggets of melted cheese are buried.  it isn't the uniform much that many bacalhau dishes end up bing.  Each bite holds something different.  She serves it with rice.  This is essential, because rice and potatoes on the same plate is the key to Brazilian comfort food.  This is why I think bacalhau has lasted through the ages.  It speaks comfort.  Versatile, independent of the need for refrigeration, there when you need it, I imagine bacalhau speaking comfort through the ages.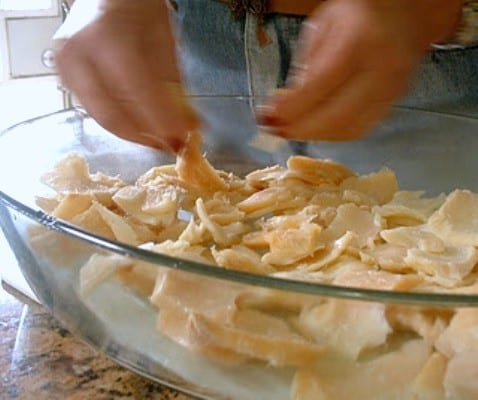 Bacalhau à Elizabeth is not a particularly fussy dish and seems to please everyone, kids and grown-ups alike.  It also serves as a cushion for the most exuberant party-goer, allowing one to soak up incredible amounts of alcohol.  And, it is easy to make ahead of time, freeing up the cook to enjoy the holiday more.  It is always part of our holidays, either for lunch on Christmas Day, to ring in the New Year, or to celebrate Good Friday.
Print
Bacalhau à Elizabeth
A comforting dish of bacalhau smothered in mashed potatoes that is typical of a Brazilian holiday meal, served at Christmas, New Year's and on Good Friday.
Author:

Suzie Castello da Costa from her mother-in-law Elizabeth Moura Castello da Costa

Prep Time:

48 hours

Cook Time:

40 mins

Total Time:

48 hours 40 minutes

Yield:

1

2

1

x
1.8

to

2

kg of good quality bacalhau or salted cod

10

cloves of garlic cut into slices

125

ml (1/2 cup) of good quality olive oil

100g

(

1/2 cup

) black olives, pits removed

125

ml (1/2 cup) of dry white wine

150g

(

2/3 cup

) mozzarella cheese cut into small cubes

3.5

kg (7 lbs) of potatoes

125g

(

1/2 cup

) of butter

125

ml (1/2 cup) of mayonnaise
Instructions
Let soak the pieces of bacalhau skin side up, changing the water three times during a period of 24 hours.
Rinse the bacalhau and let in soak in milk for another 24 hours.
Rinse the bacalhau again. Place it in a pan with water and just bring it to a boil. Shut it off. Do not let it boil. Drain off this water and reserve it. It can be use d to make the accompanying rice.
Remove the skin from the bacalhau and any visible bones breaking it into smaller pieces, but not shredding it completely. Place the pieces in a large casserole dish.
Meanwhile, make mashed potatoes by peeling and cooking the potatoes, then pureeing them with the milk and butter.
Brown the garlic in olive oil. Layer the cooked garlic and all the olive oil over the bacalhau pieces.
Remove the pits from the olives and layer them over the bacalhau.
Pour the wine over the bacalhau.
Mix the pieces of cheese into the mashed potatoes and spread them over the bacalhau.
At this point the dish may be kept in the refrigerator for up to three days before serving.
Spread a fine layer of mayonnaise over the mashed potatoes.
Bake in an oven at medium heat until heated through and the top is golden.
Serve with rice made from the reserved bacalhau water.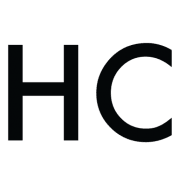 Suzie Castello
Suzie Castello is an American writer living and raising a family in a small town in the mountains just outside Rio de Janeiro. She writes about finding ways to cook, with the regional ingredients, dishes that tell her life story, from childhood in the States to travels abroad, and anything new discovered along the way. She is also the Editor of Da Minha Cozinha, a Portuguese-language blog about honest home-cooking.