Individual won ton cups filled with a healthy twist on classic baby spinach dip.
By Cassie Laemmli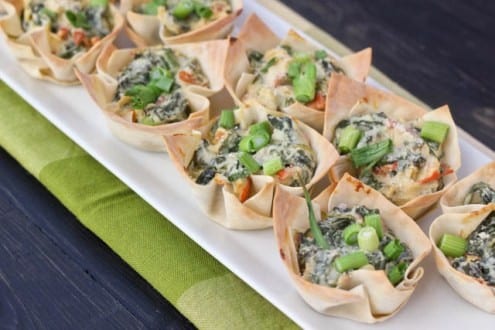 I've had a thing lately with won ton wrappers.  But I realized that I've never made individual "cups" with them.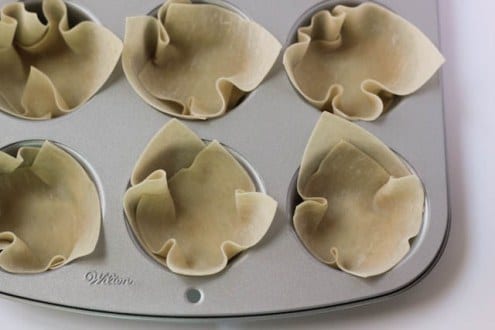 It seems to me that most people get pretty googly-eyed with individual servings.  Well, at least I do.  They are just so cute, and let's face it, they are much easier to eat in hand-held portion sizes.
So I had the shell, but no idea on how to fill them.  That's when spinach dip popped into my head.  Another crowd-please, right?  Except I sneaked in a little healthy twist…Greek yogurt!
And oh my goodness, it added such richness to the filling mixture.  I loved the tang and the creamy texture; it complimented the thyme-lemon combination so well.  Smooth?  I think so.  I didn't miss any flavor that would have normally been added by cream cheese, mayo or sour cream.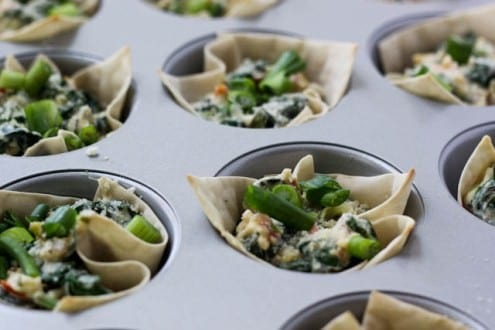 Baby Spinach Dip Won Ton Cups
Individual won ton cups filled with a healthy twist on classic spinach dip.
Ingredients
24 won ton wrappers
2 tsp. olive oil
1 shallot, minced
1 clove garlic, minced
½ cup green onions, chopped, divided
¼ tsp. salt
¼ tsp. pepper
½ tsp. dried thyme
1 package (1.4-ounce) vegetable dip mix (I like Knorr)
2 cups fresh baby spinach leaves
Juice of 1 lemon
6 ounces cup plain Greek yogurt
Instructions
Preheat oven to 350 degrees. Layer 2 won ton wrappers in each cavity of a 12-cavity cupcake pan. Bake for 5-6 minutes or until the tips of the won ton wrappers begin to brown. Remove from oven and set aside.
Meanwhile, heat the oil in a large skillet. Saute the shallot, garlic and half of the green onions until they become fragrant and tender. Season the onion/garlic mixture with salt, pepper and thyme and stir in baby spinach. Stir well until wilted. Add vegetable dip mix, lemon, garlic and yogurt and stir until combined.
Divide filling evenly into each of the pre-baked won ton wrappers; I found that I spooned a little more than 1 tablespoon-full of filling into each. Bake at 350 degrees for 10 minutes until slightly browned.
The 'bassinets' can be served warm or cold.
Notes
This recipe is easily multiplied when you need large quantities. If Greek yogurt isn't your thing, substitute the same amount (1/4 cup + 2 tablespoons) of cream cheese, mayonnaise, sour cream or plain regular yogurt, or a combination of them, depending on your tastes.
Cassie Laemmli
Cassie Laemmli is a Kansas City-based foodie and author of the food blog Bake Your Day. She loves people and has a passion for living life well; especially living well through food. Cassie believes that food is nostalgic, it is comforting, it brings people together, and it builds community. She shares stories about her life and her love of food, along with recipes that are made from fun, accessible and affordable ingredients.