This baby bok choy and avocado salad is fun, fresh, unique and as Chris Scheuer's husband said, after taking the first bite, "amazingly delicious".
By Chris Scheuer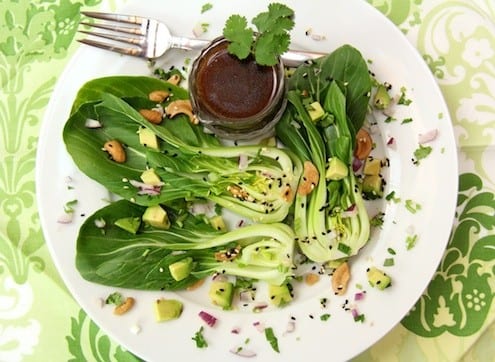 I bought a big carton of beautiful bok choy (also known as pak choy) a while back. Even though there's just two of us at home right now, these bok choy were so fresh, green and crisp that I just couldn't resist throwing them in the cart. We were driving home when my husband shared with me that he really wasn't very fond of bok choy… that's not good… not when I just purchased a mammoth size carton. Well, that became my challenge. I decided right then and there that he really was quite fond of bok choy, he just didn't know it yet … now I just had to prove it to him.
I was browsing online for a wonderful recipe to wow my dear husband with, perhaps a stir fry or even some fun roasting technique involving bok choy, when I came across this recipe. The picture didn't look all that interesting, but I was very intrigued with the idea of using bok choy as the star in a salad, with no cooking involved at all.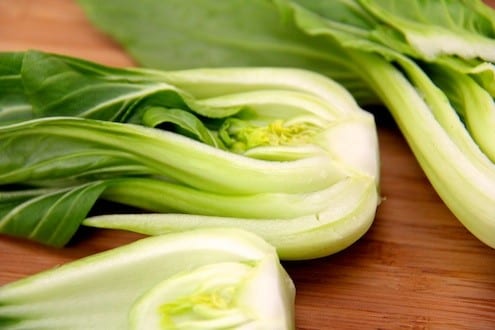 Then my imagination started rolling. I kept the beautiful lines of the bok choy by simply slicing them in half lengthwise instead of chopping them up. I scattered the salad with diced avocado and finely chopped red onion. Finally, I exchanged the almonds in the original recipe for a combination of cashews and sesame seeds which I roasted in a tiny bit of butter.The final result is fun, fresh, unique and as my husband said, after taking the first bite, "amazingly delicious". YEAH!  Mission accomplished! This has become our new favorite salad  – in fact, we enjoyed it so much, I think I'll pick up another BIG carton next time I'm shopping.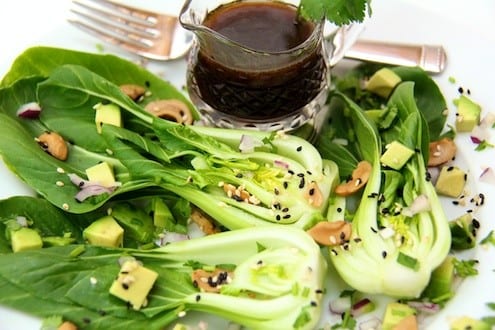 Oh, did I tell you about the amazing dressing? It's sweet, salty, slightly spicy – wonderful! You'll be wanting to keep a jar of this stuff in your refrigerator at all times.
Baby Bok Choy and Avocado Salad with Sweet Soy Vinaigrette and Butter Roasted Sesame Cashews
Ingredients
Ingredients for the dressing:
½ cup (120ml) olive oil
¼ cup (60ml) rice vinegar
⅓ cup (80ml) white sugar
3 tablespoons soy sauce
1 teaspoon finely chopped fresh ginger
1 medium clove garlic, minced
1 teaspoon toasted sesame oil
1 teaspoon Sriracha
6-8 baby bok choy bunches, cleaned and sliced in half lengthwise (make sure you get the baby bok choy as the bigger stuff is much tougher)
2 tablespoons red onion, finely chopped
1-2 ripe avocados, seeded, peeled and diced
Ingredients for the cashews:
½ cup (65g) cashews
2 tablespoons sesame seeds, white or black - (I used a combination - you can find black sesame seeds at any Asian grocer.)
½ teaspoon sea salt
Instructions
Preheat oven to 350F/180C. Combine the cashews and almonds in a small baking pan. Add butter and sea salt and roast for 15-20 minutes, stirring every 4 minutes until deep golden brown. Place several thicknesses of paper towel on a flat surface and spread out nuts to cool.
Combine all dressing ingredients in a jar with a tight fitting lid. Close the lid, and shake until well mixed and sugar is dissolved.
Arrange bok choy decoratively on plates. Scatter with the diced avocado and minced red onion. Drizzle with dressing and finish off with a shower of cashew/sesame mixture.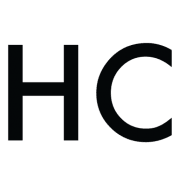 Chris Scheuer
Crescentia "Chris" Scheuer is the creator of The Café Sucré Farine food blog, which has been hugely successful since its inception in March 2011. Her recipes are seen on Foodgawker, TasteSpotting, Gourmet Live, Bon Appétit Bloggers, Foodista and other international food sites. Her inspiration for creating new, innovative cuisine comes from an insatiable curiosity, a love of travel and family connections in the UK. She has taught cooking classes in Raleigh, NC, USA.