The Monterey County Weekly is the guide all things local in Monterey County. It includes articles and reviews on food, opinion,  and entertainment. The most popular issue of the year is the "Best of Monterey County" issue that is revealed around this time every year. Leading up to the big issue, locals vote like crazy for their favorites in the county including topics such as restaurants, salons, food, and bars. Below are local restaurants in Monterey County that were voted the best out of their respective categories.
By Mallory Davis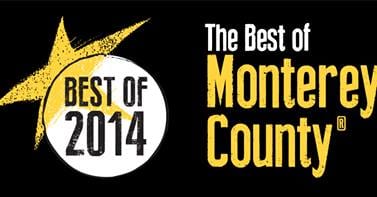 www.montereycountyweekly.com
1. Best Appetizers/Small Plates-Mundaka
Located in Carmel-by-the-Sea, Mundaka offers Spanish style tapas presented in an unusual, but beautiful environment. It offers an ambiance that is unique to the area featuring musicians on Spanish guitar most nights, a funky interior, and foreign movies are played around the restaurant late at night. It is modern, but romantic at the same time. Items on the menu include Garbanzos that are fried and sprinkled with white truffle salt along with classic Spanish dishes such as Paella.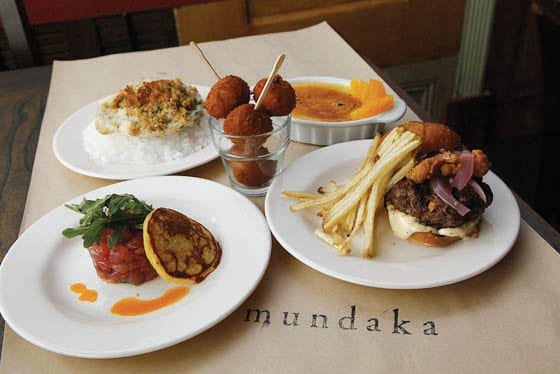 ladinenclub.com
Hours: Sun-Weds 5:30pm-9:30pm
Thurs-Sat 5:30pm-10pm
Phone (831) 624-7400
2. Best Brunch- Red House Café
The Red House Café is located in an old, red, historic Victorian house in the heart of Pacific Grove, CA, hence the "red" in the title. The house itself is over 100 years old and features a walk around porch that only adds to the charm of this small café. Once seated (it's often a long wait because of its' extreme popularity!), it feels as if you are seating in the original dining room because of the quaint furniture, decorations, and ambiance. Menu items include a grilled cheese with tomato and mozzarella and Cinnamon Brioche French Toast.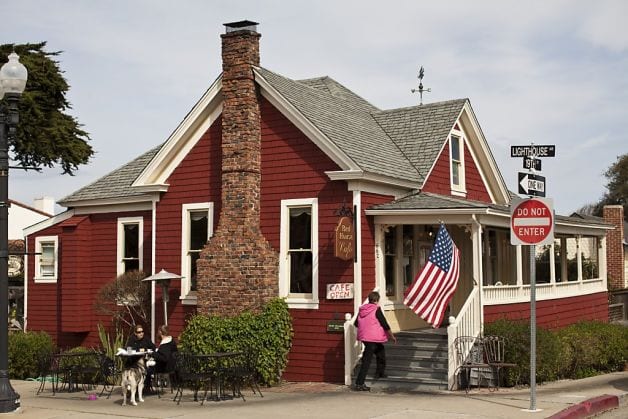 www.sfgate.com
Hours: Mon 8am-2:30pm
Tues-Sun 8-9:00pm
Phone (831) 643-1060
3. Best Mexican Restaurant- Peppers
A Mexicali-style restaurant, Peppers has a list of weekly regulars who come to socialize and soak up the charming atmosphere. Pepper art appropriately covers the walls and chips are hot and house made served as soon as you are seated. House made tamales are a favorite as well as the snapper Yucatan (it's spicy!) It's a great restaurant to go for a loud, but friendly atmosphere as well as spicy salsas and mango margaritas!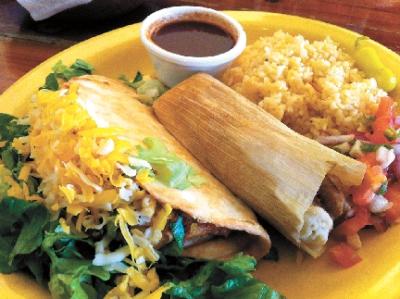 www.montereyherald.com
Hours: Mon- Wed-Thurs 11:30am-9pm
Fri-Sat 11:30am-10pm
Sun 4pm-9pm
Phone (831) 373-6892
4. Best Restaurant in Monterey- Restaurant 1833
Going to Restaurant 1833 is more of an experience than a restaurant because of all of the history it represents. The restaurant was originally called, Stokes' Adobe, after Dr. James Stokes who lived there beginning in 1840 while he served as mayor of Monterey. The adobe houses seven rooms that are now the dining rooms, and each one pays homage to the eras and people that shaped the adobe. All different and all beautiful are a perfect setting for a fire lit dinner and a drink off their unique drink menu. Honoring Dr. Stokes, the bar is thought of more as a dispensary of medicine; categories including Stress Relievers and Pain Relievers. Menu items include an Olive Oil Poached Sea Bass and Truffle Chicken.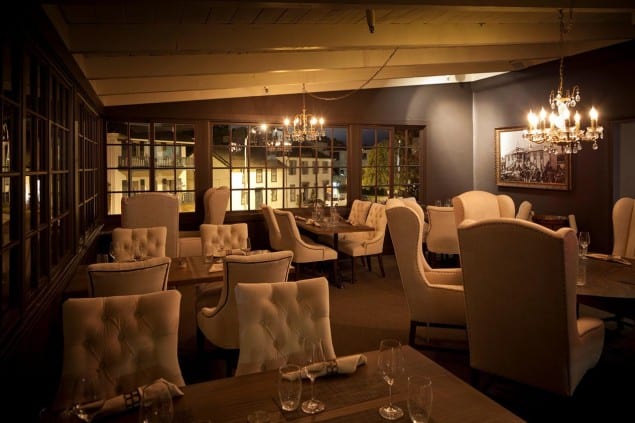 Hours: Sun-Thurs 5:30pm-10pm
Fri and Sat 5:30pm-1am
Phone (831) 643 – 1833
5. Best Restaurant in Carmel- Casanova
Casanova's style, decor, food, and service all bring the diner to the small and romantic inns of France and Italy. It offers a cuisine that is rustic and represents regional cuisine if France, Italy, and Belgium. Locals, tourists, and celebrities all come to soak up the authenticity Casanova has to offer through dishes like Duck Flatbread, Pomme Frites, and Beignets. Casanova's wine cellar is famous housing over 30,000 bottles of wine from local and international wineries. Another unique element has to do with Vincent Van Gough and a table that he spent some of his days eating meals at in a painters' village in France. Diners are asked to call ahead to sit at this historic table.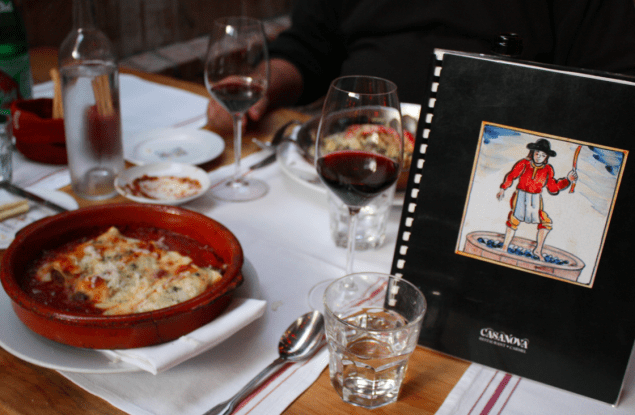 debbiewillheim.blogspot.com
Hours: Open Daily for Lunch 11:30am-3pm
Open Daily for dinner Sun-Thurs 5pm-10pm, Fri-Sat 5pm-10:30pm
Phone (831) 625-0501
6. Best Vegetarian Menu- Tillie Gort's Café
A quaint cottage-style café, Tille Gort's is one of the few places in Monterey that are 100% Vegetarian and Vegan. They have other options too, but menu items like the "no-meatloaf" and hummus sandwich are guaranteed to make even non-vegetarians ask for seconds. The café has a mom and pop and warm family ambience that is surrounded by historic photographs. Try the Vegan Chocolate Cake if you still have room after your meal (you won't regret it!)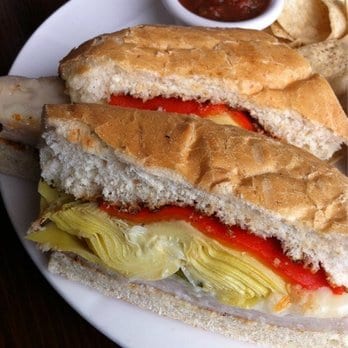 Hours: Open Daily 8am-9pm
Phone (831) 373-0335
7. Best Local Beer- Peter B's Brew Pub
A great place for Happy Hour, Peter B's serves up a hip, but casual atmosphere. As the Monterey's First Craft Brewery, they offer an endless amount of award-winning beer including the Belly Up Blonde Ale, Inclusion Amber Ale, and Legend of Laguna IPA. Beers are served in two sizes, or if you find yourself there often, join the Mug Club. The Mug Club has its' members buy a mug that they can leave at the bar until they come by again. Hundreds are hung from the ceiling waiting to be full of house made brews.

www.portolahotel.com
Hours: Mon-Thurs: 4pm-1pm
Fri- Sat: 11am- 1am
Sun: 11am to 11pm
Happy Hour Daily 4pm-6:30pm
Phone (831) 649-2699
8. Best Bakery- Paris Bakery
If you are looking for a quick lunch or café and croissant, Paris Bakery is the perfect place to visit. Located a street down from downtown Monterey, they offer pastries and desserts baked daily, seven days a week. Name a pastry and they have it; almost croissants, ham, bacon, and cheese quiche, and fluffy meringues. Their dessert case is endless as well as the racks of fresh baked bread behind the counter. For over 30 years, Master Baker, founder, and owner Jackie Jegat has been baking at the Paris Bakery seven days a week to ensure the public always has the freshest and most delicious pastry items.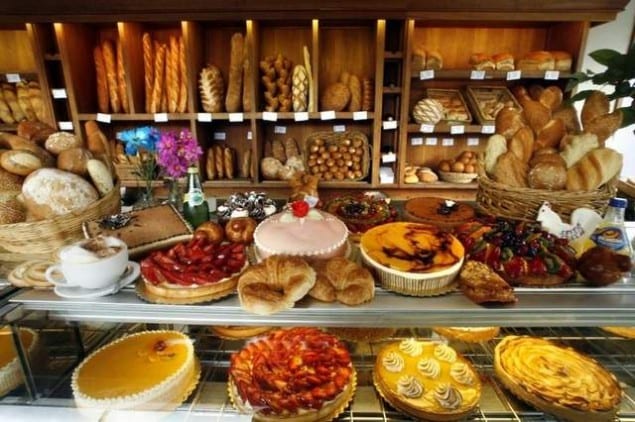 www.thecalifornian.com
Hours: Mon-Sat 6am-6pm
Sun 6:30am-4:30pm
Phone (831) 646-1620
There were many finalists, but these restaurants pulled out as clear winners for locals in Monterey County. They range from a wide variaety of restaurants and hangouts that more than prove themselves through food and ambiance as to why they came out on top this year in the "Best of Monterey County" in the Monterey County Weekly.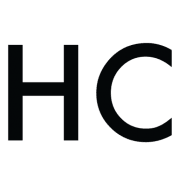 Mallory Davis
Mallory was born and raised in Monterey, California. She has a degree in Broadcast Journalism with an emphasis in sports broadcasting. Although baking and cooking were a favorite part of her childhood; a diagnosis of Celiac Disease is what really set off her passion for food. The diagnosis encouraged her to start cooking and experimenting a lot more. She enjoys making up new and unique recipes to fit her and others' diets (always making sure to include chocolate whenever possible).