Give this creamy dessert combination the benefit of the doubt. You will not be disappointed.
By Nandita Nataraj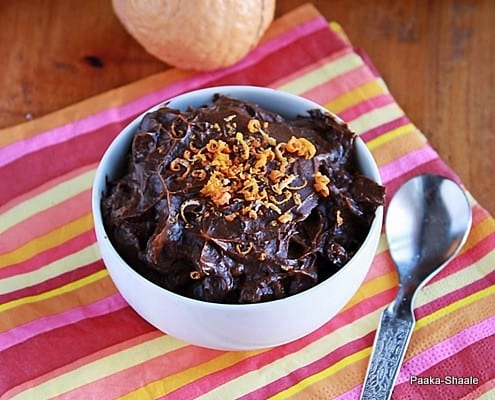 I agree that one would not accept the combination of avocados and chocolate right way. As a matter of fact, it took me quite some time to acknowledge this flavour combo. But when I did try it, I was completely blown away by the taste. Apart from being all creamy and chocolaty, this dessert is totally guilt free. For something that is so delicious, it is ridiculously easy and simple to put together. All it takes is few minutes of your time, a few ingredients and a blender and voila!!! A fabulous dessert is ready. This mousse taste great all by it itself. But if you really want to indulge, then try pairing it with some vanilla ice cream and fresh fruits. It will take this dessert to a whole new level all together.
Avocado chocolate mousse with citrus twist
Ingredients
Avocado- 1 large,
Cocoa powder- 3tbsp
Chocolate chips- 3tbsp, melted (optional)
Sugar- 3tbsp
Vanilla essence- ½tsp
Milk- ¼cup
Dry milk powder- 2tbsp (optional)
Grated zest of one Orange
Instructions
In a blender, blend the avocado meat to a fine puree.
Add the cocoa, melted chocolate chips, sugar, milk powder, milk and vanilla essence and blend till well combined.
Serve right away or chilled.
Nandita Nataraj
Nandita was born, bred and spread in India, but right now lives in Tanzania where her quest for simple and exotic pleasures of food led to the creation of the blog Paaka-Shaale. She believes that food is not just a means to feed a body. But it is also meant to appeal the mind and satiate the soul.