Autumn Slaw: Roasted Golden Beet and Figs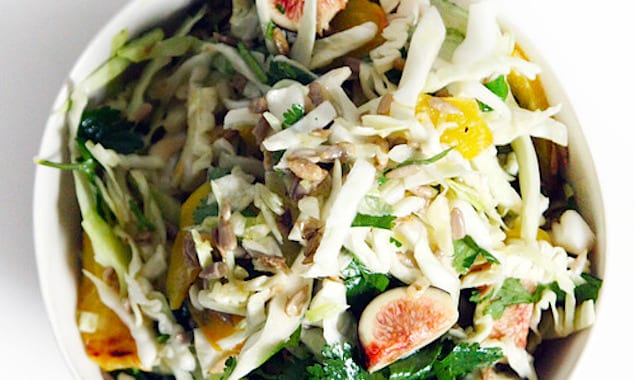 This fall slaw plays on a series of contrasting elements. Flavors of sweet and tart, soft and crunchy, earthy and crisp are coated in a light, tangy lemon vinaigrette so that every ingredient works together for a perfect, happy mouthful of bright, sweet deliciousness.
By Mariela Alvarez Toro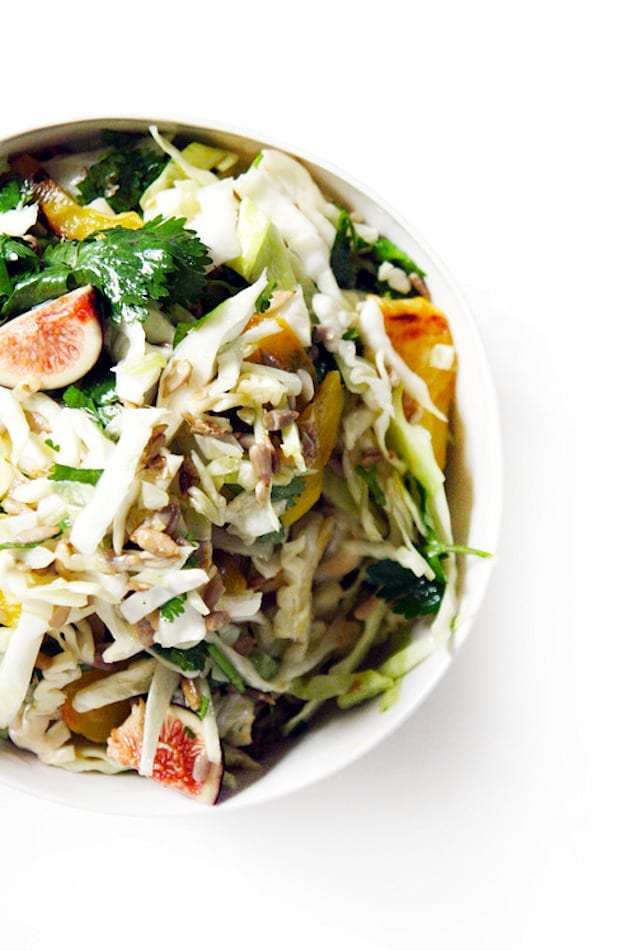 I must have been with my good friend Nate when I discovered beets for the first time: real beets, out of the earth, not a can, roasted to perfection, alongside (you guessed it!) goat cheese and greens. I must have immediately lost my mind with that first taste, because there are few flavors as unique as the contrasting combination of sugar and dirt exemplified in this deeply hued root vegetable.
While roasting remains the best way to cook beets, I have thought a lot about what could go well with beets better than super creamy, super rich goat cheese. Carrots were delicious, chocolate was a good contender, but the hunt was not complete until this beautiful Fall slaw salad I have prepared for you today.
If beets are the sexiest of root vegetables, figs rein the fruit category. I mean, come on, figs are dark, mysterious, and hard to get. But once you get your hand on a basket full of fully ripe, beautiful figs, there is just nothing better.
This slaw, above any other I have made, banks on a series of contrasting elements: Sweet and tart, soft and crunchy, earthy and crisp. Coated in a light, tangy lemon vinaigrette, every ingredient works together for a perfect, happy mouthful of bright, sweet deliciousness.

Autumn Slaw: Roasted Golden Beet and Figs
A fall slaw that plays on contrasting flavors of sweet and tart coated in lemon vinaigrette so every ingredient works together for a happy mouthful.
Author:
Mariela Alvarez Toro
Ingredients
Zesty Lemon Vinaigrette
juice and zest of one lemon
3 tbsp. olive oil, divided
1 tbsp. apple cider vinegar
½ tbsp. raw local honey, or maple syrup if vegan
salt to taste
Roasted Golden Beets & Fig Fall Slaw
2-3 golden beets
tbsp. olive oil
pinch of salt
½ small cabbage, shredded thin
4-6 figs cut into quarters
1 large handful cilantro, parsley or even mint
½ cup sunflower or pumpkin seeds
Instructions
Vinaigrette
Place all ingredients in a bowl and whisk until incorporated. Set aside until ready to eat.
Slaw
Preheat oven to 450 degrees Fahrenheit. Remove skin off beets, then cut into thin slices. Place in a baking sheet with one tablespoon of olive oil and a pinch of salt. Toss until beets are evenly coated in oil. Roast for 35 minutes.
Place shredded cabbage in a large bowl. Add a hefty pinch of sea salt. Toss, then let sit for 5 minutes. Add roasted beets, figs, cilantro, and sunflower seeds. Pour Lemony Vinaigrette into salad and stir until everything is evenly coated. Serve immediately, or refrigerate until ready to eat. If eating later, I would hold adding the sunflower seeds until ready to eat, to preserve crunch.
Mariela Alvarez Toro
Recently graduated with from Harvard University's Graduate School of Design. She has recently completed "People in Food-Space", an ethnographic study on the cultural production of taste in space. She has also examined post-soviet food production systems and housing projects in Havana, Cuba. Originally from Puerto Rico, Mariela has been living in the United States for eight years. She has involved herself in both teaching and practice, while writing on food at tastyplan.com. Her goal as a food writer is to cook creatively, using the best ingredients to find new flavor combinations every day.