Atera and the Ever Changing Menu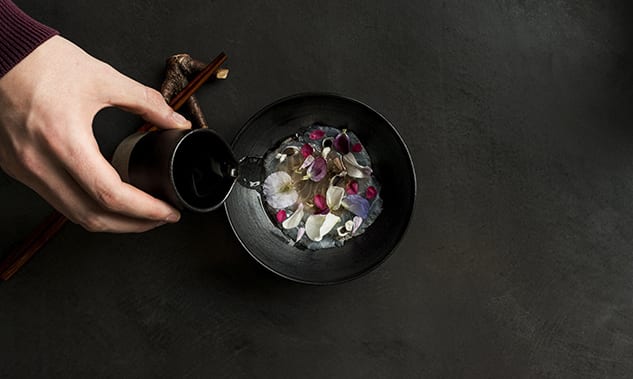 An interview with New York Star Chef of restaurant Atera Matt Lightner on culinary philosophy, setting an example, pristine products and how taking risks is essential in pursuit of the dream dining experience. 
By Roberta Phillips.
Matthew Lightner's passion is palpable. As he speaks about Atera's ever changing 20 plus course menu and 'pristine' products it's clear that he would never see the quest for perfection as a battle to be won, but rather as a never ending journey that would end only when the forests became bare and the oceans dry. He talks of boredom as death and uniqueness as beauty, never resting on his laurels as a star chef who has earned the restaurant two Michelin stars in two years and is steadily becoming a modern culinary pioneer.
Having learned from the great masters of gastronomy at restaurants such as Mugaritz and Noma, Matt's culinary style quickly became rooted in ideologies of time and space, taking inspiration from all that grows around him. He learnt from Mugaritz's Andoni Luis Aduriz, his Spanish mentor, to see the product as completely naked and unconstrained by any preconceptions of how to approach it. Exactly how he wishes the diner to enter Atera; open minded, blind and ready to be transcended to his culinary dream world. "Atera is more like a dream dining experience than a luxury dining experience. We want it to be more about imagination than just tangible things. To bring people into a world where they feel like they're not in New York City anymore, but are transcending into the world of our creativity."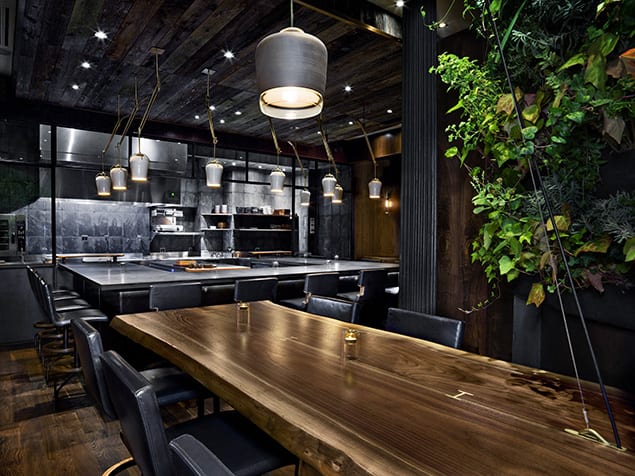 Photo @Michael Weber. 
The thing about Atera is the refusal to be stagnant. Instead of what Matt calls 'the typical monogamous dining experience' where rigid menus consisting of a starter, main and desert are shipped out like clock-work, he has set things up so that he has no constraints, no rules, but the freedom of expression. At Atera, diners will currently consume 22 servings varying in size, flavour and concept, yet this could change at any time. He may have access to an ingredient for two weeks or one night, and so this is how long it remains on the menu; the product is respected and never worked to exhaustion. His relationship with food is a very open one, and so he invites us to approach it in the same way, however challenging that may be. Matt's advice: "You've got to be a little bit more 'no fear'."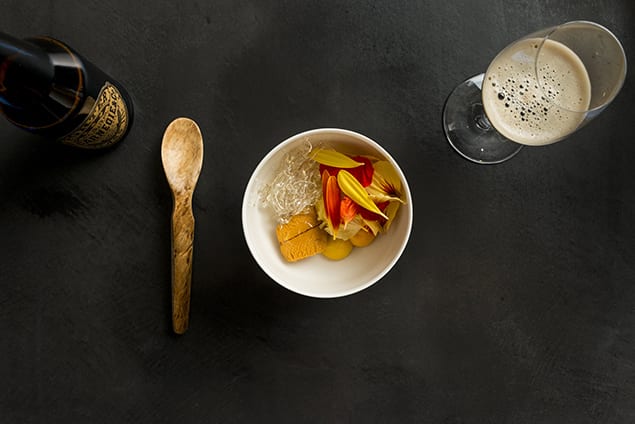 Uni, shrimp noodles, squash and nasturtium. Photo @Evan Sung. 
His favourite ingredient is "always changing", when posed with the question of his signature dish he says "you can't get stuck on one thing" – so it's apparent that, for Matt, it's not about getting it right and settling for that. It's about potentially getting it wrong and having the balls to take that risk, always moving forward, changing and manipulating what has come before you to your likings and the reactions you receive from diners. "The avant-garde, the classic. To become a really amazing orchestrator of food you have to know it all," yet this must never become monotonous or without spontaneity.
To the question of whether he thinks it's possible to be a great chef with innovative, interesting techniques but mediocre ingredients, he answers with a clear 'no'. However this leads us to a crucial issue top restaurants are faced with right now in the United States: Monsanto, the prevalence of GMO foods and how to tackle this as a restaurant in pursuit of the very best. With the monopolisation of Monsanto already having a great effect on the restaurant business, Matt explains that an example needs to be set by using, and therefore supporting, niche farmers, making a statement about the way in which we produce and consume food. Consequently highlighting his future plans for the Atera farm, whereby Matt will be able to start from the most basic point in cultivation: with the seed. "We could grow our own non-GMO seeds […] immersing ourselves very intensely in the cultivation process to get a very unique product – and of course it's going to taste better."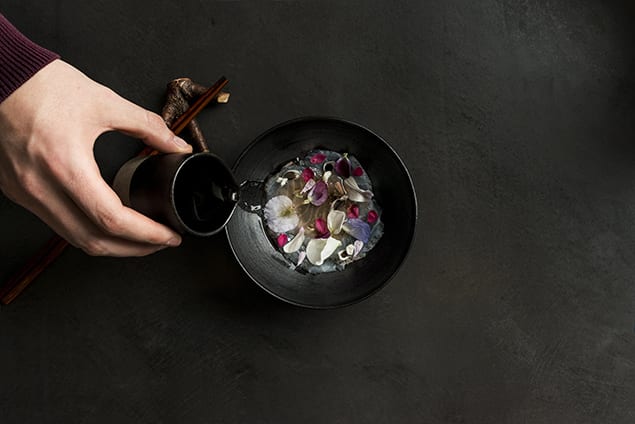 Black bass, rose hip and spring blossoms. Photo @Evan Sung.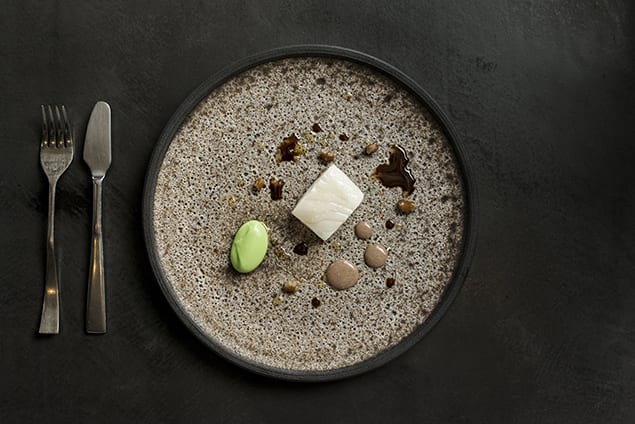 Poached halibut, preparations of black walnut and matcha emulsion. Photo @Evan Sung.
See Also

However, these changes don't come without extra costs, meaning that as of the 7th October this year Atera upped the price of their tasting menu to $225. Jodi Richard, the owner of Atera states: "The new price allows us to increase our research and development, buy new products and equipment to test, and hire new creative minds to work with us. Plus now all guests gets ten grams of (stellar) golden osetra roe from Bulgaria."
There is no end to the means with which Atera will go to secure the 'pristine'. Though there are always obstacles, some much bigger than others, Matt Lightner is a problem solver, and he thrives off this. The nature of Atera's ever changing menu means that nothing has a chance to lose its charisma. The dishes are kept fresh for frequent diners and it's created so that it's virtually impossible for anyone to have any preconceptions before the dream dining experience.
It is one of those places that is constantly one step ahead of the game; even amongst the best Atera is recognised for its innovation. Daniel Humm of Eleven Madison Park recently stated to the Sydney Morning Herald: "One restaurant I keep going back to is Atera; I just love what Matt Lightner is creating. Atera is a place where you can relax, immerse yourself in the experience and put yourself in the hands of the chef. The menu changes all the time but it always feels special and like a journey."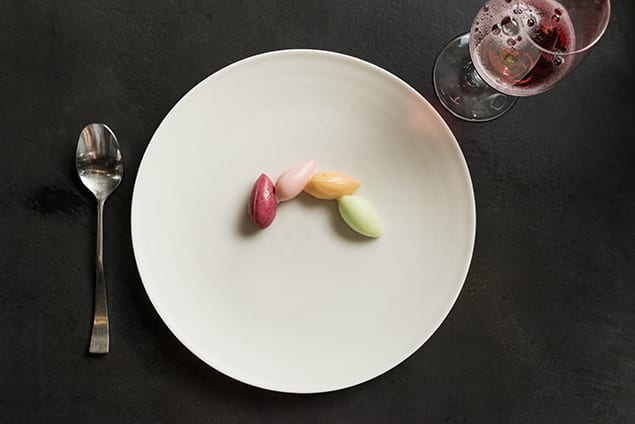 Sorbet of citrus. Photo @Evan Sung. 
Roberta Phillips
Roberta Phillips is a UK-writer with a major in English and American literature. Her literary portfolio includes working with popular art and culture publications, both as a writer and editor, as well as taking on the world of fine wines and gastronomy.