We say Hola to Diana Bauman, who cooks us a lovely spring tapa with asparagus and Spanish chorizo.
By Diana Bauman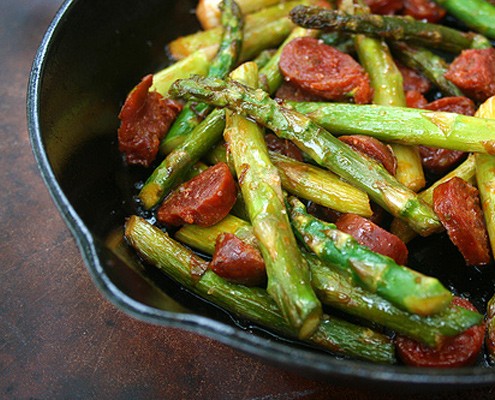 I love the turning seasons especially Spring.  It's the time of year when I'm busy sowing seedlings indoors and planting greens, onions and peas in the garden.  One of my favorite Spring vegetables is Asparagus.  Mostly because it's a perennial and I can find it growing wild in the ditches of Iowa country roads.
Yes, you can forage for asparagus.  It makes for a great past time and the kids love it.  If you live near the country you can find asparagus growing wild in patches at abandoned farm houses or in the ditches, usually under telephone poles.  There's something about foraging for edible food growing wild outdoors that brings a sense of pride to your dishes. When you can tell your guests, I didn't grow this or buy it but I found it… pretty sweet!  Just read up on poison ivy, you may not sound so cool with boils on your skin.
One of my favorite ways to ring in the Spring is with asparagus touched with a little bit of Spanish flair.  That's right, Spanish chorizo sausage.  An easy and seasonal tapita or side dish.
Ingredients:
1 bunch of asparagus, cut in half
3/4 cup Spanish chorizo sausage, sliced
Extra virgin olive oil
Large granule sea salt to sprinkle
Method:
In a cast iron skillet warm 2 – 3 tbl of extra virgin olive oil
When the oil is heated through, add the asparagus and brown on both sides until tender
Add the chorizo sausage and mix in allowing its flavors to incorporate for about 5 minutes
Sprinkle with sea salt and serve immediately
Buen Provecho!
Diana Bauman
As a first generation American, Diana shares her family's traditional Spanish and Mexican recipes at her successful blog Spain In Iowa. She also writes about faith, family, organic gardening, raising backyard chickens and preserving the harvest.