These muffins make a lovely light lunch or dinner when served with a poached egg and taste perfect with a glass of wine.
By Sarah Schiffman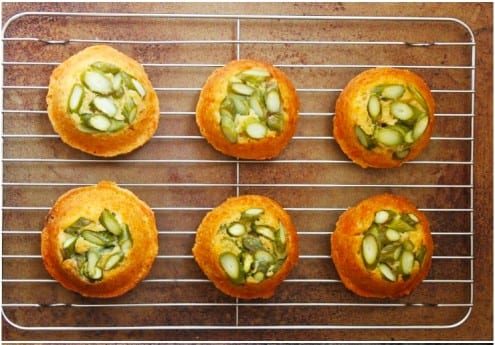 I had never thought to make a savory upside down dish, in my mind those were always reserved for things like rhubarb and pineapple, but when I was left with a bowl of slanted asparagus slices and just enough supplies to throw together a pan of corn muffins I thought it might be worth a shot. It was. The muffins are savory and just a little sweet with a soft cheesy bite. Pair that with a perfectly tender asparagus bottom turned muffin top and you are in business.

Asparagus Upside Down Corn and Cheddar Muffins
These muffins are savory and just a little sweet with a soft cheesy bite.
Ingredients
Butter for greasing muffin tins
2 tablespoons butter, chopped into 12 small pieces
1 small bunch of asparagus, trimmed and sliced on the diagonal (see picture)
1 cup corn flour
1 cup whole-grain pastry flour
¼ cup dark brown sugar
2 teaspoons baking powder
½ teaspoon baking soda
1 teaspoon kosher salt
2 cups grated sharp cheddar cheese
1½ cups sour cream
2 eggs
2 ounces unsalted butter, melted and cooled slightly
Instructions
Preheat the oven to 350 degrees F. Grease a twelve cup muffin tin with butter then place a piece of the chopped butter in each cup. Place asparagus pieces in the bottom of each tin in a single layer. The asparagus should lay mostly flat but don't worry if there is some overlap between pieces- it doesn't have look perfect. Set aside.
In a large bowl, whisk together the flours, brown sugar, baking powder, baking soda, and salt. Add the grated cheese and stir to combine.
In a medium bowl, whisk together the sour cream, eggs, and melted butter. Using a spatula, add this mixture to the dry ingredients and gently stir to combine.
Scoop the batter into the muffin tins (on top of the asparagus). The batter should fill just to the top of each tin. Bake for 30-40 minutes, rotating the pan halfway through, until the tops look golden brown.
Let muffins cool for a minute or two, then flip over onto a baking sheet or cooling rack. You might need to run a knife along the muffin cups or tap the bottom of the pan to make sure they all fall out. Replace any asparagus pieces that have fallen out and serve warm.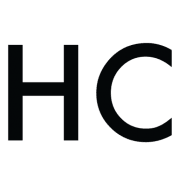 Sarah Schiffman
Sarah Schiffman is the author of the food and photography blog Pearl and Pine. Her recipes focus on fresh seasonal ingredients and she loves to share the stories and pictures that accompany each dish.