Asparagus and Strawberry Salad with Balsamic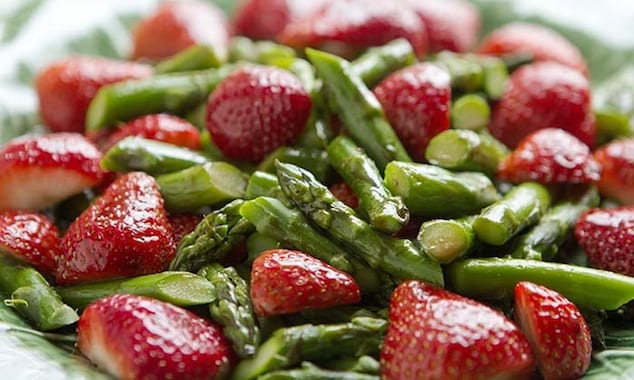 This tangy, sweet, bright spring salad with strawberries and asparagus is a perfect side with cheese and crusty bread. Check out the B.T.C Cookbook for a great read and more delicious recipes.
By Debra Smith
The B.T.C. Cookbook is filled with stories about a grocery store located in the small town of Water Valley, Mississippi. In 2010 Alexe van Beuren and her husband turned a historic building into a grocery store filled with hope and dreams, and glass-bottled milk, Cora's fried pies, and local produce. But failure seemed imminent until five-star chef Dixie Grimes walked in and within a few short months, customers were lined out the door to try her creations.
The book is not only rich with traditional food of the south, but also rich with stories of the people of the community, farmers too. I read the cookbook cover-to-cover in one sitting. This is an underdog story about small town folks with big dreams and enough perseverance and grit to make it happen.
Asparagus and strawberries are about to be plentiful here in the Midwest. This salad was found in the beautiful B.T.C cookbook and is a light, bright, sweet, and tangy meal. Try with cheese and bread for a larger part of a meal.

Asparagus and Strawberry Salad with Balsamic
Adapted from The B.T.C. Old-Fashioned Grocery Cookbook This tangy, sweet, bright spring salad with strawberries and asparagus is a perfect side with cheese and crusty bread. Check out the B.T.C Cookbook for a great read and more delicious recipes.
Ingredients
2 pounds fresh asparagus, cleaned and cut on the bias
4 cups fresh strawberries, cleaned and halved
¼ cup extra-virgin olive oil
¼ cup balsamic vinegar
¼ cup honey
1 teaspoon kosher salt
1 teaspoon freshly ground black pepper
Instructions
Place asparagus in a large skillet and add 1 cup of water just until the asparagus is covered; add a pinch of salt and bring to a boil, blanch for 2 to 3 minutes or until the asparagus is bright green and al dente
Immediately transfer to a bowl of ice water and cool completely
Remove asparagus from the bowl and pat dry with paper towels
Place the asparagus into a medium-sized bowl, add strawberries and toss gently
In a small bowl, whisk together the olive oil, balsamic vinegar, honey, salt and pepper
Pour the dressing over the asparagus strawberry mixture; refrigerate for one hour before serving
Debra Smith
Debra and 'The Professor', Midwest-based husband and wife freelance videographers, photographers, writers, storytellers, and publishers of the Smith Bites. Using images, words, music and video, they connect the stories about food, friends and family to the world around them.