Asparagus with Pancetta and Apple Cider Vinaigrette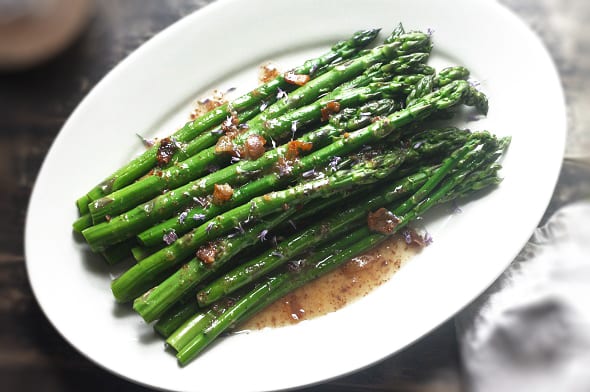 This is surely one of the best ways to enjoy asparagus – lightly cooked and served with a punchy vinaigrette.
By Bryan Picard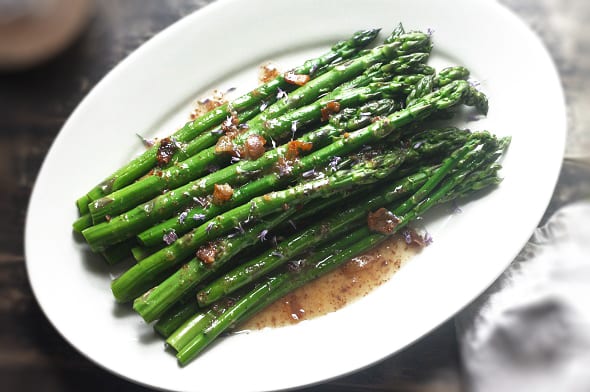 Here the asparagus are blanched and then sautéed, but grilling them on the barbecue is also a good way to go.

Asparagus with Pancetta and Apple Cider Vinaigrette
This is surely one of the best ways to enjoy asparagus – lightly cooked and served with a punchy vinaigrette.
Ingredients
1 bunch asparagus, cleaned
4 slices of pancetta, chopped
2 tablespoons apple cider vinegar
1 tablespoon sugar
1 teaspoon dijon mustard
⅓ cup olive, grapeseed or sunflower oil (or a mix)
sea salt + groud black pepper
chive blossoms for garnish (optional)
Instructions
Bring a large pot of water with a big pinch of salt to a boil. Fill a bowl with ice cold water. Add the asparagus to the boiling water and cook for 30-60 seconds, depending on the size. Fish out the asparagus and drop in the cold water bath. Let cool for a minute and remove from the water.
In a skillet, cook the pancetta for a few minutes until crisp. Set aside, but keep the fat in the pan. In a shallow bowl, add half of the pancetta, the vinegar, sugar, mustard, oil. Blend with a hand mixer until smooth. Taste and season with salt. Set aside.
In the same skillet you've used to cook the pancetta, heat the fat and and add the blanched asparagus. Sauté until reheated. Season with salt and pepper. Serve warm with the vinaigrette poured over. Top with the remaining pancetta and some chive blossoms.
Bryan Picard
Bryan Picard is a wild and homegrown food enthusiast. He lives in the Maritimes in Canada and has worked the kitchens as a cook and chef for the past ten years. He writes on his blog The Bite House.