Wilson Mak goes all Top Chef on a bunch of asparagus, some tomatoes and a roll of bread.
Text And Photo By Wilson Mak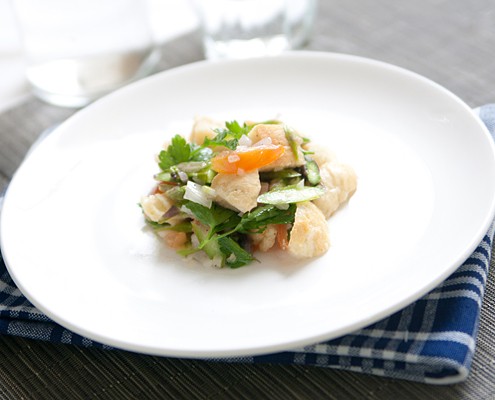 I consider myself a big fan of Top Chef shows. Top Chef Masters season 3 is currently airing and recently I was inspired to recreate one of the Quickfire winning dishes. This Quickfire challenge was really unique as the chefs were asked to create an appetizer that cost less than a dollar. Chef Naomi Pomeroy came out as the winner for this challenge with her well balanced flavor salad : Asparagus & Bread Salad with Cherry Tomato & Lemon Vinaigrette
This salad is really easy to prepare and it tastes absolutely delicious.
Recipe modified from Top Chef Masters

Asparagus & Bread Salad with Cherry Tomato & Lemon Vinaigrette
A simple asparagus and bread salad with cherry tomato and lemon vinaigrette
Author:
Wilson Mak, Adapted from Top Chef Masters
Ingredients
1 cherry tomato, cut in quarters
4 tablespoons ( 60ml )olive oil
1 shallot, minced fine and warmed to translucent in 2 tablespoons (30ml) olive oil
1 lemon ( juice )
Handful of picked Italian parsley
Salt and pepper to taste
2 spears asparagus, shaved very thin
1 soft white roll, toasted to golden and torn into 1 inch pieces
Instructions
Warm the shallot with the olive oil in a pan.
Add the cherry tomato to the pan.
Add juice of lemon to create a "vinaigrette".
Add parsley and season it with salt and pepper
Toss all ingredients to plate