In between the heavier holiday season meals, this asian inspired turbot dish is light, bright and fresh.
By Laura Davidson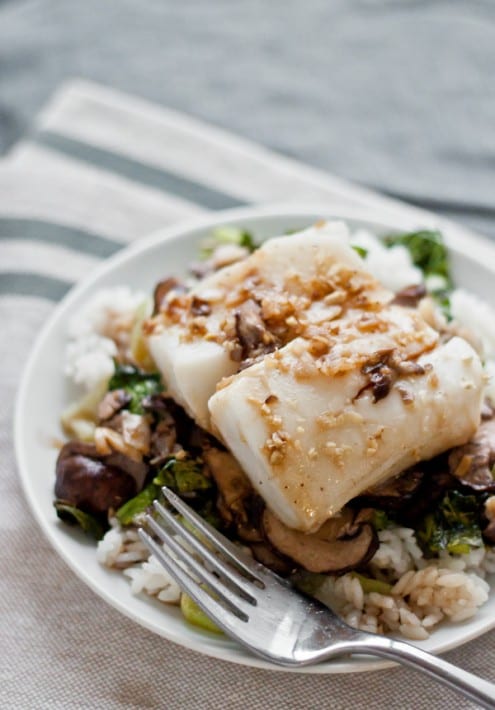 Asian Style Turbot with Mushrooms, Ginger and Soy Broth
This asian inspired turbot dish with mushrooms, ginger and soy broth is light, bright and fresh.
Ingredients
1½ lb whole cremini (baby bella) mushrooms, stems trimmed
6 tablespoons finely minced fresh ginger (roughly 4 ounces), divided
2 garlic cloves, finely minced
2 tablespoons sesame oil
3 tablespoons soy sauce
pepper
salt
1½ lb wild turbot fillets, cut into 4 ounce servings
Instructions
Preheat the oven to 425 degrees Fahrenheit.
Thinly slice the mushrooms and spread out in a large 9 inch x 13 inch glass baking dish (they should fill about ¾ of the way up the sides of the dish). Add the garlic, sesame oil, and soy sauce, as well as four tablespoons of the finely minced ginger, and toss to combine evenly. Season with salt and pepper.
Roast for 15 minutes, tossing once or twice, until mushrooms are soft and juices have released. Remove from the oven and season with salt and pepper to taste.
Slice the fish into 4 ounce pieces, roughly, and seasons generously with salt and pepper.
Rub the tops of the fish with the remaining minced ginger (dividing it evenly among all the pieces).
Place the fish on top of the cooked mushrooms, spacing them apart by an inch or so, and bake for another 8-12 minutes (depending on the thickness), or until the fish is just cooked and flakes easily with a fork.
Serve immediately with sushi rice and sauteed baby bok choy or another leafy green.
Laura Davidson
After deciding to take a leap of faith, Laura enrolled in culinary school to pursue her passion for all things food. On her blog, Blogging Over Thyme, she shares her experience as a culinary student, her favorite recipes, stories, and photography!