Asian-Inspired Chicken Noodle Soup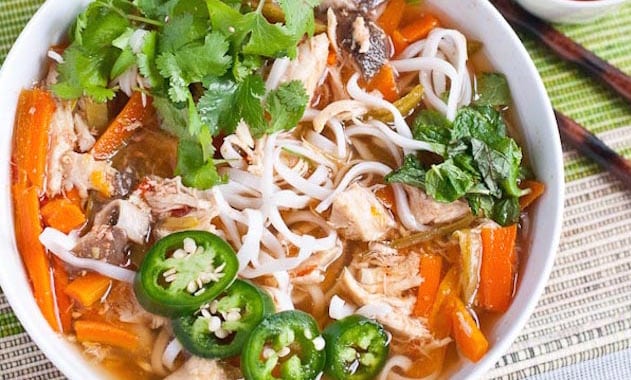 Warm up with a bowl of this chicken noodle soup spiked with ginger, Sriracha, and red curry paste. Just a sniff of this flavorful broth will chase away any winter blues.
By Courtney Rowland
I love a good old fashioned Chicken Noodle Soup, but spiking it with the warm, tingly ginger, Sriracha, and red curry paste really ups the ante. This is one sinus clearing, cold-fighting, flu-beating soup.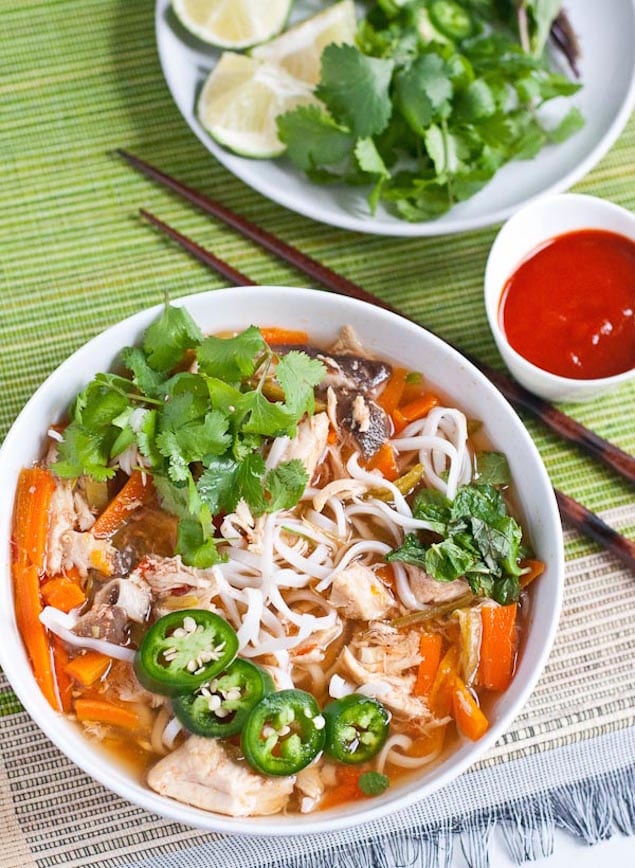 All the goodness starts with the broth. Chicken, carrots, snow peas, bell peppers, and shiitake mushrooms simmer all day in a spicy broth. The warm broth is ladled over tangly gluten free rice noodles and then loaded up with toppings. Now, most of the time toppings are sort of an after thought–something you throw in if you happen to have it on hand or can spare the extra minutes to prepare it.
Not so with this soup. These toppings are non-optional, because they're really what makes this soup's flavor so complex and satisfying. It starts with a good sprinkling of cilantro, mint and, green onions, which brings a wonderful freshness to the rich, savory broth. Then comes a squeeze of lime to temper the heat, and, if you're daring, a few slices of jalapeño to really get those sinuses cleared!

Asian-Inspired Chicken Noodle Soup
Warm up with a bowl of chicken noodle soup spiked with ginger, Sriracha, and red curry. Just a sniff of this broth will chase away any winter blues. Recipe adapted from myrecipes.com
Ingredients
4 cups low sodium chicken broth
1½ lbs. chicken breasts
3 small carrots, peeled and cut into matchsticks
½ cup thinly sliced snow peas, plus more for serving
1 sweet bell pepper, thinly sliced
1 Tablespoon Sriracha
1 Tablespoon low sodium soy sauce (or Tamari, for gluten free)
1½ teaspoons Thai red curry paste
2 inch piece peeled fresh ginger
8 ounces shiitake mushrooms, sliced
3 ounces rice noodles
Lime wedges
Fresh chopped cilantro, mint, and green onions, for serving
Instructions
Combine the chicken broth, chicken, carrots, peas, pepper, sriracha, soy sauce, curry paste, and ginger in the crock pot. Cook on high for 4 hours or 8 hours on low. Thirty minutes before ready to serve, add the mushrooms to the pot and continue to cook.
Cook the rice noodles according to package directions.
Divide the cooked rice noodles evenly between bowls. Ladle soup on top, then top each serving with a squeeze of fresh lime juice and sprinkle of cilantro, mint, and green onions. Serve immediately.
Courtney Rowland
Courtney is the author, photographer, and flour dusted girl behind the blog NeighborFood. She believes in using real butter, in season produce, and mismatched plates. She loves gathering people at the table and sharing stories, spills, and the occasional corny jokes.