The fish sauce is optional, but it gives the dish that extra savory quality.
By Brittany Everett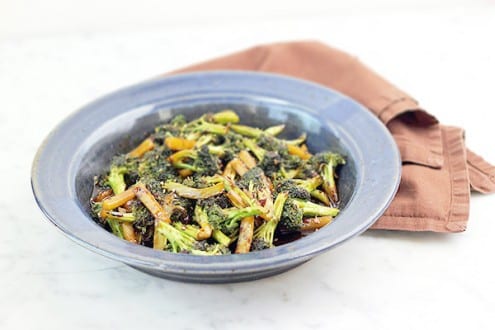 Any glaze ingredients you might not have should be easy to find in the Asian section of your grocery store. They're all great ingredients with a lot of versatility – good ones to have around!
Asian Glazed Broccoli
The fish sauce is optional, but it gives the dish that extra savory quality.
Ingredients
2 lb broccoli crowns
¼ cup water
3 tablespoons hoisin sauce
3 tablespoons brown sugar
2 tablespoons soy sauce
1 tablespoon + chili garlic sauce (add more to up the spice level)
1 tablespoon rice wine vinegar
½ teaspoon fish sauce (optional)
½ teaspoon sesame seed oil
1 teaspoon cornstarch
vegetable oil
toasted sesame seeds for garnish
Instructions
Chop the bottom off the broccoli stems and discard. Cut off the broccoli florets and cut into medium sized pieces. Peel the remaining stems and cut into matchsticks roughly the length of the broccoli florets.
In a small bowl whisk the water, hoisin, sugar, soy sauce, chili garlic sauce, rice wine vinegar, fish sauce and sesame seed oil until combined. Whisk in the cornstarch until well combined.
Heat a large pan over medium-high heat for a couple minutes, then add enough vegetable oil to coat it. Add the broccoli, toss to coat in the oil and cook until well browned and almost cooked through (poke a few pieces with a fork to test). Add the sauce, stir and lower the heat a bit. Simmer for a couple more minutes until the broccoli is cooked through and glazed with the sauce. Garnish with sesame seeds.
Brittany Everett
A graphic designer by day, Brittany enjoys cooking, eating, photographing and discussing food with every other waking moment. She created Kitchenette, a food blog dedicated to making delicious comfort foods from scratch and with love.