This lovely recipe is adapted from Pellegrino Artusi's Science in the Kitchen and the Art of Eating Well.
By Emiko Davies
Semolina cake, or torta di semolino, is one of those things that will bring a smile of nostalgia to those Italians whose grandmothers or great-grandmothers used to make this. This old fashioned cake has a soft, dense and moist texture, similar to a baked cheesecake, delicately flavoured with lemon and almond.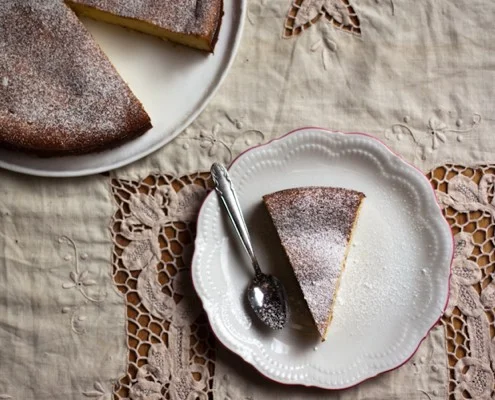 Semolina, also known as semola or semolino is the coarse leftovers of wheat flour and is often used in making fresh pasta and some traditional Italian desserts. For this cake, the semolina is cooked with milk into a sort of porridge until it is soft and creamy.
This recipe comes from Pellegrino Artusi's cookbook, Science in the Kitchen and the Art of Eating Well. Self-published in 1891, this cookbook is still found in practically every kitchen across Italy today, but while many of the recipes are still made as commonly today as they were 120 years ago, some of them went out of fashion or changed over the decades.
Recreating a recipe, particularly a cake recipe, from the late 1800s in a modern kitchen can require a few adjustments before getting just right. Consider, for example, that ingredients like eggs would have been largely home grown at the time, so were likely to be smaller in proportion to today's common supermarket eggs.
See Also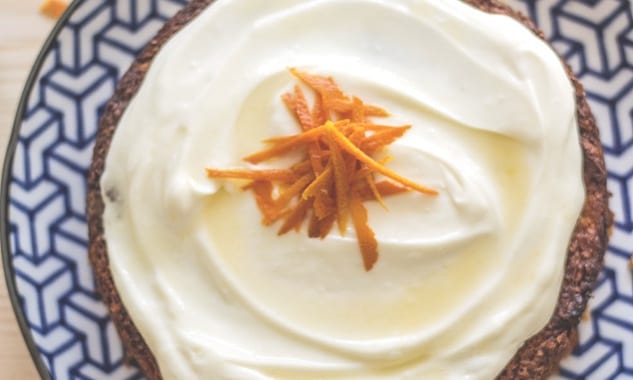 Artusi, in the over 700 recipes of his book, does not give cooking times or indications of heat (which is just as well, since Italian country ovens in the 1800s were significantly different to most modern ovens), and he assumes that many processes or techniques, such as peeling almonds or cooking semolina, are already known to his readers and he does not go into details. So the recipe below has been adapted slightly and expanded to better work in today's international kitchens.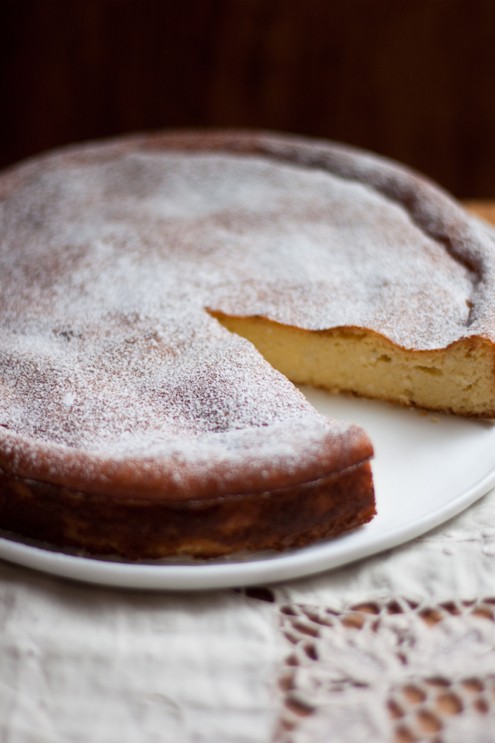 Print
Semolina Cake
---
Author:

Emiko Davies, adapted from Pellegrino Artusi's Science in the Kitchen and the Art of Eating Well

Total Time:

1 hour 20 minutes

Yield:

8

1

x
Description
A light, moist Italian cake delicately flavoured with lemon and almonds.
---
1

litre / 1 quart whole milk

130

gr / 4.5 ounces of fine semolina

130

gr / 4.5 ounces sugar

100

gr / 3.5 ounces of almonds

20

gr / 1 ½ tablespoons of butter

4

small eggs (or

3

large ones)
zest of

1

lemon
pinch of salt
---
Instructions
Prepare the almond meal by removing the dark brown skins of the almonds first. This is easily done by first blanching them quickly. If you already have peeled almonds, go ahead and pop them into a food processor to finely grind them together with the sugar, added one tablespoonful at a time. Artusi advises doing this step in a mortar and pestle, which I have to say will probably give you better results than the food processor. A food processor leaves the almond meal slightly rough and a little uneven. By doing this in a mortar and pestle you will extract more of the oil from the almonds resulting in a finer paste and a smoother textured cake.
Combine the semolina with the milk in a pot over low heat and whisk constantly to prevent lumps or burning. The semolina takes about 8-10 minutes to cook. As it cooks, it should thicken and when tasted it should feel soft and creamy, not grainy. Just before taking it off the heat, stir in the almond meal, the butter, lemon zest and pinch of salt until combined.
Allow the semolina mixture to cool before adding in the eggs (beaten separately in another bowl). Once combined, pour the mixture into a greased and floured (or lined) cake tin large enough that the cake is no more than 1 ½ – 2 'fingers' (as Artusi indicates) in height. A 26cm or 10 inch diameter round cake tin should be perfect.
Bake in a pre-heated oven at 180°C or 350°F for 50-60 minutes or until set and evenly golden brown on top.
Allow the cake to cool completely and just before serving, dust with icing sugar. This is such a moist cake that the icing sugar will just melt into the surface of the cake if it is left too long. Any remaining portions should be kept in the refrigerator.
Prep Time:

20 mins

Cook Time:

60 mins
Emiko Davies
Emiko Davies is a food writer, photographer and illustrator who Amanda Hesser calls the "Renaissance Woman for the Internet Era". She lived in Florence, Italy, for seven years where she nurtured her love of regional Italian cuisine and now calls Australia's food capital, Melbourne, her home.