This post is part of "The Art of Cheese", a partnership between Honest Cooking and Castello Cheese.
Wine and cheese are wonderful things to have on hand for an impromptu gathering. Follow these tips for a delicious event and try out the recipes for delicious Havarti bites.
By Marisel Salazar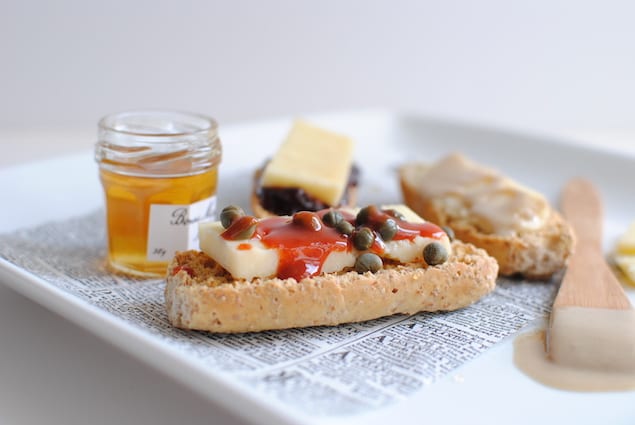 Gone are the days of chips left in cellophane bags and watered down beers or boxed wine. An elegant, yet easy wine and cheese party is within your reach. Here are some helpful hints to throwing a successful wine and cheese party in your twenties (and thirties, or forties…) on the fly.
1. KISS
Keep It Simple….Sally If you're inviting more than four people to your home, keep the cooking low-key, as in not at all. I love no-cook recipes and apps. Pickles (like small and salty cornichons), flavorful cheeses, full-bodied or light wines, herbed crackers, pre-made spreads and sauces and precut vegetables or washed fruit are your best friend. Unless you are inviting over a group of sommeliers, I wouldn't agonize over the vintage of the wine or if it pairs perfectly with the cheese or hors d'oeuvres. Just present what you like and what tastes good to you – isn't that what having "good taste" is? No need to have precise measurements with the food either.
2. Sharing is caring
Invite guests to bring over their favorite bottle of wine or easy homemade or store bought appetizer (people like trying their hand at Top Chef – let them). However, if it is not explicitly a potluck, I refrain from requiring or implying that guests bring over anything. You want to welcome them into your home, not make it seem like this is a business transaction. Make sure to have serving utensils and plates prepared for your guests' food. Food looks more beautiful and appetizing on a simple plate than left in the plastic wrap or foil it traveled in.
3. Use what you have on hand
Leftover jam? Slather them on crackers and top with cheese. Cinnamon sticks and half a bottle of whiskey? Thank goodness someone brought cider because now you can quickly heat up hot apple cider with a kick. There is no need to go out and buy brand new food if you can whip up a great appetizer using food items you already have on hand. Just make sure the food you already have is clean, unspoiled and of good quality. The beauty about hors d'oeuvres is that you can get crafty in the kitchen – I always say limitation breeds creativity.
4. Dress it up
A lovely wooden cutting board, simple clean wine glasses, a couple of lit candles, soft music or a clear vase full of flowers (no arranging necessary) instantly class up your wine and cheese gathering. A lovely pitcher for water instead of leaving the clunky Brita filter out on the table sends the message that you also thought about your guests' thirst – always a good idea to keep the party hydrated. Aim for table settings that look perfectly disheveled- like a model. You want it to say, "I woke up like this." Note: An artful drizzle of honey or sauce on a cheese board goes a long way.
5. Break out the silver
Clean up might be easier, but next level parties use real ceramic, glass and silverware. No more SOLO cups or leftover takeout utensils. Plus, you're saving the earth and reusing items you already have.
6. Enjoy yourself
Parties are supposed to be fun, right? So enjoy the company of your guests, food and wine. Don't worry about the party being perfect – your guests came to see you and enjoy you're company too, so don't be holed up in the kitchen or running back and forth like a busy bee fawning over people.
See Also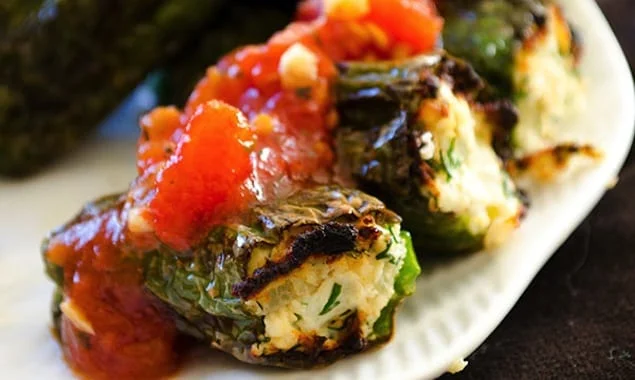 Now, to the food…
If stinky cheeses are the irritable, spinster aunt only a select few take a liking to, then Havarti is everyone's favorite uncle. Of all the cheeses, Castello's Havarti might be my favorite. It's buttery rich, yet mild creamy flavor is welcome in any setting across a variety of palates- such as a simple wine and cheese get-together of twenty 20-somethings in a cramped New York City apartment.
This versatile, semi-firm Danish cow's milk table cheese can be sliced, grilled or melted. Washed curds give it a pleasing mild, subtle flavor and a buttery aroma. It's lovely cream to yellow color lends itself to being a canvas for other brightly pigmented accompaniments such as jewel-toned jams, deeply colored vegetable greens and fiery red sauces. Unlike perfectly smooth, level cheeses, Havarti has small, irregular openings, or "eyes." I like that – ultra-smoothness or perfection (in anything) can make me squeamish. It's quite popular as a dessert cheese, and great served with fruit and wine.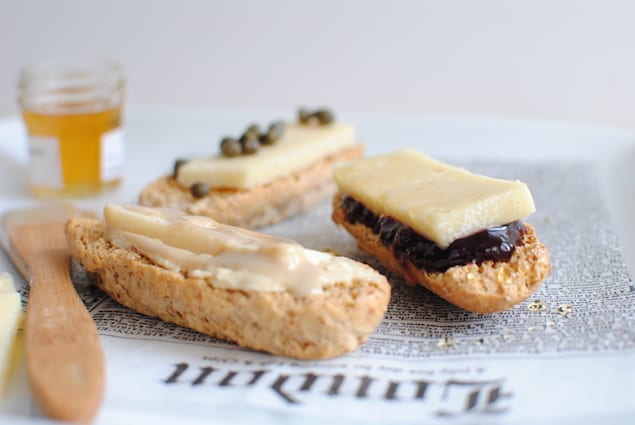 Thank goodness Havarti softens quickly at room temperature – I'd only just begun slicing and plating my cheese board as guests were arriving. It can truly be the final touch to your dinner party, wine and cheese gathering or simply wedged between two slices of bread or crackers for a simple, instantaneous snack.
While I opted for plain, aged Havarti from Castello, Havarti is also produced with extra cream or seasonings, like dill and other herbs, spices, jalapeño peppers, or caraway seeds. Havarti matches classically well with sugary fruits like figs, raisins, walnuts, hearty, rustic bread, Chardonnay, Sauvignon Blanc and light-bodied Pinot Noir wine. But because it is so mild, nearly anything goes – such as layering it with hummus and tahini, lignonberry jam and golden honey or salty capers and drizzle of sriracha atop a whole-grain cracker.

Aged Havarti Cheese Bites
Try these three renditions for a successful cheese gathering with plenty of flavorful Aged Havarti to go around.
Ingredients
Lignonberry and Honey Havarti Cheese Bites
1 package Castello Aged Havarti Cheese
1 box of your favorite thick, rustic grain cracker
1 jar Lignonberry jam
Floral honey (optional)
Hummus, Tahini and Havarti Appetizer
1 package Castello Aged Havarti Cheese
1 bag baked pita chips or box of your favorite thick, rustic grain cracker
1 package Castello Aged Havarti Cheese
Plain or herbed tahini
Sriracha, Havarti and Capers on Whole Wheat Crisps
1 package Castello Aged Havarti Cheese
1 box whole wheat or whole grain crackers
1 jar capers
Sriracha sauce
Instructions
Lignonberry and Honey Havarti Cheese Bites
Slice Havarti into ¼" to ½" thick slices, widthwise.
Evenly spread cracker with ½ to 1 teaspoon of lignonberry jam. Top with Havarti slice.
Lightly drizzle with honey and serve.
Note: For a hot take on this cool appetizer, broil Havarti for 1-2 minutes under a broiler before topping with honey.
Hummus, Tahini and Havarti Appetizer
Slice Havarti into ¼" to ½" thick slices, widthwise.
Evenly spread cracker with 1-teaspoon hummus. Top with Havarti slice.
Lightly drizzle with tahini and serve.
Sriracha, Havarti and Capers on Whole Wheat Crisps
Slice Havarti into ¼" to ½" thick slices, widthwise.
Press capers into cracker or cheese to keep from falling or mash capers in a bowl with a fork and spread ½ teaspoon mashed capers on cracker. Top with Havarti slice.
Lightly drizzle with sriracha and serve.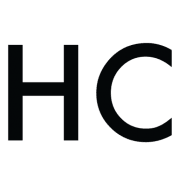 Marisel Salazar
Marisel Salazar lives and works in New York City as a food writer, enthusiastic home chef and restaurant habitué. She comes to NYC by way of Panama and Japan, which imparted on her a deep love of tortillas (the thick, fried sort), sashimi and noodles.