This post is part of "The Art of Cheese", a partnership between Honest Cooking and Castello Cheese.
A delicious, Aged Havarti cheese is used to create an appetizer, brunch dish, and dinner side that are easy and perfect for your busy holiday menus.
By Yuliya Childers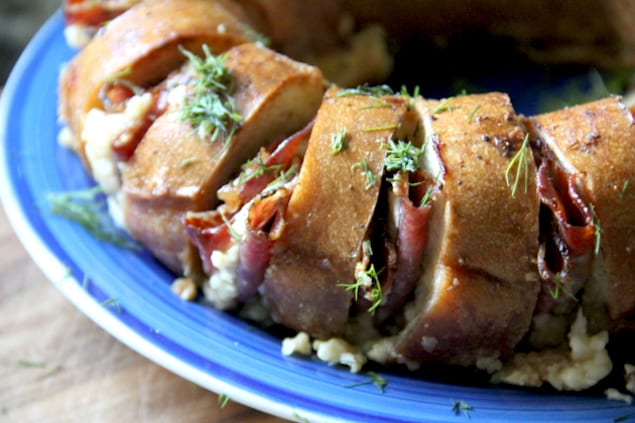 With holiday season just around the corner, party food has been on my mind. Holidays put pressure on a cook because in my mind the traditional menu is so limiting.
If your family is spending the night, there is also the no small task of breakfast or brunch in the morning after Christmas dinner. Who wants to wake up at 6 am and slave in the kitchen? Certainly not me. When it comes to brunches and formal dinners, I am a set-it-and-forget-it gal. I want to sit down in my rocking chair, sipping tea and chatting with the family and not spend my entire day in the kitchen.
Today, I am offering three party dishes — one for a traditional dinner, another for a festive brunch, and the third one as a sassy appetizer and/or a chaser for your very grown up drink. All three have one ingredient in common — Aged Havarti cheese.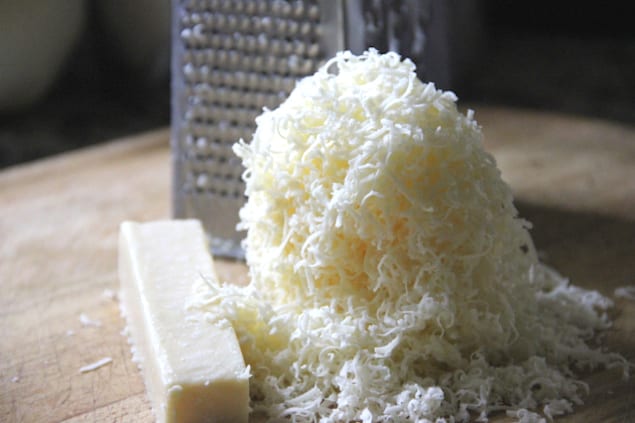 This particular cheese by Castello performs beautifully, whether melted, layered, or fresh. This is not the creamy variety most of us are used to. It delivers rich, buttery flavor with light tang and a characteristic nutty finish you would expect from an aged cheese. When eaten fresh, it also offers a distinctive light crunch which comes from the natural crystallization of the cheese. When melted, it loses nothing of its gorgeous flavor, and becomes very smooth, moderately stretchy and creamy, rather than rubbery.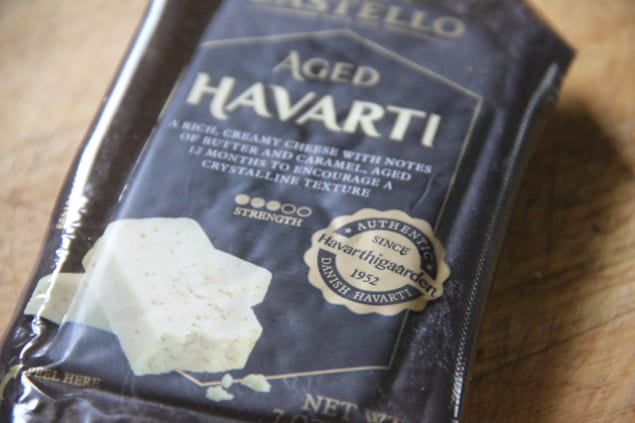 Needless to say, it's heavenly on its own or with a sweet companion, such as apple or dried cranberries, but there is only so much cheese you can eat at a party, so I combined it with various things to see if it plays nicely with others.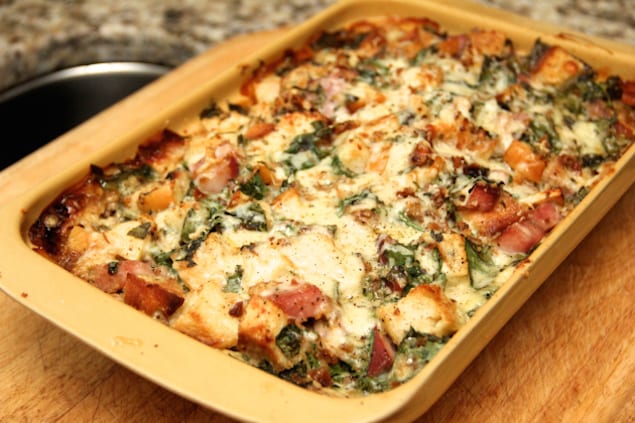 First, I put together a savory bread pudding. Carefully combined savory, sweet, soft and crunchy play very well here. I layered it with spinach to break up the expected heavy texture. Béchamel sauce adds an elegant silky touch and our Havarti gives it all a nice sophisticated finish.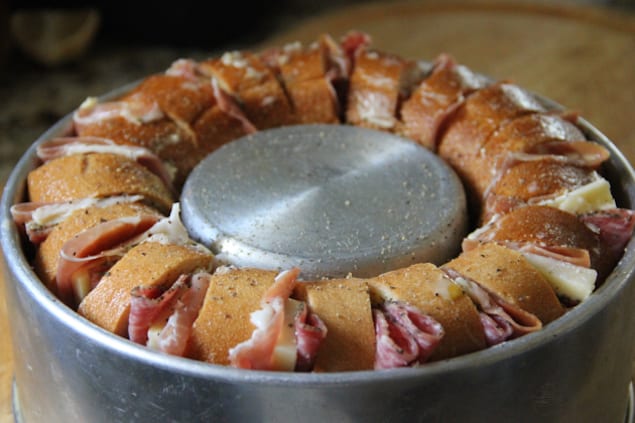 The brunch ring I like to call Mad Dane is an all grown up twist on a classic breakfast sausage, egg and cheese sandwich. A baguette layered with your favorite deli items and half-dressed in creamy omelette features nicely browned crunchy top. Feel free to improvise with your own filling — my next rendition of the Mad Dane will be Mad Italian, with roasted bell peppers, goat cheese, olive tapenade and prosciutto.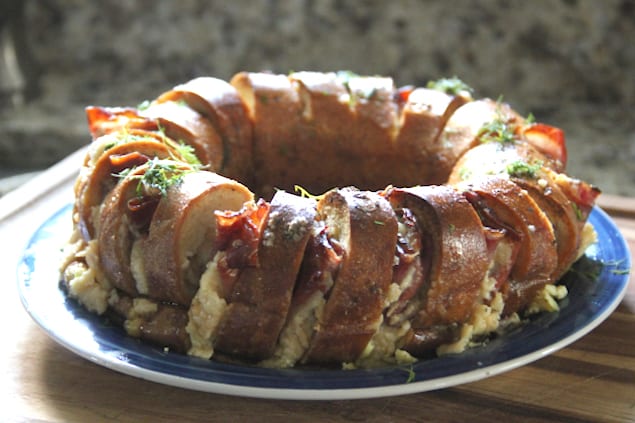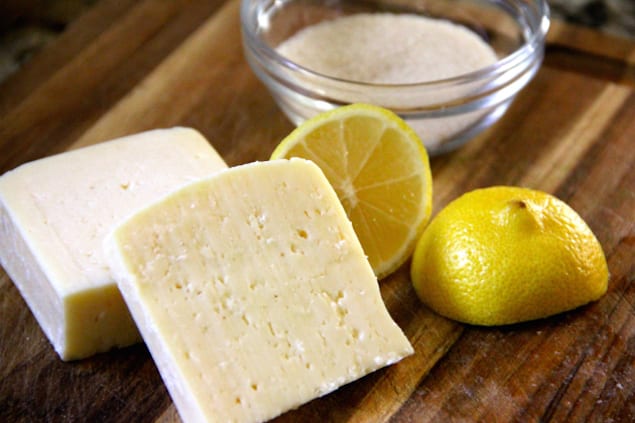 The chaser or snack I am offering here has a long history. I tried it for the first time at my friend's house, and she called it Nikolashka. The story of Nikolashka is shady — some say it was a cognac chaser invented by czar Nicolai I, who was a huge connoisseur of cognacs. Others claim that this chaser was an accident, which happened when czar Nicolai II, having tried French cognac for the first time, found it extremely strong and grabbed the first thing that was on hand to chase it, which happened to be lemon. In any case, we are dealing with a royal chaser here, people! We went on for years thinking that we were eating a royal snack. Later on I found, however, that Nikolashka has nothing to do with the snack we had. Real Nikolashka features ground coffee (or black caviar, depending on who you ask) and powdered sugar atop a lemon slice. The snack we had was sugar dipped slice of lemon atop a slice of cheese. Having tried both, I felt thoroughly unimpressed with the original royal version. While I still don't have a good name for this snack, I do highly recommend it, chaser or not, as a very refreshing appetizer. Havarti plays very well in this tart,sweet combination The lemon and sugar wake the flavor up in the cheese and make it even brighter.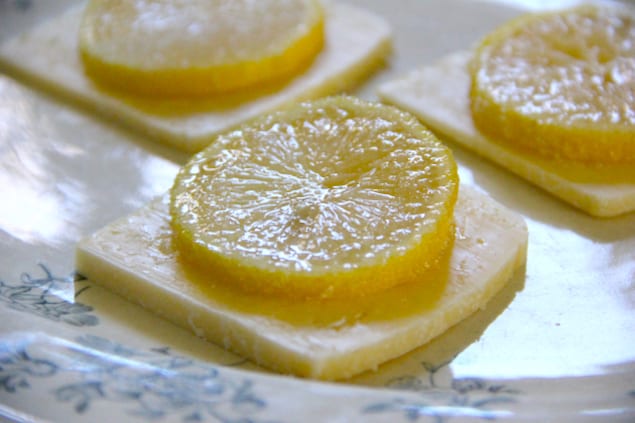 Yuliya Childers
Yuliya Childers is a self-proclaimed cooking and writing addict born and raised in a cosmopolitan city of Odessa on the Black Sea coast. She started cooking at quite an early age and learned most of her skills by watching others and reading cook books. Made-from-scratch naturally grown food is her passion. Yuliya believes that truly good food either creates or invokes memories. Her blog Eat Already! is focused on everyday creative yet un-pretentious cooking that anyone with basic skill can replicate. Yuliya's recipes are usually accompanied by childhood memories or family stories related to the dish in some way. Her recipes are honest, eclectic, multi-cultural, imaginative, and often outside the box. Currently she's into artisan breads, traditional cooking, and everything fermented… Yuliya is cooking and writing about it from Alabama.