This post is part of "The Art of Cheese", a partnership between Honest Cooking and Castello Cheese.
Sharp cheese, a smear of spiced fruit chutney, and a dab of strong mustard between thick slices of bread make up the perfect ploughman's sandwich.
By Lynda Balslev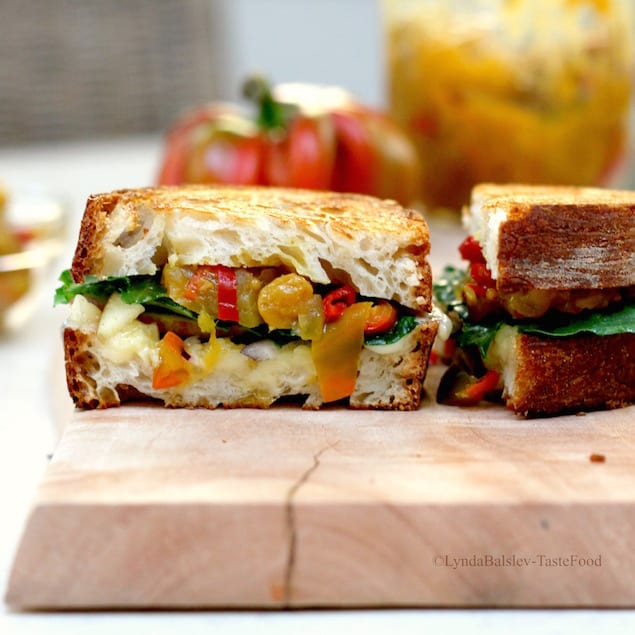 Once upon a time I lived in England. I have many takeaways from that experience, and one of them is the ploughman, the ubiquitous pub lunch consisting of generous slabs of cheese served on a platter with bread, fruit, chutney, and pickles. In my opinion, the combination is a perfect meal: sharp aged cheese, a smear of spiced fruity chutney, perhaps a dab of strong mustard, and wedges of apple stacked onto thick slices of country style bread.
I couldn't help but think of the ploughman when I was recently invited to contribute a recipe incorporating or accompanying Castello's Aged Havarti Cheese. Castello is near and dear to my heart – a brand I know well from Denmark, so I was eager to step up to the task. I was also eager to try their aged rendition of havarti, which, trust me, is not your generic mild havarti. Nutty, piquant and dense, I easily pictured it with a dollop of robust chutney. As timing would have it, I like to make chutneys during the holiday season to accompany a cheese platter. So for this challenge, I took inspiration from Piccallili, the English version of Indian pickles, which is frequently served with ploughman's lunches – and made an apple chile chutney, then ramped everything up a notch by piling all of the ingredients into a hearty grilled cheese sandwich with fresh onion, baby kale leaves and sliced apple.
See Also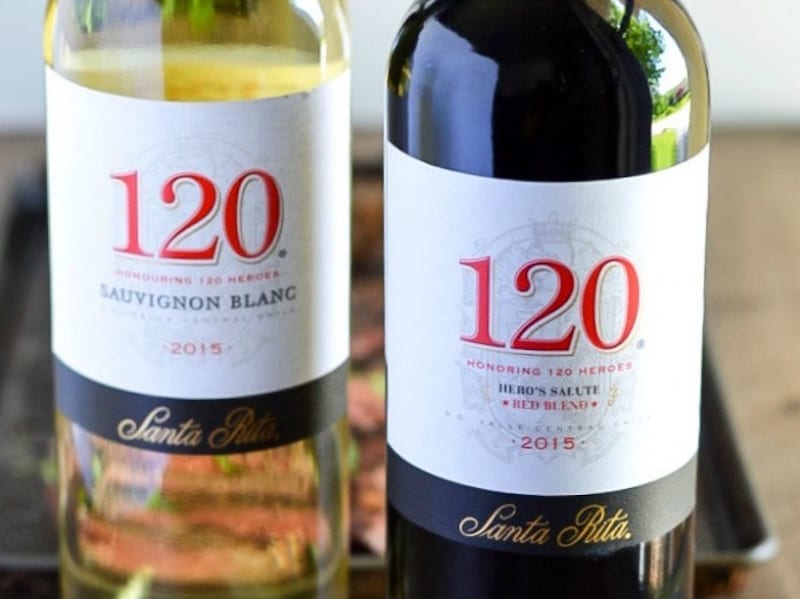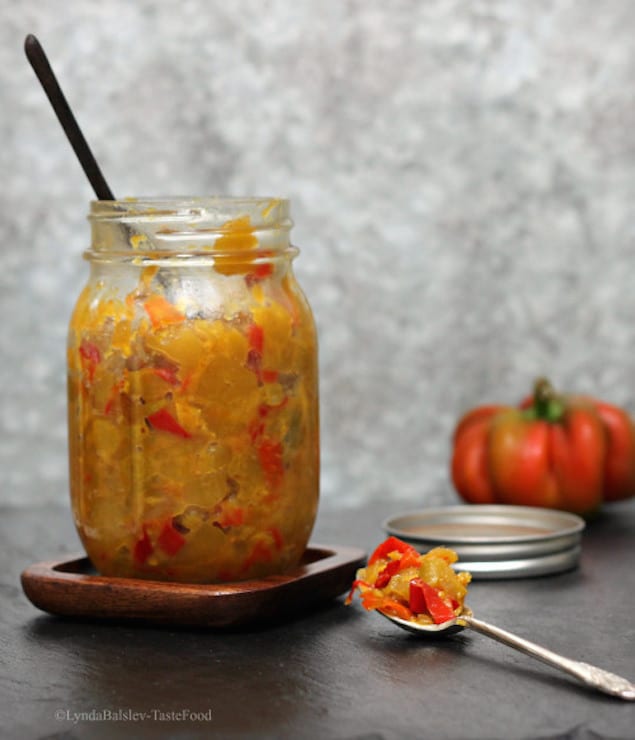 The Art of Cheese — Ploughman's Grilled Cheese and Apple Chile Chutney Sandwich
Sharp cheese, a smear of spiced fruit chutney, and a dab of strong mustard between thick slices of bread make up the perfect ploughman's sandwich. For the chutney, Add a mix of mild and hot chile peppers for flavor and heat. I used a red jalapeño and sweet Hungarian and Gypsy peppers in this batch.
Serves:
1 sandwich and 2 cups of chutney
Ingredients
Sandwich
2 slices sourdough or ciabatta bread, cut ½-inch thick
Salted butter, softened
2 ounces coarsely grated cheese, such as aged Havarti or sharp Cheddar
Red onion slices
Thinly sliced apple, such as Granny Smith or Fuji
Baby kale leaves
2 tablespoons Apple Chile Chutney (recipe below)
Apple Chile Chutney
1 tablespoon olive oil
1 yellow onion chopped
2 to 3 red chile peppers, depending on size and heat, stemmed and seeded, chopped (about 1 cup)
2 large Granny Smith apples, peeled, cored and diced
1 cup apple cider vinegar
½ cup golden raisins
⅓ cup brown sugar
2 tablespoons grated peeled ginger, with juices
1 teaspoon yellow mustard seeds
½ teaspoon turmeric
½ teaspoon freshly ground black pepper
½ teaspoon kosher salt
Instructions
Sandwich
Butter one side of each bread slice. Heat a skillet over medium heat. Add one bread slice to the skillet, butter-side down. Mound the cheese evenly over the bread. Cover the pan and cook until the cheese is mostly melted, about 3 minutes. Place a layer of onion over the cheese, then top with apple slices and kale leaves.
Spread 1 to 2 spoonfuls of chutney over the kale, but not entirely to the edges. Place the second bread slice over the chutney, butter side up. Using a spatula, carefully flip the sandwich and gently press down.
Cover the skillet and cook until the cheese is thoroughly melted and the bread is golden brown, 1 to 2 minutes. Transfer to a plate and cut in half. Eat immediately.
Apple Chile Chutney
Combine all of the ingredients in a large saucepan. Cook over medium heat, stirring frequently, until the sugar dissolves. Continue to cook, stirring frequently, until the chutney thickens, about 20 minutes.
Cool completely, then transfer to a jar and refrigerate. The chutney will keep in the refrigerator for up to 2 weeks.

Lynda Balslev
Lynda Balslev is a writer, recipe developer, cooking instructor and caterer. Educated at Le Cordon Bleu Ecole de Cuisine in Paris, Lynda lived and worked in Switzerland, England and Denmark for more than 15 years before moving to the San Francisco Bay area. Lynda is a contributor to NPR and authors the blog TasteFood, where she publishes original recipes and chronicles her culinary journey beginning and ending at the kitchen table.