The Art of Cheese — Aged Havarti and Cardamom Pear Butter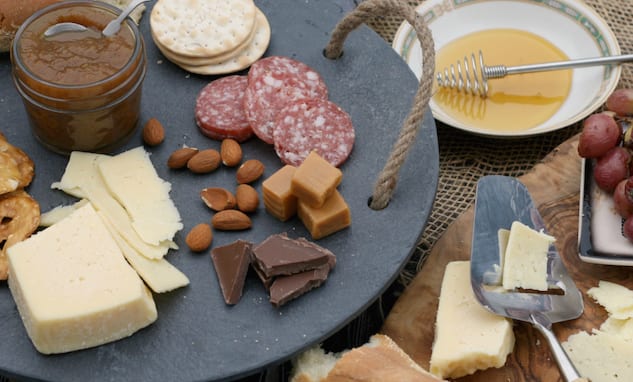 This post is part of "The Art of Cheese", a partnership between Honest Cooking and Castello Cheese.
Luxurious pear butter infused with cardamom and vanilla, a perfect accompaniment to rich, aged Havarti cheese.
By Heather Schmitt-Gonzalez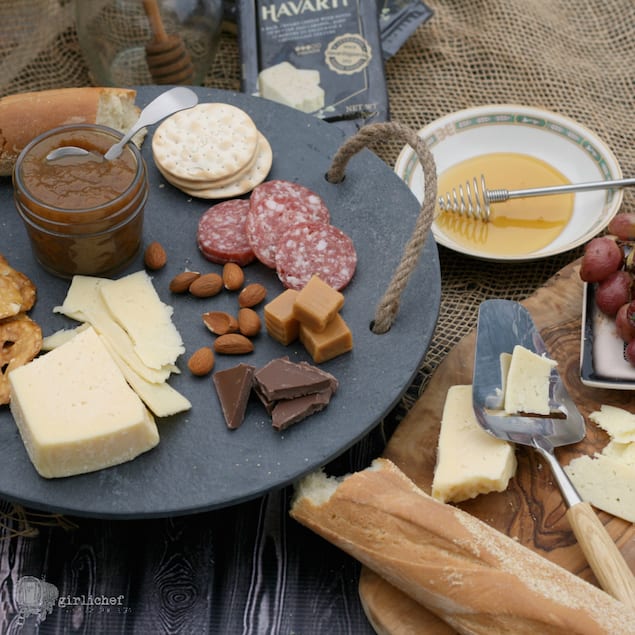 I've often waxed poetic on the subject of cheese, otherwise known as my ultimate weakness. I could live on cheese plates alone. You know, because they're always accompanied by other good things like bread or crackers, fruits and nuts, slices of charcuterie, perfect little condiments, and of course, alcohol. Nibbles and tastes, turn into swoons and flutters, turn into claiming a cheese tray as my dinner plate. Really, what more does a person need?
I could blabber on and on about the virtues of a well thought out cheese plate, the kind that includes several cheeses and an array of complementary food and drink.
"Castello® Aged Havarti is based on the authentic Danish recipe for Havarti dating back to 1952. Made from traditional cheese methods with the addition of a special culture, the Castello® Aged Havarti is then matured for 12 months.
During the long maturation the crumbly but creamy texture and a rich, buttery taste with tangy notes is created. As it ripens the cheese also starts to develop small crystals for a richer taste experience."*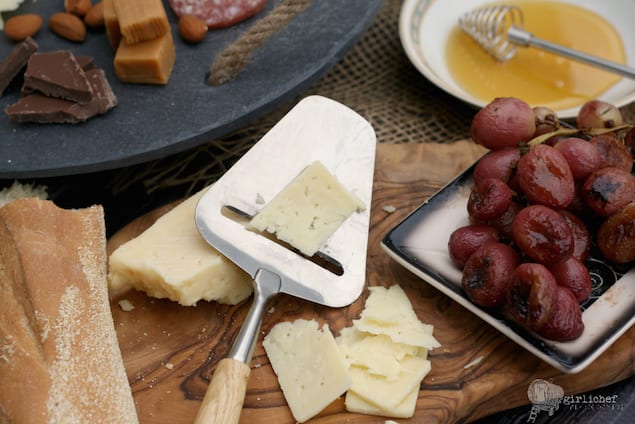 After having the pleasure of experimenting with all sorts of flavor combinations, and taking some of Castello's suggestions into consideration, I've put together a list of some food and drinks that both pair nicely and enhance the flavor and beautiful crystalline texture of the cheese.
If you add Castello® Aged Havarti to your next cheese board, pick and choose a few of these options alongside it. Remember to time it so that everything is at room temperature (the cheese, the meats, the condiments) when you're ready to eat.
Bread or crackers
water crackers
pretzel chips
baguette slices, toasted or not
thin crackers studded with dried fruit, nuts, and/or seeds
Meat
white wine salami
smoked ham
prosciutto
Nuts and fruit
almonds (regular or marcona)
fresh pear or apple slices
dried pear slices
dried apple slices
dried peach slices
Condiments
Cardamom Pear Butter (recipe below)
Roasted Grapes with Thyme
wildflower honey
buttery green olives (cerignola or castelvetrano)
Slow-Roasted Cherry Tomatoes
caramelized onions or caramelized onion chutney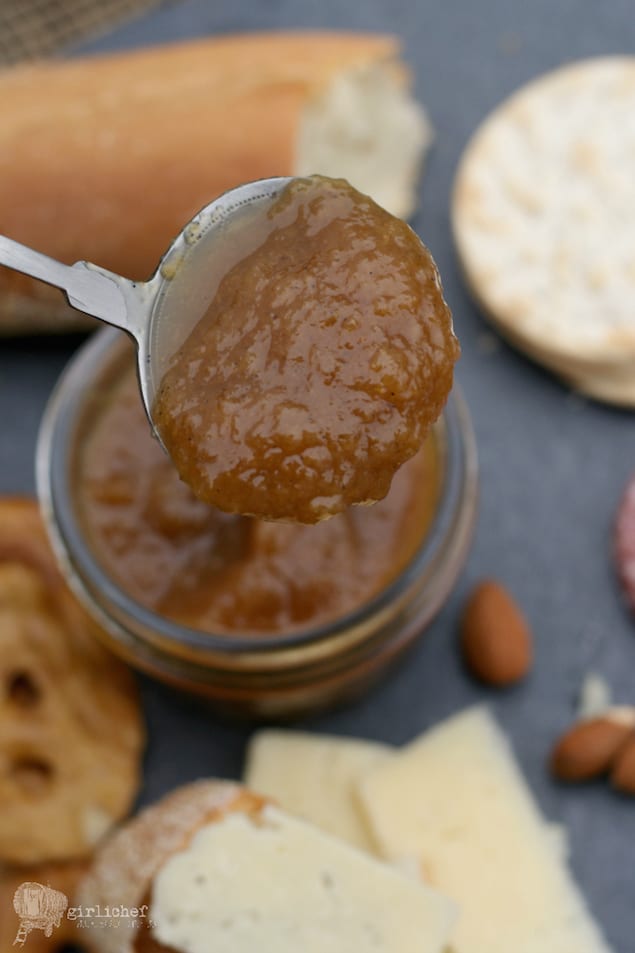 This might sound a bit unusual to some, but I like to include a few sweets with my cheese trays. Whether served alongside everything else, or on a separate tray, though I think right alongside everything else is nice (include a thin slice of apple in your bite with the caramel and cheese, or an almond with the chocolate and cheese).
Some varieties of cheese—usually hard, salty, and/or crystalline—play really nicely with chocolate. I know most people would probably choose to go with dark chocolate, but I find the smooth creaminess of a quality milk chocolate to be my favorite choice alongside these types of cheeses. Soft caramels are another great option; store bought or homemade version is fine, whatever will work for your time frame (and kitchen prowess).
Sweets
homemade soft caramels (or store bought)
chocolate (milk or dark)
The cheese's tasting notes mentioned that it would be good with pear and cardamom. Immediately I knew that I was going to make a pear butter infused with the heady scent of cardamom to serve alongside it. I also added the seeds of a vanilla bean, and the results were a smooth, rich fruit butter that was entirely intoxicating to the senses. It's worth it to make a batch for your next cheese tray. It's also worth it to make for the sole purpose of slathering on your morning toast or croissant.

The Art of Cheese — Aged Havarti and Cardamom Pear Butter
Luxurious pear butter infused with cardamom and vanilla, a perfect accompaniment to rich, aged Havarti cheese.
Author:
Heather Schmitt-Gonzalez
Ingredients
4 pounds medium D'anjou pears, halved
½ cup water
1 vanilla bean
1 cup dark brown sugar
2 tablespoons freshly squeezed lemon juice
1 teaspoon finely grated lemon zest
¾ teaspoon ground cardamom
¼ teaspoon sea salt
Instructions
Place pears and water into a large pot; cover and bring to a boil. Reduce heat to low and cook until tender, 20-30 minutes. Pass the pears through a food mill to remove the skin, stems, and seeds. Be sure to send all of the pear-flavored water through the mill, as well. If you have multiple plates (different hole sizes), send them through a large one first, then again through a small one.
Transfer the pear sauce to a large, deep-sided, non-stick (such as hard anodized) skillet. Split the vanilla bean lengthwise and scrape out the seeds. Add the seeds and the pods to the pot along with the brown sugar, lemon zest and juice, cardamom, and salt.
Bring to a boil, then reduce heat so that it's at a steady simmer. Allow to cook until dark and thick (like apple butter), stirring often, ~1 hour. You will probably see some foam around the edges as it starts to cook; use a spoon to skim this off and discard it. The pear butter will really start to bubble and spit during the last 10 minutes or so of cooking, so be careful as you stir, and lower the heat a bit to keep from getting popped.
Once cool, pick out and discard the two halves of the vanilla bean pod. Store in airtight jars in the fridge (or can it, if you're so inclined).
Did you think I forgot about the drinks? Pssshhhh, of course I didn't! I like to set out a different types of small or mini tasting glasses for each different drink I'm serving, so that everybody can try everything with different food and cheese combinations. Obviously the red wine should be at room temperature, I would also serve the Chardonnay at a cool room temperature, and the beer and apple cider should be left out for a little while, so that there is still a little chill, but not enough to dull the flavors—because you want to taste those little nuances.
Drinks
white wine: buttery Chardonnay – look for caramel, butter, or vanilla notes
red wine: Malbec or a medium-bodied red
beer: a hoppy pale or amber ale
non-alcoholic: fizzy apple cider

Heather Schmitt-Gonzalez
Heather Schmitt-Gonzalez is a Michiana-based food writer with a fondness for garlic, freshly baked bread, stinky cheese, dark beer, and Mexican food—who believes that immersing herself in different cultures one bite at a time is the best path to enlightenment.