PARTNER POST: We've teamed up with Bonne Maman to bring you the best homemade breakfast and brunch recipes to show Mom you care this Mother's Day and all spring long
Make a quick flaky dough and wrap it around sweet apricot preserves. It's the perfect breakfast in bed treat for Moms on Mother's Day.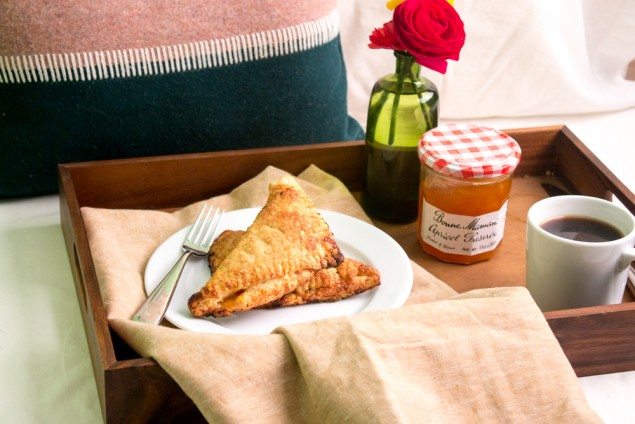 I'm not a mother yet (SOMEDAY, but not in the next 9 months!), but I know what I would want if I were. Breakfast.
Moms work so hard (and so do dads!) When I think about my own mom, I know that while she loves to be the hostess with the mostest, she works her butt off to get there. She cooked for us every single day of my childhood, making sure we had healthy, balanced meals on the table.
When she's in charge of a family gathering, she plans, she cleans, and she cooks, and then she hosts. She is great at it – but once you get to be an adult you realize how much work it takes to pull something like that off. We hosted Easter brunch for 8 this weekend and phew! It was fun and exhausting.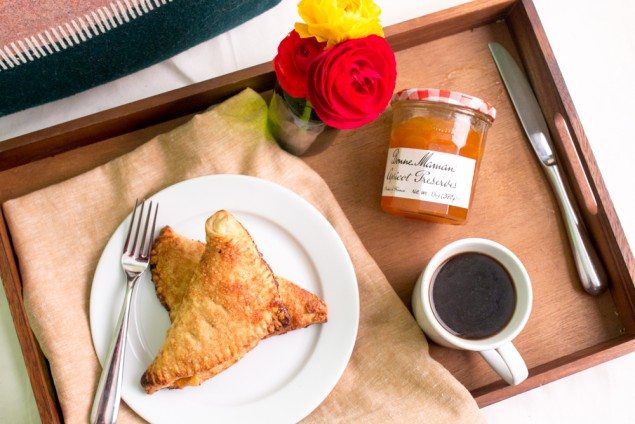 Now that I'm thirty, I have several friends who are moms, too. I'm constantly impressed by how much they do for their children. Sometimes, it means making up the silliest games to get toddlers to eat, or put on their socks, or sit quietly in their car seat. Sometimes it means getting covered in food mush. But it also means an enviable amount of snuggles, baby kisses and magic memories. I'm excited for that to be part of my life someday!
In the meantime, this recipe goes out to all the moms I know and love. Mother's Day is not too far away now, and y'all deserve every second of the day meant to honor you. It's a good, but tough, job, from what I can tell. And it requires a level of selflessness that's totally unique to being a parent.
I'm excited to be working with Bonne Maman on this recipe today. Apricot preserves is one of my favorite kinds, so I was thrilled to be able to create a recipe featuring it. I wrapped it up and baked it inside of a turnover, using a layered dough that is way easier than it has any business being. If you've got a mom in your life, I recommend pairing this with coffee and a nice mimosa. Service in bed is optional… but generally a good idea!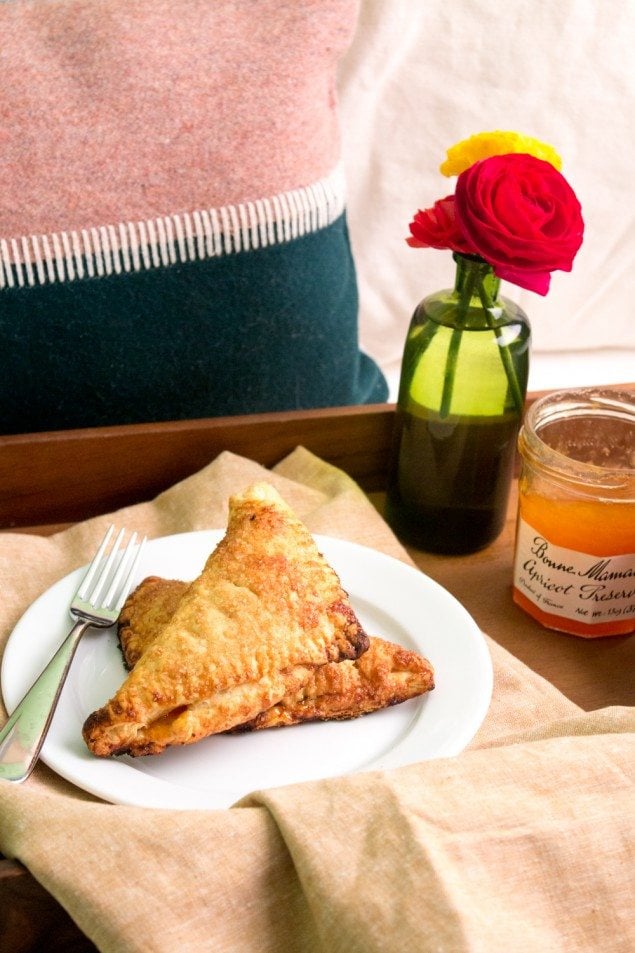 Be sure and check out Bonne Maman's sweepstakes for a chance to win a 12-piece Le Creuset Cookware Set or 1,000 other prizes that are available! Click below.



For another recipe idea, check out these strawberry muffins.
Click here for the written recipe.

Print
Apricot Turnovers
Make a quick flaky dough and wrap it around sweet apricot preserves. It's the perfect breakfast in bed treat for Moms on Mother's Day.
Author:

Rebekah Hubbard

Category:

Baking
1 cup

all-purpose flour

1/2 teaspoon

salt

1/2 cup

cold butter (divided)

1/4 cup

ice water

1/2 cup

Bonne Maman Apricot preserves

1

egg (lightly beaten)
raw sugar for sprinkling
Instructions
In a small bowl, combine flour and salt; cut in (using a pastry cutter or fork) 1/4 cup butter until crumbly. Gradually add water, tossing with a fork until a ball starts to form, then use your hands to finish forming into a ball. The dough does NOT need to be wet to pick up all the flour – keep working with your hands a little so the dough leaves the sides of the bowl clean. On a lightly floured surface, roll dough into a 12×6 inch rectangle.
Cut remaining butter into thin slices. Starting at a short side of dough, arrange half of the butter slices over two-thirds of rectangle to within a half inch of edges. Fold unbuttered third of dough over middle third. Fold remaining third over the middle, forming a 6×4 inch rectangle. Roll dough into a 12×6 inch rectangle.
Repeat steps of butter layering and dough folding, ending with a 6×4 inch rectangle. Wrap in plastic wrap; refrigerate for 15 minutes. Roll dough into a 12×6 inch rectangle. Fold in half lengthwise and then widthwise. Wrap in plastic wrap; refrigerate for 1 hour.
Preheat the oven to 450 degrees Fahrenheit.
Roll out your dough into a 12×12 inch square, then use a butter knife to cut into fourths. Spoon 1.5 Tbsp. Bonne Maman Apricot preserves into the center of each square and fold across the middle into triangles. Use a fork to press down the edges, sealing them shut. Use a paring knife to poke 3 vent holes in the top of each turnover.
Finally, paint with the egg wash and sprinkle heavily with raw sugar. Bake for 17 minutes or until golden brown. Allow to cool before serving – those insides take a long time to cool!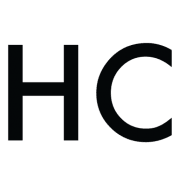 Rebekah Hubbard
I'm the writer and photographer at PDXfoodlove.com. I love living in Portland, Oregon and the lifestyle in the beautiful Pacific Northwest.