Apricot Balsamic Glazed Pork Tenderloin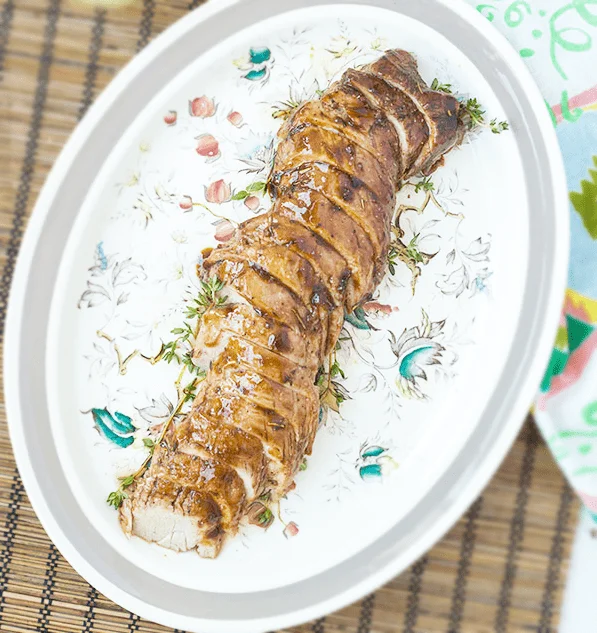 This recipe makes plenty of glaze, enough to use on two tenderloins if you so choose.
By Brittany Everett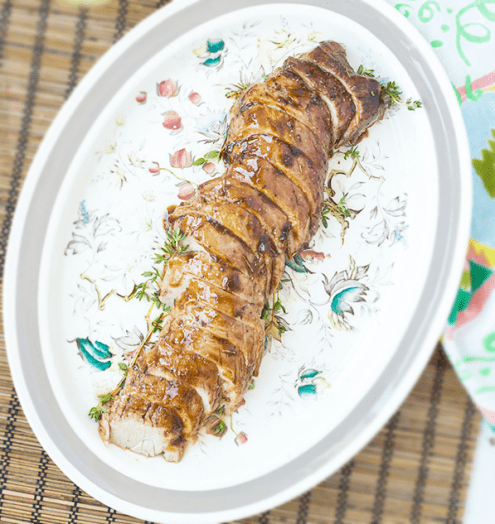 After a little simmering, the glaze is ready to go on the pork. About 15 minutes later, the whole thing is done and you're in pork heaven.
Apricot Balsamic Glazed Pork Tenderloin
This recipe makes plenty of glaze, enough to use on two tenderloins if you so choose.
Ingredients
⅔ cup smooth apricot preserves
¼ cup balsamic vinegar
2 tablespoons lemon juice
1 teaspoon herbes de provence
kosher salt & freshly ground black pepper
1.25 pound pork tenderloin, trimmed of excess fat & silverskin
Instructions
Take the pork out of the fridge. Preheat oven to 425 degrees F.
Combine the preserves, vinegar, lemon juice & herbes de provence in a small pot. Bring to a simmer over medium heat and keep it at a hearty simmer for about 10 minutes, until thickened. Season to taste with salt and pepper. Pour some of the glaze into a small bowl for serving (this way it won't get contaminated when you're glazing the pork).
Place the pork on a parchment lined baking sheet and season all over with salt and pepper. Brush generously on all sides with the glaze and bake for about 15 minutes, or until the pork registers 140-145 on a meat thermometer. (The temp will go up a few more degrees after you take it out of the oven.) Let the pork rest for at least 10 minutes before slicing. Serve with additional glaze.
Brittany Everett
A graphic designer by day, Brittany enjoys cooking, eating, photographing and discussing food with every other waking moment. She created Kitchenette, a food blog dedicated to making delicious comfort foods from scratch and with love.