Once upon a time there was a lonely bowl of plain oats. Just kidding, this is not a fairy tale story. But after eating this "Apple-y Ever After Oatmeal," I can assure that you will be tOATally satisfied.
By Rebecca Doser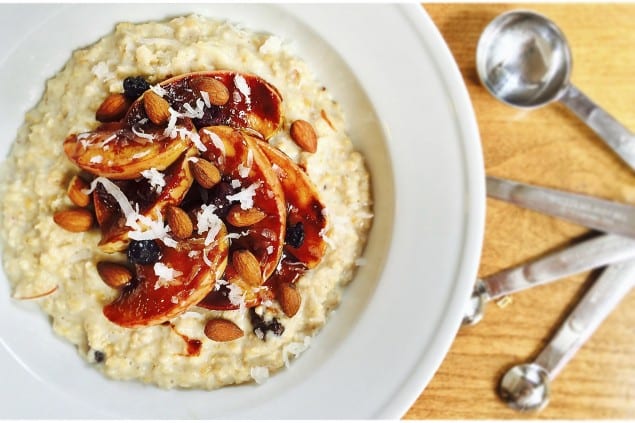 Apple-y Ever After Oatmeal
A filling and simple bowl of warm oats and granola topped with an Autumn caramelized apple sauce.
Ingredients
½ cup of oats
¼ cup of granola
Desired amount of milk (depending on your preferred oatmeal consistency)
½ apple
1½ tbsp. light brown sugar
1 tsp. cinnamon
A few dashes of nutmeg
1 tbsp. lemon juice
Drizzle of honey
Almonds
Shredded coconut
Dried fruit
Instructions
Heat oatmeal, granola and milk on low-med heat in a small pan on the stove; stirring occasionally.
Meanwhile, heat a small saucepan over medium heat, add a little butter and toss in apple slices.
Mix brown sugar, cinnamon and nutmeg together then sprinkle evenly over the apple slices (flip apples to coat both sides).
Cook for 4 minutes, then add one tablespoon of lemon juice to the sauce pan and caramelize the apples for another 3 minutes until fully glazed.
Drizzle honey into your oatmeal before removing from heat. Top your oatmeal bowl with the caramelized apples, and optional toppings such as almonds, dried fruit and shredded coconut. Bon appétit!
Rebecca Doser
Rebecca Doser, a resident of Penfield, NY, is the face behind Breakfastwithbex. This English Major at St. Lawrence University has a passion for journalism, punny captions and creating delicious breakfast dishes, which she shares on her Instagram account (@breakfastwithbex) and blog (breakfastwithbex.com).