Nandita Nataraj with a great healthy recipe for something right between breakfast bread and coffee cake.
By Nandita Nataraj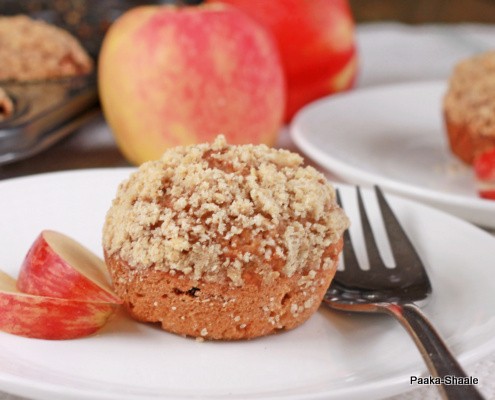 I love baking muffins. As muffins are low in sugar and fat, they are ideal for breakfast or for quick "inbetween meal snacking". They become all the more nutritious when they are made out of enriching oats and fruit puree. Even though I have baked muffins earlier, I had never ventured into baking muffins with streusel topping. When I saw the recipe for a stresel muffin in the book muffins and quick breads, I could not resist baking this.
I have made quite a few changes to the original recipe to cut down on the unnecessary fats. The addition of apple puree is just one of them. These muffins are a nice cross between, a muffin and a coffee cake. The highlight is of course, the sprinkling of buttery streusel. These muffins are great either served warm from the oven or at room temperature

Apple Oatmeal Streusel Muffin
A great and healthy muffin recipe
Serves:
makes 10 large or 12 small muffins
Ingredients
For the muffins:
Quaker oats- 1-1/2 cup or 5.25 Oz
All purpose flour- 1-1/4 cup or 4.3 Oz
Thick buttermilk- 1cup or 8 Oz
Apple puree- ¾ cup or 6 Oz
Sugar- ⅓ cup
Baking powder- 2tsp
Baking soda- ¼tsp
Salt- ¼tsp
Nutmeg powder- ¼tsp
Vanilla essence- 1 tsp
Dried currants- ½ cup or 4 Oz
Butter- to grease the pan
For the streusel topping
Quaker oats- ¼cup or 2 Oz
All purpose flour-1/4 cup or 2 Oz
Brown sugar- ¼ cup or 2 Oz
Butter- 2tbsp
Instructions
Heat the oven at 200C or 400F
Line 10 to 12 muffin cups with paper baking cups or grease the bottoms only with butter
For the muffins, combine the all purpose flour, salt, nutmeg powder, baking powder and baking soda and sift once
Add the oats and sugar to the flour mixture and mix well
In a separate bowl, combine, butter milk, apple puree, vanilla essence and mix well.
Add the buttermilk-Apple puree mixture to the dried ingredients and mix just until the ingredients are well combined.
Fold in the dried currants mix gently
Fill the prepared muffin cups till ⅔ full
For the streusel topping, combine the dry ingredients and cut in the chilled butter until mixture is crumbly.
Sprinkle the streusel mixture over the muffin batter and pat gently.
Bake for 25 to 30 min till golden brown or till an inserted skewer comes out clean
Nandita Nataraj
Nandita was born, bred and spread in India, but right now lives in Tanzania where her quest for simple and exotic pleasures of food led to the creation of the blog Paaka-Shaale. She believes that food is not just a means to feed a body. But it is also meant to appeal the mind and satiate the soul.