Apple and Kale Salad with Mustard Vinaigrette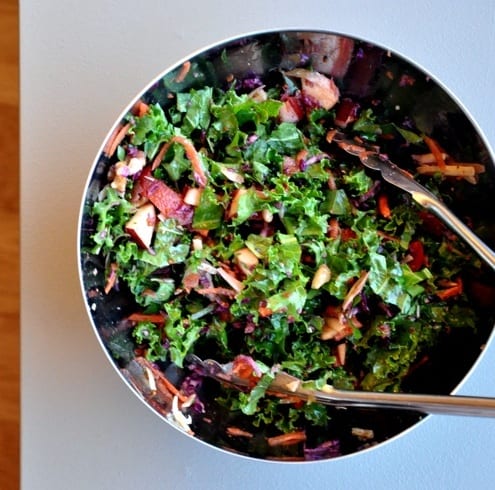 A sweet and tangy quick salad recipe, courtesy of Shuchi Mittal.
By Shuchi Mittal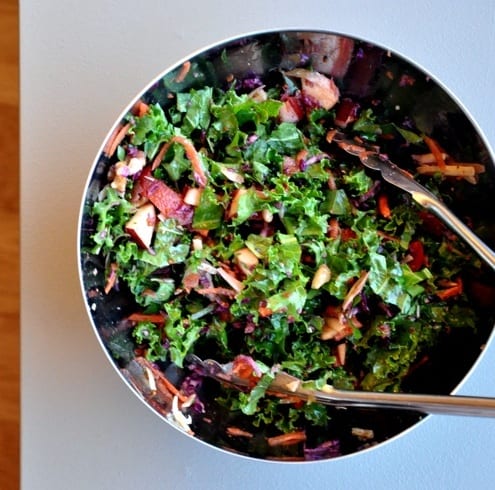 It's been a busy week. And salad is all I had time to make.
Ok, that's not entirely true. I made a whole lot more for, for a whole lot of people but this is all I had time for when it came to whipping up a quick dinner. I finally took the plunge and launched my own food consulting business- focusing on Indian Tapas! I am as super excited as nervous about this new step in life, and can't wait to keep learning along the way. You can read all about it here.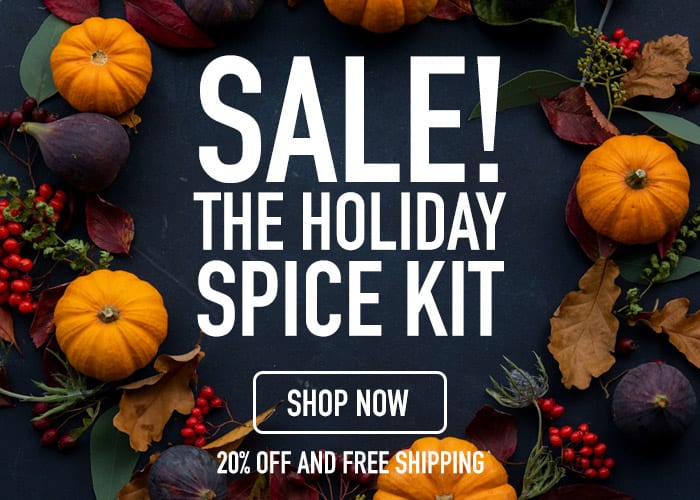 Anyway, back to the salad. So this salad happened as an effort to feed myself amidst all the crazy preps for my launch. I love mixed flavors like sweet and tangy in salads, so this worked very well for me. I threw in apples, walnuts, some cheese, lots of veggies and even more Kale…and voila!
People say you're a New Yorker when you learn to eat Kale. Actually, more so when you learn what Kale is. I'm almost there.

Apple & Kale Salad with Mustard Vinaigrette
A sweet & tangy quick salad
Ingredients
Salad
A bunch of Kale, removed from the stem and roughly chopped
½ apple, diced
¼ cup grated carrots
¼ cup grated red cabbage
¼ red pepper, sliced
Dressing
1 teaspoon olive oil
2 tablespoons Balsamic Vinegar
¾ teaspoon mustard
Others
2 tablespoons grated gouda
½ cup chopped walnuts (lightly toasted in the oven)
Salt & pepper
Instructions
Mix all the ingredients for the salad in a bowl.
Mix the dressing ingredients and keep aside for a few minutes to let the flavors fuse.
Add dressing to the salad, sprinkle some salt & pepper, an top with cheese & walnuts. Toss and enjoy!
Shuchi Mittal
Shuchi cooks with the heart of a poet. Banker turned chef, she runs the 29. Private Kitchen in NYC focusing on social tasting events, dining experiences and small-scale private events. Using simple & wholesome ingredients, she likes to re-invent homemade Indian flavors into modern tapas & small plates. Her dream? To cook, feed, write, and eventually open her own communal dining cafe - with a published recipe book on the stands.