This cheesy bread makes a great side to winter's soups and stews or toasted with butter for breakfast or a snack.
By Katherine Sacks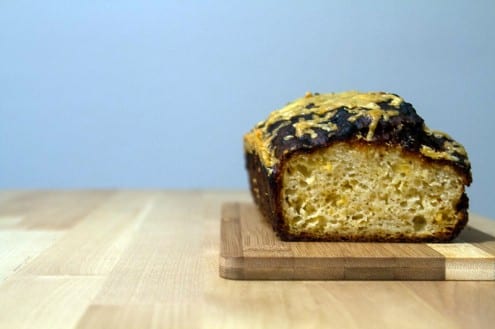 Apple-Gouda Quick Bread
This cheesy bread makes a great side to winter's soups and stews or toasted with butter for breakfast or a snack.
Ingredients
1¾ cups all-purpose flour
½ teaspoon baking powder
½ teaspoon salt
¼ cup apple cider
½ cup yogurt
? cup canola oil
1 egg
2 tablespoon brown sugar
1 cup grated apple
1 cup, plus 3 tablespoons gouda, grated
Instructions
Preheat oven to 350°F. Lightly grease an 8×4 loaf pan and set aside.
Combine the flour, baking powder, and salt in a medium bowl.
In a separate bowl, mix together the apple cider, yogurt, oil, egg, and sugar until well blended.
Add in the grated apple and the flour mixture. Stir in the 1 cup of gouda in three additions.
Evenly pour the batter into the greased pan and bake for 45 to 50 minutes.
Sprinkle the remaining cheese on top and bake for another 5 to 10 minutes, until the cheese has melted.
Cool, slice, and serve.
Katherine Sacks
Katherine Sacks is a Berlin-based freelance writer and recipe developer specializing in travel, food, lifestyle, and health topics. A graduate of Drexel University's culinary arts department and Northwestern University's Medill School of Journalism, Katherine combines seven years of restaurant experience with her reporting and editing background. Her work has appeared in Chicago magazine, the Chicago-Sun Times, and FoodandWine.com, among other publications. She also contributes to culinary trade publication StarChefs.com, Forbes Travel Guide, and Snooth Eats, and blogs at LaVitaCucinare.com.