PARTNER POST: Discover new ways to incorporate seasonal teas into your holiday cooking and desserts with Celestial Seasonings.
Give autumn the proper sendoff and dive into winter with these cranberry and vanilla tea-infused crepes stuffed with a sweet apple filling.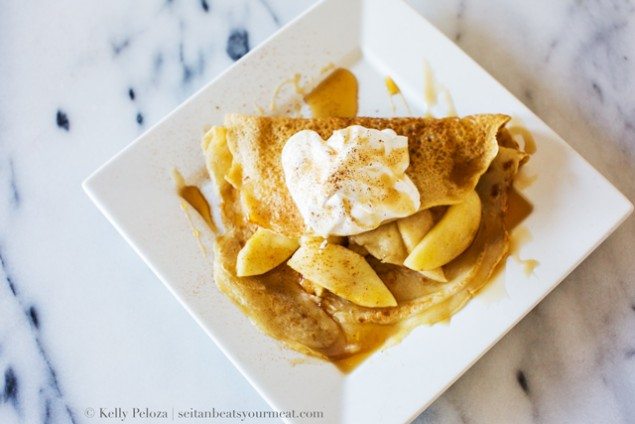 Now that autumn is winding down and December is here, several layers of blankets and piping hot beverages sounds like the perfect way to spend leisurely weekend mornings. One of my favorite parts of those slower mornings is getting up early, and making a giant, time-consuming breakfast while sipping coffee over the stove. I'll often make my go-to pancake recipe (sometimes making a variation on a favorite with seasonal produce), or try something entirely new.
At the beginning of December, you may still have apples (from the orchard, naturally) and pie pumpkins rattling around the kitchen, but cocoa, peppermint, and homemade cookies are right around the corner. It's the perfect time to pick the best qualities of both seasons and make them into a dish. In that spirit, I tried my hand at crepes for the first time.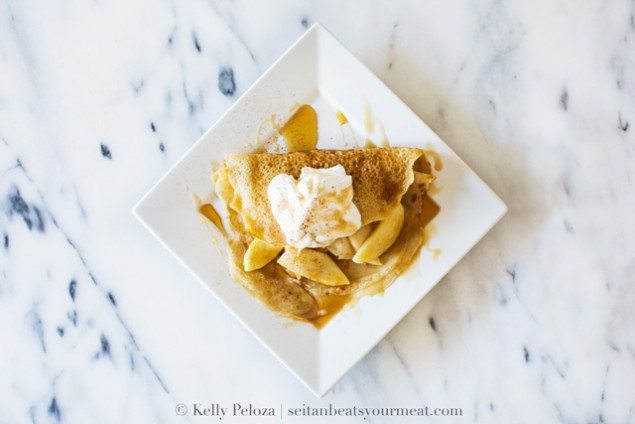 These crepes give autumn a proper sendoff (and perhaps use up your last cooking apples of the season!) while transitioning to wintry flavors by combining a sweet apple filling with a cranberry vanilla tea-infused crepe batter. Since crepes are delicate in flavor, the tart notes of cranberry and sweet vanilla bean shine from steeping the tea in milk before adding it to the crepe batter.
This recipe is part of a project with one of my favorite SBYM collaborators, Honest Cooking, and Celestial Seasonings. Each blogger participating in the project was assigned one of Celestial Seasonings' holiday tea flavors and prompted to create a recipe using The Magic of Tea. The inspiration for this crepe recipe came from Celestial Seasonings' Cranberry Vanilla Wonderland rooibos tea, which initially seemed like a challenging flavor to incorporate into a dish. Since there are many flavors present in this tea blend, including cranberry, vanilla, hibiscus, orange, and juniper, I didn't want to overwhelm the tea by adding too many additional flavors. The cranberry vanilla tea crepes and the apple cinnamon filling stand on their own, and combine pleasantly in each bite.
While making crepes may seem daunting at first, it's no more difficult than pancakes once you get the hang of it. These crepes are made with aquafaba rather than egg, and are light, crispy, and fluffy.
See Also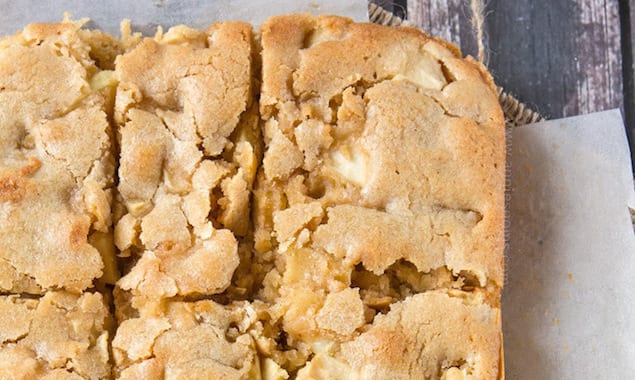 Want to try another fun recipe for the season? Check out this Candy Cane Tea Chocolate Bark! Recipe here.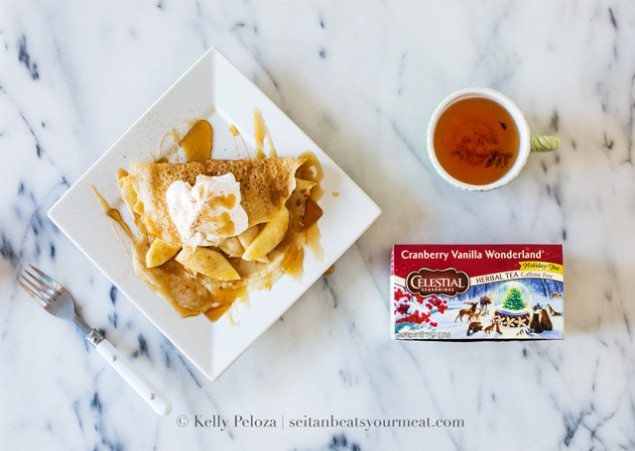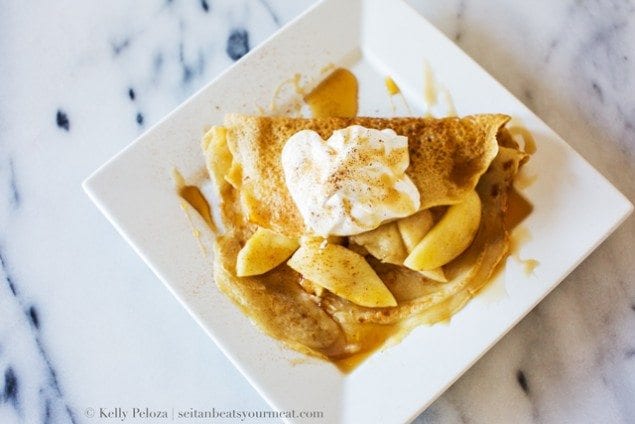 Kelly Peloza
Course
Breakfast, Dessert
Ingredients
For the filling:
4

medium apples

peeled and sliced

3

tablespoons

brown sugar

2

tablespoons

water

1/2

teaspoon

cornstarch

2

teaspoons

lemon juice

1

teaspoon

vanilla extract
For the crepes:
1

cup

non-dairy milk

2

Celestial Seasonings Cranberry Vanilla Wonderland teabags

1 15-

ounce

can of chickpeas

do not drain

1

cup

flour

1/2

teaspoon

vanilla extract

Cooking spray or neutral oil

Cinnamon

Maple syrup
Instructions
Combine the apples, brown sugar, water, and cornstarch in a medium saucepan and stir to coat the apples and dissolve the cornstarch. Turn the stove to low-medium and cook the apple mixture, stirring frequently. Cook until the apples are fork tender, about 8-10 minutes. Remove from heat and add the lemon juice and vanilla extract. Set aside and keep warm.

Heat the cup of non-dairy milk until just boiling. Steep the 2 teabags in the milk for 6 minutes. Remove the teabags and set the milk aside to cool. If you're left with less than 1 cup of milk after boiling and steeping, reconstitute with water so you have 1 cup of liquid.

Drain and reserve the liquid from the can of chickpeas (aquafaba) and measure 1/3 cup. Set aside the remaining aquafaba—it can be used later to make a marshmallow meringue topping for the crepes! The chickpeas will not be used in this recipe, so transfer them to a container and use them for hummus or a salad later in the day.

Add the 1/3 cup aquafaba to a medium mixing bowl. Whisk until foamy, then whisk in the cooled tea/milk mixture. Gradually sift in the flour, lightly whisking after each addition. Add the vanilla extract. Continue whisking until the batter is just combined.

Warm up a large cast iron or non-stick skillet over medium heat. Spray or brush a thin layer of oil or cooking spray on the heated skillet. Using a scoop or ladle pour about 1/3-1/2 cup crepe batter in the center of the pan, then immediately swirl the pan so the batter spreads out evenly. Cook about 1 minute, then flip to the other side and cook for another minute. Remove from heat and transfer to a plate and fold in half while you make the remaining crepes. If you've never made crepes before, the first crepe or two might be a "test" to see what temperature works best with your cookware. If the heat is too low, your crepes will turn out pale, gummy, and oily. Conversely, if the pan is too hot, the batter will solidify before it has a chance to spread, resulting in thick crepes that burn before they're cooked through.

To assemble, spoon the apple filling into a crepe and fold in half or roll up. Dollop with marshmallow meringue topping, if making, or whipped cream. Sprinkle with cinnamon, drizzle on maple syrup, and serve!
Optional: make a marshmallow meringue topping with the leftover aquafaba! Pour the remaining aquafaba, about 3-4 tablespoons, in the bowl of a stand mixer equipped with a balloon whisk, or a large mixing bowl (if you'll be using handheld beaters.) Add a healthy squeeze of lemon juice, then start whipping the mixture at high speed until stiff peaks form, 7-9 minutes. Gradually whip in 3/4 cup powdered sugar and 3/4 teaspoon vanilla extract. Whip until thick and fluffy, then use to garnish the crepes.
Kelly Peloza
Kelly Peloza is a Chicago-based food stylist and photographer at Kelly Peloza Photo (kellypelozaphoto.com), and a vegan cookbook author. She runs a recipe and food photography blog called Seitan Beats Your Meat (seitanbeatsyourmeat.com).