This pastry is a total pecan brown sugar bomb with optional icing. Wash it down with a cup of black coffee and your morning is automatically on the right track.
By Lizzy Swartz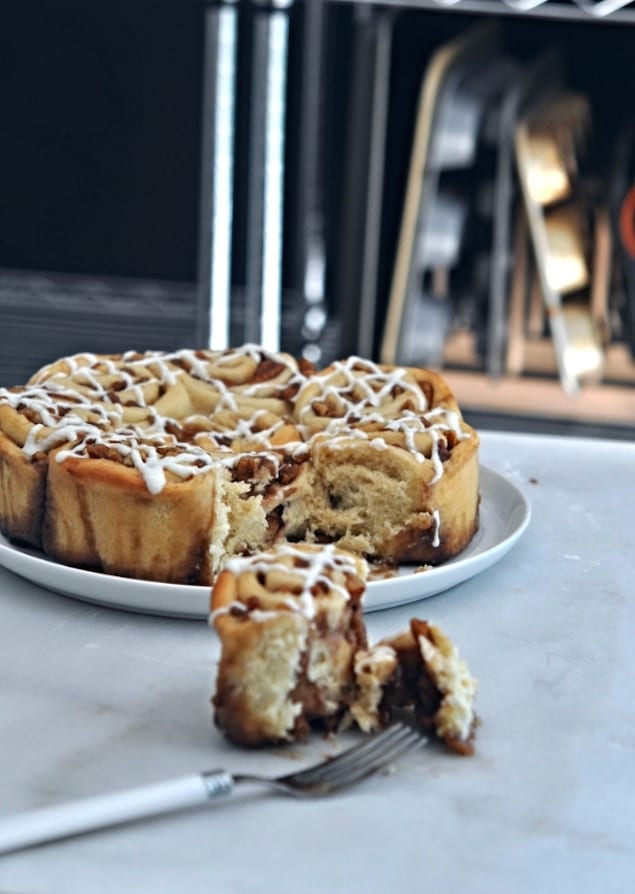 You can eat these today different ways. The bottom has an amazing pecan brown sugar topping, so you can flip it onto a plate, or you can make the gooey icing I've included in the recipe to make it a total sugar bomb. I served it with the icing on it and it was a huge hit, but I can imagine the rolls with just the pecan filling and a cup of black coffee would be the best pairing ever in history.
Print

Apple Butter and Pecan Cinnamon Rolls
---
Description
This pastry is a total pecan and sugar bomb with icing. Wash it down with a cup of black coffee and your morning is automatically on the right track.
---
Dough:
1/4

-ounce package yeast

1/2 cup

warm water

1/2 cup

scalded milk

1/4 cup

sugar

1/3 cup

butter or shortening

1 tsp

salt

1

egg

3 1/2

to

4

cups all-purpose flour
Filling:
1

9oz jar of apple butter

3 tbsp

brown sugar
roughly half of 8 oz bag of large chopped pecans
Topping:
4 tbsp

butter

1/4 cup

dark brown sugar
remainder of chopped pecans
Icing:
4 tbsp

butter, room temperature (important!)

2 cups

confectioners sugar

1 tsp

vanilla

3

–

6

tbsp hot water
---
Instructions
In a small bowl, dissolve yeast in warm water and set aside. In a large bowl mix milk, sugar, melted butter, salt and egg. Add 2 cups of flour and mix until smooth. Add yeast mixture. Mix in remaining flour until dough is easy to handle. Knead dough on lightly floured surface for 5 to 10 minutes. Place in well-greased bowl, cover with a towel and let rise until doubled in size, usually 1 to 1 1/2 hours in a closed microwave.
When doubled in size, punch down dough. Roll out on a floured surface into a 15 by 9-inch rectangle. Spread melted butter all over dough. Mix apple butter, pecans, and brown sugar and pour it over the dough (I used a spatula to spread it). Beginning at the 15-inch side, role up dough and pinch edge together to seal. Cut into 12 to 15 slices.
Mix the melted butter, brown sugar, and pecans together over low-medium heat in a small saucepan. Whisk until thoroughly mixed and take off of heat. Spread it evenly into the bottom of the 9″ round pan. Place the rolls on top and let sit in a closed microwave for 45 minutes until doubled in size. A friend of mine suggested that if you're not a morning person, you can put the dough covered overnight in the fridge and bake it in the morning.
Bake at 350 for 30 minutes or until nicely browned (here in CO, it may take closer to 25), making sure to check that the center of the cinnamon rolls are equally done. Meanwhile, mix together all of the icing ingredients and put them in a plastic squeeze bottle. (You can also just drizzle the icing, but I'm a bit of a perfectionist.)
Let the rolls sit for ten minutes then drizzle on the icing if you're using it. Then eat them warm because (and I'm so serious) nothing in the world is better than a warm cinnamon roll.
Lizzy Wolff
Lizzy Wolff, creator of Sugar + Butter, loves to make you drool on your keyboard. It's a real thrill for her. For more recipes, click 'website' below.