Apple Butter Cake with Paprika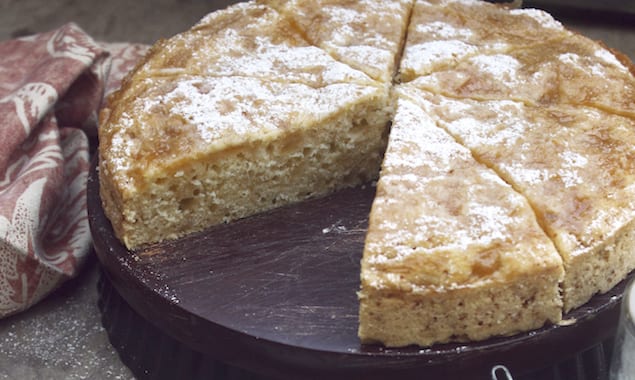 Apple butter dives into a cake with this flavorful, soft recipe. Dust with powdered sugar and serve with a glass of iced tea for a cool dessert.
By Pallavi Gupta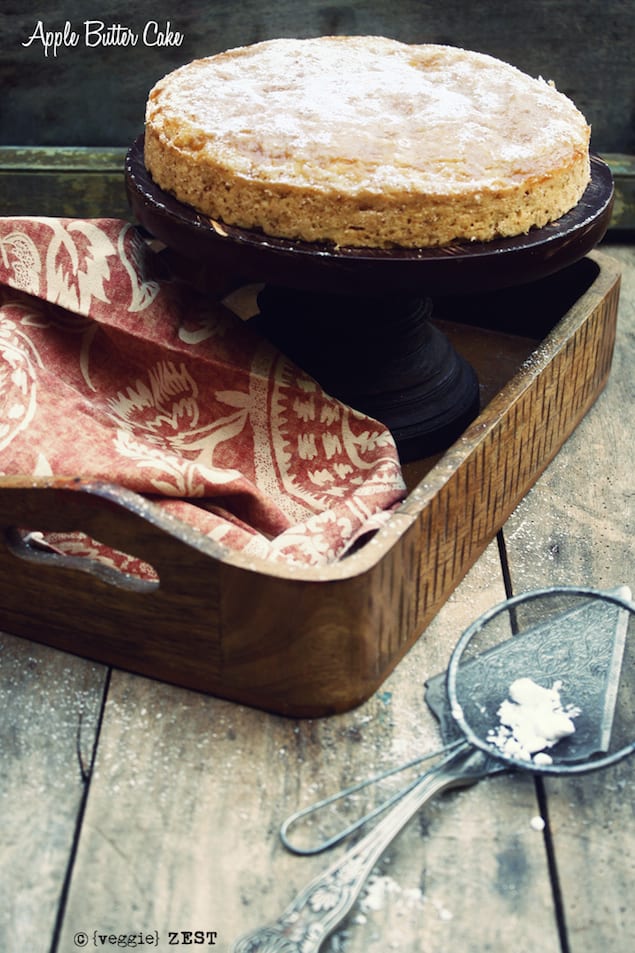 The summers are back…and it has started getting very very hot – which means I am sweating while cooking and taking photographs. On a happier note the market is soon going to be flooded with all types of different fruits and veggies…not that it ever gets so cold here that we cant grow fruits and vegetables. But soon there will be mangoes, passion fruit and lychees in the market. Before the apples went out of the season, I thought I'll do an apple recipe.

Apple Butter Cake
Apple butter dives into a cake with this flavorful, soft recipe. Dust with powdered sugar and serve with a glass of iced tea for a cool dessert.
Ingredients
Apple Butter
5 red apples, peeled and cut into small size
¼ cup sugar
½ cup apple cider
1 stick cinnamon
½ tsp paprika
Apple Butter cake
2 cups all purpose flour
1 cup granulated sugar
2 eggs
½ cup butter, room temperature
1 cup apple butter
¾ cup plain yogurt
1 tsp baking powder
1 tsp vanilla extract
Instructions
Apple Butter
Pressure cooker method: On medium heat add all the ingredients in the pressure cooker. Cook uncovered for about 2 to 3 minutes or till the sugar melts and apples start turning soft. Cover with the lid and cook till 5 whistles on low. Uncover and cool completely before using for the cake.
Slow Cooking method: Add all the ingredients in the a pan. Cook for about 2 to 3 minutes or till the sugar melts and apples start turning soft. Reduce the heat to low and cook for 1 to 2 hours stirring every now and then.
Apple Cake
Preheat the oven to 350 F.
In a bowl sift together flour and baking powder.
In a separate large bowl add sugar and butter. Whisk till creamy.
Add eggs one by one while whisking the batter.
Whisk in the yogurt and apple butter.
Fold in the flour and mix gently.
Pour in an 8 inch round cake pan and bake for about 40 to 50 minutes.
Remove from the oven and cool completely before serving. Serve with a light dusting of powdered sugar.
Pallavi Gupta
Pallavi is a vegetarian globetrotter, who currently lives in the southern part of India. Past ten years of her life includes living in six cities in three different countries. It has added to her vast exposure of cuisines from different parts of the world which is now reflected in her cooking. She shares her knowledge of vegetarian and vegan recipe from around the world via her blog Veggie Zest. When not cooking or photographing, she does graphic design.