This summer favorite gets a Fall twist by replacing juicy tomatoes with tart green apples and citrusy lime.
By Taylor Mathis and Sally James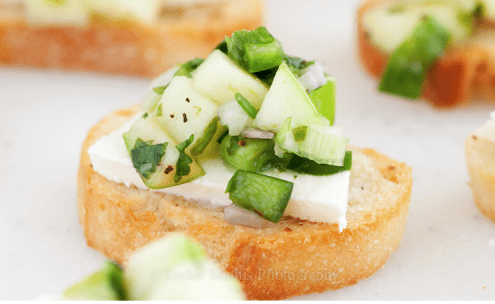 Apple and Mozzarella Bruschetta
This summer favorite gets a Fall twist by replacing juicy tomatoes with tart green apples and citrusy lime.
Author:
Taylor Mathis and Sally James
Ingredients
For the bruschetta:
1 stick (1/2 cup) unsalted butter, softened
½ teaspoon salt
¼ teaspoon coarse ground black pepper
¼ teaspoon dry thyme
1 loaf of french bread, cut into ½" slices
For tart apple topping:
3 cups chopped tart apples (like granny smith)
3 tablespoons fresh lime juice
¼ cup diced shallot
¼ cup diced poblano pepper
3 tablespoons chopped fresh cilantro leaves
1 tablespoon chopped seeded jalapeño
1 teaspoon lime zest
1 teaspoon white granulated sugar
1 clove garlic, chopped
½ teaspoon salt
¼ teaspoon coarse ground black pepper
½ pound fresh Mozzarella cheese, sliced into thin slices
Instructions
In a small bowl, mix together the butter, salt, pepper, and thyme. Spread an even layer over the tops of the bread slices. Place buttered slices in a single layer on a sheet pan and bake at 350°F for about 20 minutes until golden brown and fragrant. Set aside to cool.
In a medium size bowl, add the apples and coat in the lime juice. Add shallot, poblano, cilantro, jalapeño, lime zest, sugar, garlic, salt and pepper, and stir together. Set aside.
Right before you are ready to serve assemble the bruschetta. Take a piece of bread, add a thin slice of Mozzarella and top with a spoonful of the Tart Apple Topping.
Taylor Mathis and Sally James
Sally James and Taylor Mathis are a mother and son duo from Charlotte, NC. Sally, a professional recipe developer, and Taylor, a professional Food and Lifestyle photographer, work together to create beautiful and delicious recipes designed to be eaten anywhere! Together they are the creators and authors of the food Blog Taylor Takes A Taste and worked together on The Southern Tailgating Cookbook.