Perfect on their own or thrown into some party mix, these nuts pack lots of smokey flavor in each bite.
By Carolyng Gomes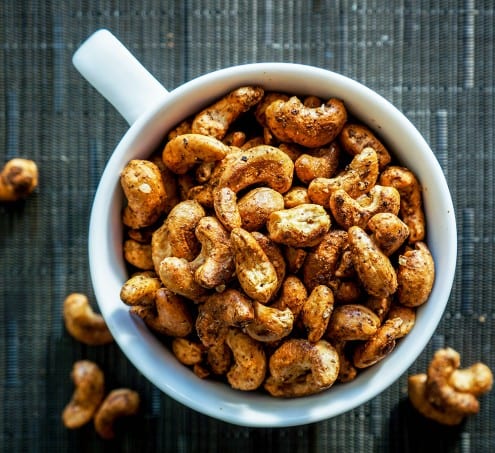 Ancho Spice Cashews
Perfect on their own or thrown into some party mix, these nuts pack lots of smokey flavor in each bite.
Ingredients
1 lb whole jumbo cashews
¼ tbsp sea salt
¼ tbsp GOYA adobo
1 tsp ancho chile, ground
½ tsp chipotle, ground
¼ tsp garlic powder
¼ tsp fresh cracked black pepper
1 tbsp olive oil
Instructions
Preheat oven to 375F. Line a baking sheet with aluminum foil and spray with non-stick cooking spray.
In a bowl beat egg white until soft peaks form. Fold in cashews. Add sea salt, ancho chile, chipotle, garlic, adobo and black pepper. Stir to combine.
Pour cashews on baking sheet and bake for 25 minutes, stirring nuts after 12 minutes.
Allow cashews to cool completely before serving.