Aloo Posto – Curried Potatoes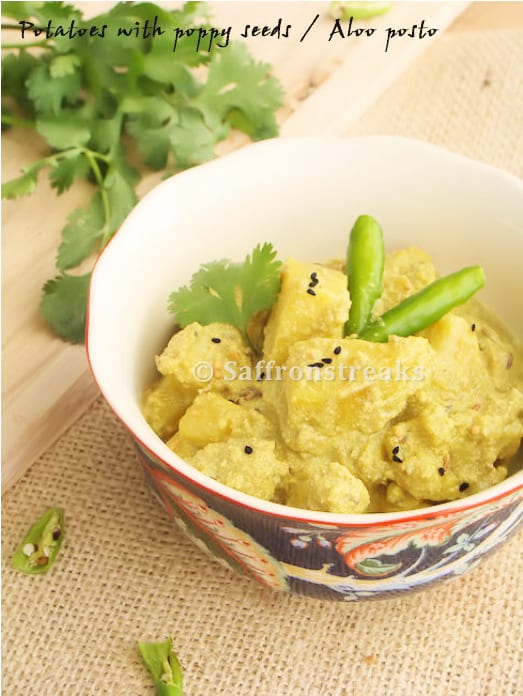 Aloo posto, or curried potatoes in clingy poppy seed paste with green chillies to heat it up a little.
By Sukanya Ghosh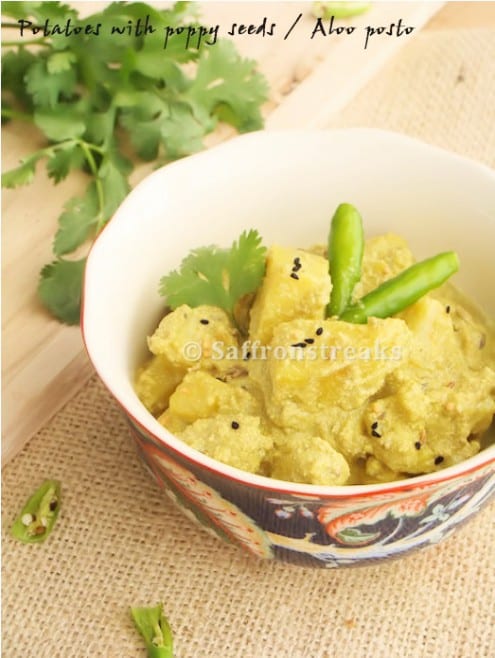 We present today the classic "Aloo posto" without which any Bengali lunch seems unfinished. Posto (poppy seeds) is essential to Bengali household, no matter how much its price skyrocketed, and besides liberally being used in veg dishes, many Bengali fish recipes and chicken or mutton dishes also use posto in the recipes. And to me the best one is posto fritters with onions, which is meant to be eaten with steamed rice with a dollop of ghee!
Aloo Posto - Curried Potatoes
Aloo posto, or curried potatoes in clingy poppy seed paste with green chillies to heat it up a little.
Ingredients
300 gm : Potatoes (3-4 large potatoes peeled and cubed)
30 gm : White poppy seeds (soaked in water to get 5-6 heaped tsp of paste / posto bata)
5-6 : Green chillies
1 tbsp : Mustard oil
1 tsp : Nigella / kalonji / kalo jeera
A pinch of : Turmeric (optional)
1 tsp : Cumin powder (optional)
Salt and Sugar to taste
2 tsp : Ghee
½ cup : diluted milk
Instructions
Wash, peel and cut the potatoes into cubes.
Soak the poppy seeds in little water for 2-3 hours or more, even overnight. Longer the poppy seeds are soaked, easier it will be to grind them in a paste.
Chop the green chillies and use them with the poppy seeds while making a paste, add very little water to grind the paste. It will take around 10 minutes in multiple pulses and give your mixer a break for 2-3 minutes in between to cool off the heat.
Heat the mustard oil in a pan till it reaches the smoking point.
Temper the oil with nigella seeds, let it splutter.
Add the potatoes, green chillies and a pinch of turmeric if you are using it.
Fry the potatoes on medium heat, do not brown it.
Add the cumin powder, if using.
Add ½ cup water , salt and cover the potatoes, let it simmer on lowest heat till half done.
Now add the poppy seed paste, coat the potatoes well with the paste, saute for couple of minutes.
Adjust the seasonings, check for salt and add sugar to taste (usually ¼ tsp).
Add the milk or water, cover it and let it cook till done, potatoes should not get mashed.
This is a dry dish, so wait till most of the liquid evaporates.
You can drizzle few drops of mustard oil or a spoonful of ghee over aloo posto to heighten the flavor.
Serve aloo posto with steamed rice and dollop of ghee.
Notes
This is a very traditional recipe if you are not using the optional ingredients. Some like it without turmeric, some with turmeric. It is a personal choice. Milk though traditionally not added, has been used in the recipe to make it more creamy. Posto bata or paste should be very creamy, the grains should not be distinguishable. Keep the leftover posto bata in the fridge by mixing it with salt and few drops of mustard oil. It will not get blackened.
Sukanya Ghosh
Sukanya writes the blog Saffronstreaks, a food and travel blog where she experiments in the kitchen spiced up with interesting food stories and gourmet travelogues. She loves to cook with fresh produce, enjoy both spicy and sweet and her many dining out experiences become cherished memories. Sukanya is from India but now lives in North Carolina, USA.