A tall, impressive dessert layered with almond cake, strawberry compote and strawberry buttercream.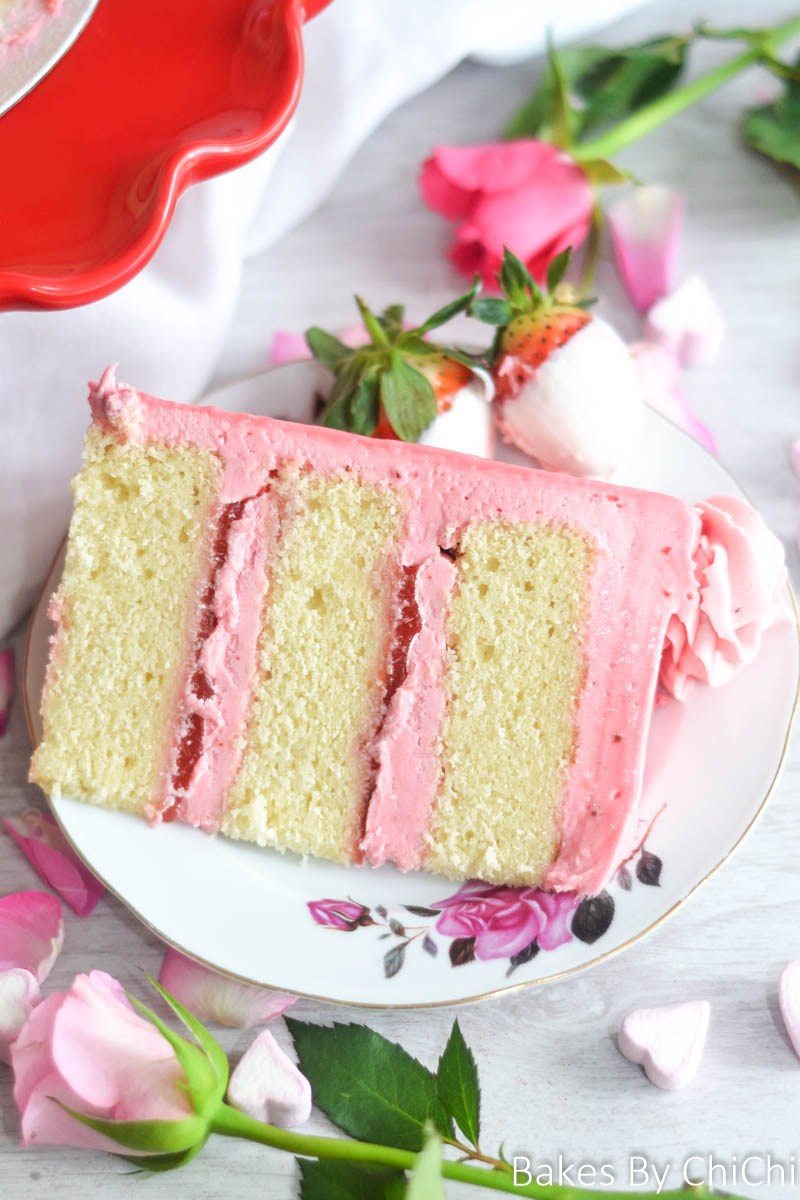 I made this almond cake twice. In my mind I envisaged the cake being this light textured pink tinted cake with white buttercream. First it was the texture of the cake. It was quite dense which in self is not bad thing if you like dense cakes. But I wanted a fluffy cake. Then I noticed when I was editing the pictures of the cake that buttercream wasn't white. Usually when I make buttercream I get a creamish colour but this time it was more yellow. Obviously that is because of the buter which is yellow. At that point I stopped editing the pictures.
Back to the kitchen it was.
Like with most of my cake recipes, I began by beating sugar and eggs until fluffy. This incoprates air bubbles so the cake will rise and be light in texture.
Next I made my cake flour subsitute by sifting together plain flour and corn flour. Cake flour contains less protein than plain flour which produces a lighter cake. We don't have cake flour in the UK so I always make mine. Please read the notes for an easy way to make cake flour substitute.
Finally the magical ingredient that adds more lightness of the cake, whipped eggs whites. Using just egg whites amd not the yolk creates an even lighter cake.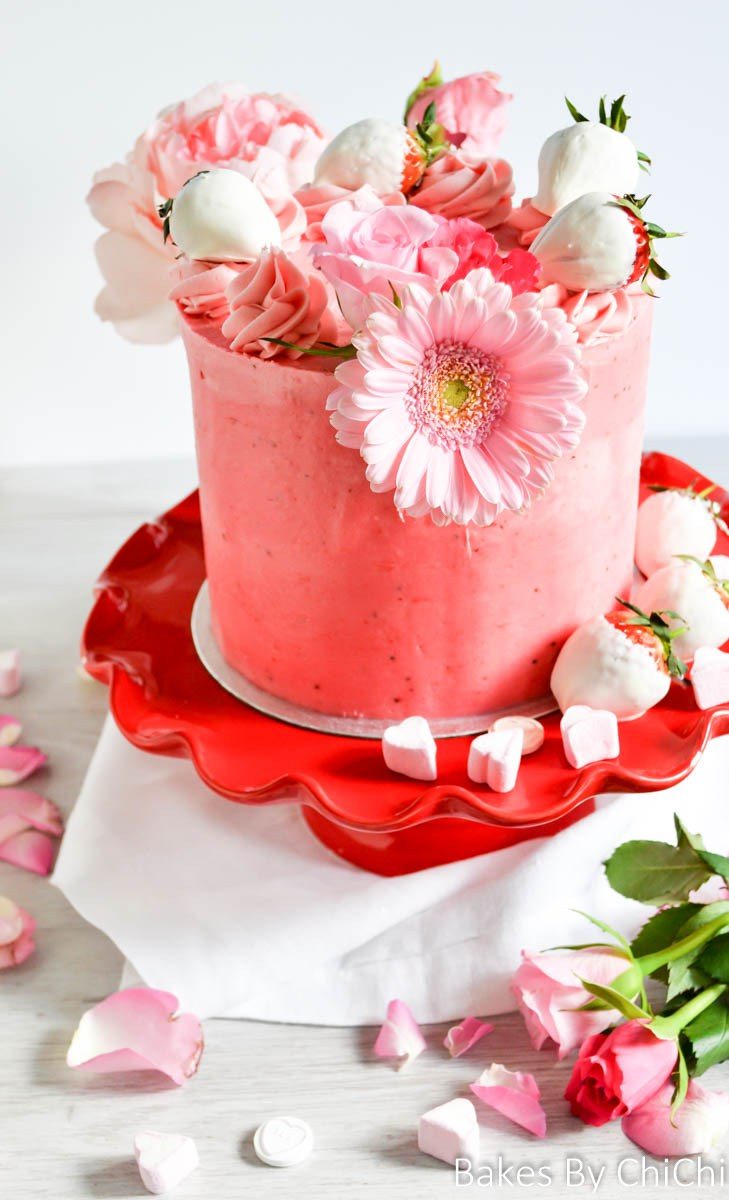 The result is a light moist almond cake, just what I wanted.
Now for the buttercream, I wanted something fruity . To fresh strawberries, I added lemon juice, sugar and corn flour. Half the strawberry compote was used as a filling for the cake and then the rest was added to the vanilla buttercream to create a strawberry buttercream. I would recommend making a stiff buttercream and then adding the compote to it. The buttercream is full of strawberry flavour.
What you have folks is a soft moist almond cake filled with strawberry compote and frosted with strawberry buttercream.
Click here for the strawberry buttercream recipe.
Print

Almond Strawberry Cake
---
Almond Cake
250 g

unsalted butter (room temperature)

350 g

caster sugar

2 teaspoons

almond extract

360 g

cake flour

2 teaspoons

baking powder

1/2 teaspoon

salt

240

ml milk

5

large egg whites
Strawberry Compote
200 g

strawberries

100 g

sugar

1

lemon juiced

60

ml water

3 teaspoons

cornflour
Extra strawberries to decorate
Strawberry Buttercream
Click the link above for the recipe.
---
Instructions
Preheat oven to 160 degrees Celsius. Grease bottom and sides of 3 , 6 -inch round cake tins and line bottom with parchment paper.
In the bowl of stand mixer beat butter, sugar and almond extract until light and fluffy about 6 minutes.
Sift together flour, salt and baking powder, set aside.
Beat eggs whites until stiff , set aside.
With mixer on low, alternately add the flour mixture and milk, beginning and ending with flour mixture.
Fold in egg whites in gently. Be careful not to overmix.
Divide batter evenly between cake tins.
Bake for 30 – 35 minutes or until tooth pick inserted in centre comes out clean. Leave to cool tin on wire racks for 10 minutes, then invert onto rack gently, discard parchment paper and cool completely.
Wrap cakes in cling film and chill in the fridge for 1- 3 hours.
For Strawberry Compote
Place strawberries and sugar in a saucepan and stir to coat all berries with sugar.
Cook strawberries over high heat, stirring occasionally for about 5 minutes.
Stir in lemon juice.
Mix water and cornstarch in bowl until combined. Add mixture a little at a time whisking frequently until sauce has thickened.
Remove from heat and let sauce cool to room temperature. Chill in fridge.
Strawberry Buttercream
In bowl of stand mixer beat butter and vegetable shortening until light and creamy , about 5 minutes.
Add icing sugar a cup at a time and beat well until combined. As frosting thickens add the strawberry compote and then cream and beat until frosting is light and fluffy. Add vanilla extract and drops of pink gel colour and beat until evenly incorporated.
Assembly
Place the first layer of sponge on a 8 inch thin cake board, flat size down. Fit a 1/2 inch round nozzle into a piping bag. Fill the piping bag with strawberry buttercream.
Pipe a dam of buttercream around the cake for clean even layers of frosting. Fill the dam with strawberry compote and use an off set spatula to spread the compote carefully. Pipe buttercream over the strawberry compote filling.
Repeat with remaining 3 layers of vanilla cake, until all three layers of cake are stacked.
Wrap cake with plastic cling film and chill for 1-3 hours.
Remove cake from fridge. Spread a thin layer of strawberrt buttercream on the sides and then top of cake. It helps to use a turntable when frosting a cake. Hold a scraper flat against the side of the cake and then turn the turntable and scraper to make a nice, smooth coat of icing. Smooth the top of cake with scraper, drawing the peaks o the top edges of cake into the centre.
Chill crumb coated cake in fridge for 30 minutes until buttercream is nice and firm.
Once cake is chilled, cover evenly with buttercream using an off set spatula and then use a scraper to smooth the edges.
Transfer some of the buttercream into a piping bag fitted with a large open star tip. Pipe swirls around the top edge of the cake. Top swirls with chocolate dipped strawberries.
Notes
Recipe for Cake Flour
For every cup of all purpose( plain ) flour you take out 2 tablespoons of flour and replace with 2 tablespoons of cornstarch. Sift the flour and cornstarch together, sift again and again. The cornstarch and flour need to be well incorporated and flour aerated. Sift the flour and cornstarch mixture about 5 times.
ChiChi Dodoo
Originally, from Ghana in West Africa, Chichi lives and works in London, Uk with her family. A sudden unusual love and passion for all things cake and baking introduced her to the world of blogging. ChiChi is the writer and photographer behind the blog Cakes By Chichi where she shares recipes, tutorials and photos of food she has made.