Almond Poppyseed Crêpe Cake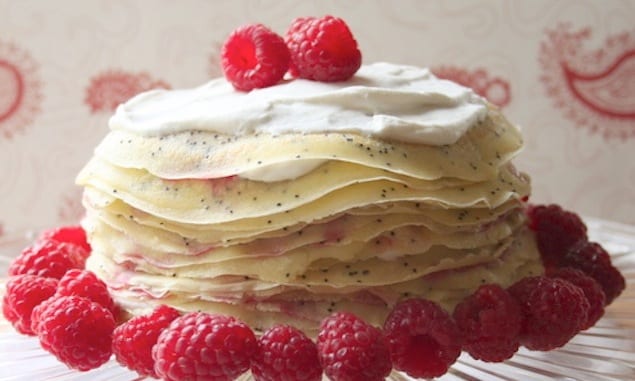 Almond poppy seed crêpes are layered with almond whipped cream and a raspberry freezer jam to make a sweet cake worthy of a fancy breakfast or any other special occasion.
By Kelsey Hilts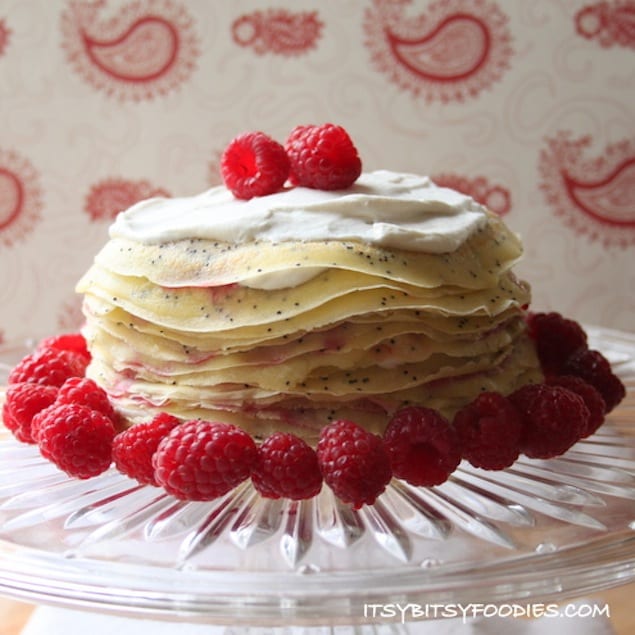 The first crêpe cake I saw was beautiful, decadent and oozing with chocolate. It has been on my mind for several years since and so I decided to make my first crêpe cake. I layered almond poppy seed crêpes (a version of my basic crêpes) with homemade raspberry freezer jam and almond whipped cream.

Almond Poppyseed Crêpe Cake
Almond poppy seed crêpes layered with almond whipped cream and raspberry jam make a sweet cake worthy of a fancy breakfast or any other special occasion.
Ingredients
Almond Poppy seed Crêpes
1 ½ cups milk and water mixed (I use ¾ cup milk + ¾ cup water.)
4 eggs
2 cups flour
1 Tbsp sugar
4 Tbsp melted butter or oil
½ tsp almond extract
1 Tbsp poppy seeds
Almond Whipped Cream
1 cup heavy whipping cream
½ tsp almond extract
½ tsp vanilla extract
1 Tbsp sugar
Crêpe Cake
Almond poppy seed crêpes
Almond whipped cream
Raspberry freezer jam or sweetened raspberry puree
Instructions
Almond Poppyseed Crêpes
Place all of the ingredients (except for the poppy seeds!) in a blender and mix until smooth.
If you mix by hand, beat the eggs with a fork.
Add the milk, water and melted butter.
Gradually add the flour and the sugar, whisking it until smooth.
Finally stir in the poppyseeds.
Rest for 30 minutes-1 hour.
Spoon the batter to coat the bottom of a lightly-greased pan on medium heat.
For thinner crêpes, I use roughly ? cup batter for a 12-inch pan. I spread the batter with the bottom of the measuring cup to completely coat the pan.
For thicker crêpes, I use a little under ½ cup of batter.
The thickness of your crêpes is a matter of personal taste. Crêpes do not have to be super thin to be authentic.
When the batter starts to set, flip the crêpe and cook the other side until both sides are light golden.
Almond Whipped Cream
Mix the ingredients together and beat on high using a hand-held mixer or a KitchenAid mixer with the whisk attachment. It will take several minutes for the liquid cream to transform into fluffy peaks.
If you beat the whipping cream until it is too stiff you can add more cream and continue beating. This is also a good trick if you are using leftovers the next day. Leftover whipped cream often starts to separate and lose its form. Simply add more cream (if need be) and whip it again.
Crêpe Cake
Place a crêpe on the plate or cake platter on which you will display the crêpe cake.
Spread a small amount of whipped cream on the crêpe and then spread some raspberry jam on top of the whipped cream.
Place a crêpe on the jam and repeat the process until your crêpe cake is as tall as desired.
Garnish the top of the cake additional almond whipped cream and fresh raspberries.
Kelsey Hilts
Kelsey Hilts is the founder of Itsy Bitsy Foodies, an online resource for families looking for ways to spend more time together enjoying food and exploring the world beyond the children's menu.