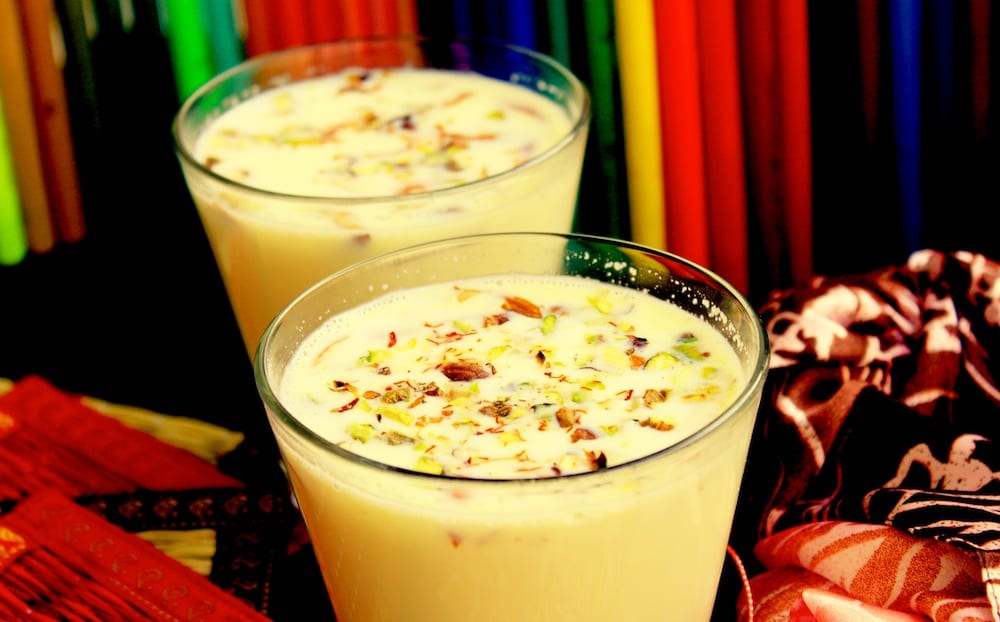 Indian spices and a trio of nuts give this shake a range of complex flavors and condensed milk adds a rich creaminess.
By Anamika Sharma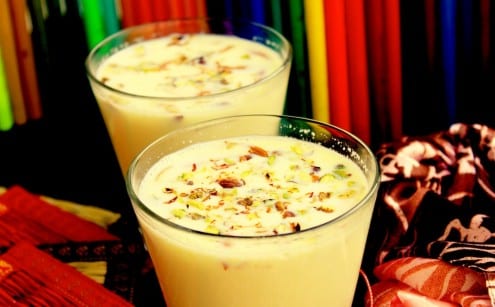 Almond Pistachio Shake
Indian spices and a trio of nuts give this shake a range of complex flavors and condensed milk adds a rich creaminess.
Ingredients
Full Cream Milk – 2 cups or little more
Condensed Milk – 2 tablespoons (optional, add 2 teaspoons Sugar if you plan not to add condensed milk)
Almonds – ½ cup
Pistachios – 20
Cashews – 10
Cardamom Powder – ½ teaspoon
Saffron Strands as needed
Rose Water – 2 drops
Ice Cubes – 6 -7 (crushed)
Instructions
Soak almonds, pistachios and cashews in hot water, leave it for an hour. Now chop few almonds and pistachios, keep aside, this we will need for final garnishing of our drink.
After an hour, peel the almonds and in a blender blend the almonds,pistachios and cashews to a fine paste.
Now add to that paste in the blender milk, cardamom powder, condensed milk, rose-water and ice and blend again. Keep blending till well mixed, give it a taste to check the texture, then blend in additional milk or condensed milk until the texture is perfectly suited to your taste. Serve this milkshake garnished with the chopped almonds and pistachios, top it with few saffron strands.
Anamika Sharma
Anamika Sharma is a passionate foodie, a food blogger with a background in aviation and telecom industry for good 15 years. Her mission is to spread the love for Indian cooking to all those who wrongly think it's too difficult. She loves to cook for her family, specially her kids. Besides cooking she also enjoys photography and traveling. MAD – making a difference is a word she chose to describe her Indian cooking site. Cooking always meant to her to be maddening and now she is mad about cooking.